TV
Australia's The Bachelorette Features First Indigenous, Bisexual Lead
The Bachelorette Australia is hosting an Indigenous, bisexual lead for the first time! Brooke Blurton, who has been a contestant on Australia's The Bachelor and The Bachelor in Paradise, has represented both same-sex and opposite-sex relationships on screen in the past.
Brooke, a Noongar Yamatiji woman, hasn't had the best luck in the love department on screen. She was the favorite in her season of The Bachelor, but abruptly left — explaining to WHO that she was tired of being pressured to play "the angry black girl" — only for professional football player Nick Cummins to not choose either of the final two women in the last episode.
Then, in 2019, Brooke revealed her same-sex fling with Alex Nation after Nick's season of The Bachelor, on The Bachelor in Paradise, wasn't all it seemed. "That part with Alex, I just think she never really was genuine with her feelings and I could really read through that. I just don't really value people in my life like that," Brooke told WHO. "There's no bad blood, but I am all about people who bring value into your life and I just feel like I had to let that part of my life with Alex go."
"I would've really liked it if both parties were genuine with how they were feeling. Actions speak louder than words and if your actions don't reflect that then I don't think you are being genuine and authentic with how you actually feel."
Alex and Brooke made history by being the first same-sex pair to kiss on Australian reality television, but Brooke felt the producers put too much pressure on it. "I knew that there would be the pressure of having a same-sex relationship, but I wasn't really going into it like that," she said. "I wouldn't say it was forced, but they (the producers) were really going with it."
Brooke's authenticity has made her a beloved Aussie media personality and the nation is rooting for her to find love. However, clearly (a still-homophobic) Australia wasn't ready for homosexuality to hit the screen. I've liked this season of The Bachelorette more than the rest for obvious reasons as well as the fact it's genuinely entertaining. Despite having all the dramatic, romantic, suspenseful conventions of previous seasons — except for half the contestants being women — many Australian viewers have switched off. 
The romantic interests are more believable than other seasons and they have been from the start. Jamie-Lee Dayz, fellow The Bachelor contestant on Nick's season, surprising Brooke by vying for her love this series — after three years of wrong timing — is a love story anyone could root for. But Australia is a bit "yeah, nah," about it all.
Jamie-Lee wasn't the only woman to woo Brooke on the first night. My personal favorite, Carissa, had a connection with Brooke that was filled with synchronicities. The pair bonded over seeing rainbows as a sign they were on the right track. Carissa also made a piece of art for Brooke, which unknowingly included a drawing of Brooke's totem: a turtle.
The pair have struggled to have alone time thus far and it seems they may be drifting into the friend-zone. However, if previous seasons of The Bachelorette or The Bachelor are anything to go by, the strongest connections are often put in the background or tested during the first half of the season so we don't view anybody as a shoe-in.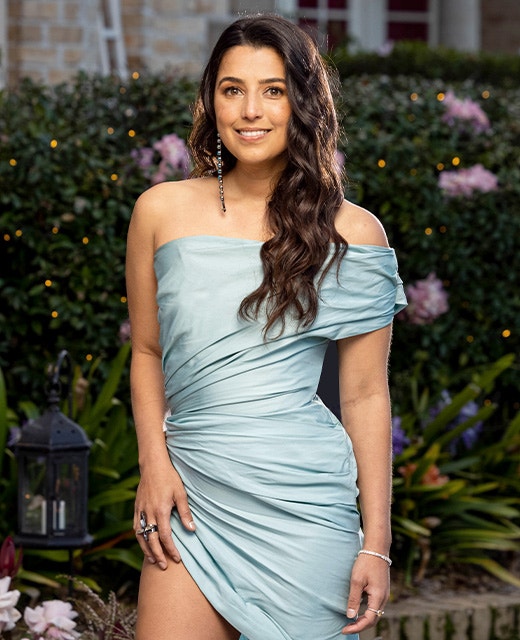 Another thing that makes a bisexual season of the Bachelorette unique is the possibility that contestants may hook up with each other in the mansion. It was hinted it's a possibility in the season's teaser that aired on the first episode. Brooke claims she's not too phased, as long as she doesn't have a strong connection with those who go down that path.
"Obviously it was a consideration that it could happen, and I think it's inevitable if you have women that are attracted to both sexes like myself," Brooke told 10 play. "There's no denying that could happen."
"I think I was very open to it if it did, I would be completely and utterly fine — obviously depending on how my connections are with those people. It's just one of those things that is inevitable it may happen. How I direct that, you'll have to wait and see," she laughed.