WARNING: SPOILERS AHEAD (obviously.)
Batwoman is back, but where is Kate Kane? Strap in fellow Batwoman lesbians, we're in for a wild ride after the Season 2 premiere.
The episode opens with a recap of Season 1, going through all the major points from previous episodes. You can check out our season 1 recaps on the AfterEllen site.
Following the recap of season 1, the episode begins hovering over a van with a woman inside. She's dreaming; and we flash to see the inner workings of her dreams. She's remembering moving into her apartment, showing her mom for the first time what her new home looks like. While they are chatting, her mom mentions that she would have plenty of room for her girlfriends to sneak in overnight, hinting at her sexuality. *eep!*
Suddenly, there's a loud crashing sound and we flash back into reality. The woman sees something on fire crash outside of her van, and runs to investigate the scene. After looking around, we see bits of a plane crashing all around the van and surrounding area.
Jump cut to the #Batcave, where Mary and Luke are trying to get ahold of Kate Kane (aka Batwoman, of course.) They are discussing the plane crash, and hoping that Kate can make it to the crime scene. They debate using the bat signal to call her.
Back at the crash site, the woman is looking for victims and ends up reviving a man using CPR. She has a flashback to what looks like her performing CPR once before, on her mother. Suddenly, she pukes, and we head back to the Batcave.
Luke and Mary find out that Kate was traveling on the airplane that crashed, and at the same time we find Ryan (the woman from the van) finding Kate's Batwoman suit at the crash site, which she proceeds to take with her. Interesting…
Police, the fire department, and other emergency responders arrive at the crash site. Kane shows up to the scene, desperate to find Kate and Sophie *swoons* offers to help him look, despite other officers' attempts to keep Kane away. Outside of the crime scene, Alice is standing by clenching her fists in anger. You'll want to remember that for later, just saying.
Flash to Julia letting us know that the Batwoman suit has not been located. Ugh.
Next, we are back in the Wayne tower where Luke and Mary are doing a classic walk-and-talk. They are discussing the impact of the crash, and if Kate could have survived it, even in the Batwoman suit. Just then, a familiar face arrives and breaks up the conversation. Bruce Wayne has entered the chat. In awe that Bruce is there, Luke shows him into the Batcave, but notices Bruce is hesitant; almost unsure of himself.
We hop over to Ryan once again; she is in an office talking to her parole officer, it seems. We find out that Ryan is an ex-con who lives in her car, unable to find work after being arrested for possession. However, Ryan lets her officer know that she has stumbled on something big…
Now we see Julia and Sophia sitting on the stairs, and we can't help but admire how freakin' adorable they are. Sophie lets Julia know that she's comforted by her being there. We find out here that the plane was flying with a recalled engine part, despite the competency of the pilot. Safiyah had been following them, who's to say she wasn't behind the plane crash?
Jump to Kane in his office, discussing the accident over the phone. Mary comes in and encourages him; she is hopeful that Kate is alive and well.
Luke is chatting with Bruce, letting him know that the reason Kate went to National City was to get permission to destroy a piece of Kryptonite, because of its power to destroy the Batwoman suit (in case ya didn't know.)
Speaking of the suit, it appears that Ryan has put it on. We also see a flashback to Ryan's past of being beaten, and the suit seems to have given her a newfound sense of power, reclaiming what might have been stolen from her. Ryan goes outside and fights off some thugs in the alley, looking for information. This is when Ryan accidentally activates the suit, making it go online, which Mary and Luke can now track… but more on that later.
Cut to two women laying in bed together (!!!) but then we see Bruce walking away from them, smiling. Yuck. Anyway. Bruce walks down stairs, only to be met by Alice who refers to him as… TOMMY. It also turns out that Luke gave Tommy (thinking he is Bruce) the Kryptonite, which was Alice's plan all along. However, things did not go the way Alice had hoped, as she wanted Kane to get the Kryptonite and kill Kate with it himself. Out of frustration, Alice kills one of the women Tommy (as Bruce) had slept with the night before. Wow wow wow.
Next, we find Sophie has gone to Kate's apartment to look for clues. Turns out that Julia is also there, and lets Sophie know that Kate had told her that if anything happened to her, for Julia to check the safe. Sophie desperately wants to see the safe, but Kate told Julia no one can know where it is but her, and Sophie is visibly upset. Understandably, awww.
Jump to Luke and Mary tracking the Batwoman suit, expecting to find Kate in it. They ultimately find Ryan there, and Ryan lets them know she wants justice. Her mom was murdered, and now she has the power to catch the killer and get her revenge.
Now potentially Bruce/Tommy goes to meet Kane and lets him know that he wants to help in the search for Kate. Bruce/Tommy lets Kane know that Alice is squatting at his house, and that she could be behind the plan crash. Likewise, Bruce/Tommy also runs into Julia, who asks if Bruce has had time to call her dad. At first, Bruce seems confused as to who Julia was referring to, which seems to confuse Julia even more.
And now: a parallel scene.
Luke and Mary are researching Ryan, while Ryan is researching Kate. Mary finds out the turmoil Ryan has gone through; Ryan's mom was murdered after a group of squatters beat her to her death in Ryan's new apartment. It turns out that it was a group of Alice's squatters that killer Ryan's mother, and that is why she wants revenge. As Mary is reading this out loud, Ryan is reading a news article about Kate and her heroism for the lesbian community; Ryan feels that Kate is a hero, while she is not deserving of such a title herself.
Back to Luke and Mary, it is clear that Luke blames himself for Kate's death… which they are now assuming happened. Mary reassures him, saying "there's not Batwoman without Luke Fox." Awwww. Then, they get a message and have to spring into action.
At this moment, Ryan decides to turn on the Batwoman suit so that Luke and Mary can come get it. However, Luke and Mary are actually meeting with Julia. Julia tells them that she thought something was up when Bruce didn't know the code name for her father (the Eagle) and she did some digging. It turns out Bruce really IS Tommy after all, and Alice gave him Bruce's face.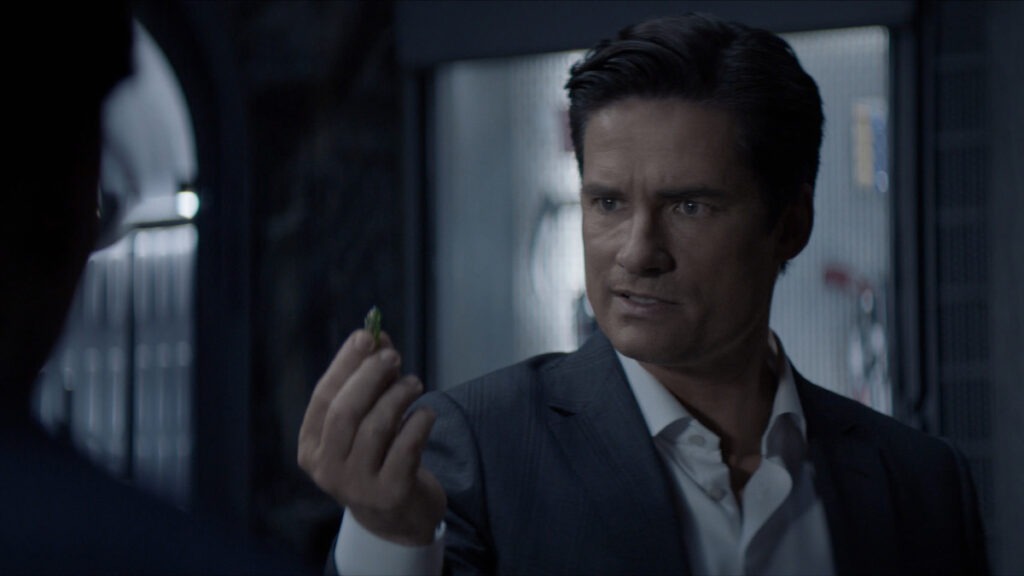 Flash to Tommy, as Bruce, finding the Batmobile within the walls of the Batcave. He steals the car, and goes to find the Batwoman suit, to steal it for himself. Little does he know, Ryan is the one in it. More on that in a few.
Kane and Alice are together now, and Alice tells Kane something he never thought he would hear: Kate is… or, was, Batwoman. Kane is in disbelief as he hears Alice's news and accusations that he wanted to kill Kate himself, presumably because she's a lesbian. How has Kane not known this until now??? We digress.
Back at the Batcave – Luke tried to call Ryan via the suit to let her know that Tommy is coming. Ryan immediately begins to blast off in her van, and meanwhile Luke hacks into the Batmobile. Ryan and Tommy get out of their cars and in a fit of rage, Ryan completely kicks Tommy's a**. We love to see it. Talk about taking back her power, Ryan as a Black woman took down a white man in a complete act of beautiful vengeance.
We head over to Wayne towers to see Luke and Mary discussing Ryan. While Luke does not want to admit Kate is gone (which we know she is, as Ruby Rose left the show) Mary is team Ryan at this point. Then Ryan walks in, returns the suit, and says that she is not a hero. That's that on that. Or is it?
Julia and Sophie are together now. Julia straight up asks Sophie if she's still in love with Kate, making our lesbian powers activate! Sophie is flustered and says she doesn't know, and Julia reveals that the only thing in Kate's safe was a letter to Sophie…
Sophie reads the letter, in which Kate reveals not only that she is Batwoman, but that she was in love with Sophie. At the same moment, Kane lights the Batsignal, finally accepting that his daughter was Batwoman and hoping that she may still be alive.
We head now to the sewer (???) where Alice is walking through. A paper plane flies from the celing as the most authentic metaphor there as, landing at Alice's feet. The paper plane is made of a newspaper clipping about Kate, signed by Safiya — basically as a note to Alice letting them know they are even now.
Alice is furious by this, as she wanted to be the one to kill Kate; or have her dad kill Kate, what have you. Alice walks farther into the sewer and lays down, next to her dead brother. Alice then reveals her plans to take down Gotham, now that Batwoman is out of the equation, to… her dead brother.
Finally, we spin around back to Ryan who is talking to her plant (really to her mother) where she says she did the right thing. Then she reaches to reveal a wound that came from the Kryptonite blasting her in her fight with Tommy. It's deep, black, painful. Thus revealing Ryan as the next, powerful, Batwoman (we think.) Ryan looks up to see the Batsignal, and all goes black.
While we don't know if Ryan is a lesbian or bisexual for sure, we do love to see her as the first Black Batwoman. Pretty cool.