Buckle up once again, Batwoman lesbians! It's time for your recap of Season 2, Episode 7: It's Best You Stop Digging.
If you remember from the last episode, Ryan's health is finally hitting the fan; she's in severe pain from her Kryptonite wound. We open on Ryan in the Batcave, being helped by Luke and Mary — Mary says the Kryptonite has entered Ryan's brain.
Jump to Alice guiding Tatiana (Safiyah's henchwoman) through the sewer tunnels. Alice shows Tatiana Ocean's "dead body."
Meanwhile, Sophie and Kane are trying to track down the doctors that had him and Mary kidnapped… but more on that later.
Tatiana walks Alice down memory lane with a series of flashbacks to Alice's time on Coryana. Safiyah and Alice both had a common enemy in Catherine Hamilton (Mary's mom) and that's why Safiyah had Alice trained to be on her army. They had found Alice in Catherine's boat and taken her prisoner, which is what lead to Ocean training her. Alice always wanted Ocean.
Back in the Batcave, Mary tells Luke they need the Desert Rose to heal Ryan. In the same moment, Ryan takes the Batmobile and bails.
Jump to Tatiana and Alice again; Tatiana tells Alice that Ocean and Alice originally hated each other, which is why it took Safiyah so long to notice once they had fallen in love.
As Ryan drives the Batmobile, she begins to hallucinate her mom being there with her, and flashing back at the same time to her mom talking with her. Ryan then shows up at Ang's, as BATWOMAN, and demands to know where Ocean is. Ang kicks Ryan off the balcony, where Mary and Luke find her. All the while Ryan is still flashing back to memories of Alice killing her mother.
Alice continues to talk with Tatiana to restore her memory. Tatiana tells her that Safiyah was in love with Alice (!!!) which is why Safiyah showed Alice the Desert Rose, her most precious secret. The reason Tatiana hates Alice so much, however, is because she is in love with Safiya. Ah, yes, what would we do without a good lesbian love triangle?
Now it's time for Kane and Sophie to discover the doctors are all dead. Naturally. They continue to search for the map of Coryana at the doctor's office, and find that Safiyah has beat them there and taken the map. Sigh.
Ryan, meanwhile, is telling Mary that she wants to kill Alice.
Speaking of Alice… Alice flashes back once again to her time with Ocean. She told him all about Kate and her family, and he told her to let go. He offers to leave Coryana with her, and take the Rose together. They kiss for the first time, and Tatiana had overseen everything. (Tatiana is telling Alice all of this.)
Back at the Batcave, Sophie texts Mary and says the map is gone. Ryan then decides to go after Ocean herself, hoping to find and kill Alice. Mary at first is hesitant, but after remembering that Alice killed her mom as well, lets Ryan go, tearfully.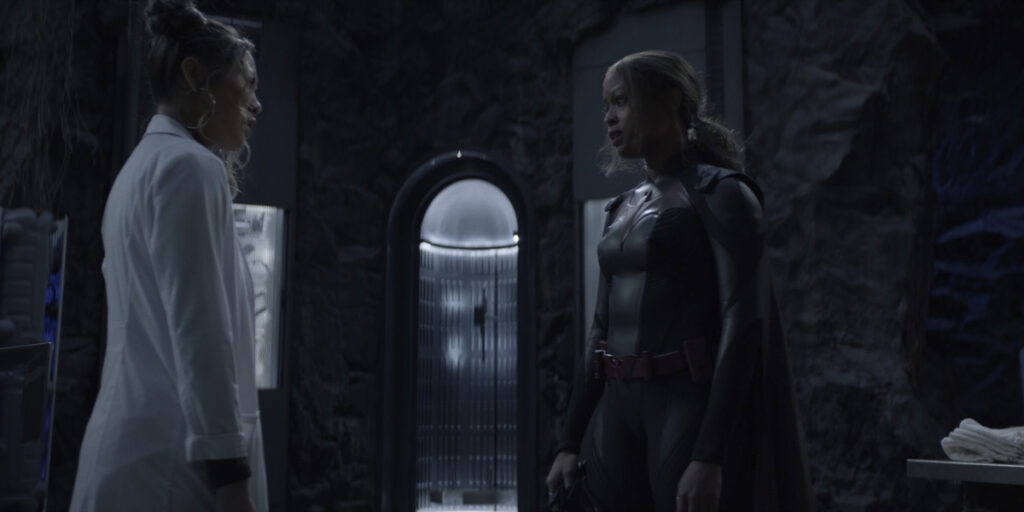 Tatiana tells Alice that Safiyah took away her memory and Ocean's as punishment for betraying her, because it was what they loved the most. Alice leaves.
Jump to Ryan on top of a skyscraper looking for Ocean's hideout. She finds it! But first…
Alice and Ocean say goodbye, and Alice opens the floor for Ocean to ask her to come with him. He doesn't. However, right after he leaves Ryan appears and the two finally fight. Alice knocks Ryan down, and instead of fighting back, Ryan lets her go in an effort not to become just like her.
Tatiana picks up Alice to take her to confront Safiyah. Meanwhile, Ryan tells Mary and Luke that she put a tracker in Alice's boot for that very reason…
Roll credits. Stay tuned. All the things.