Bend it Like Beckham, a movie about two teenage girls who want to play professional soccer despite their family's wishes, is a cult classic. It is particularly significant for South Asian women and girls: director Gurinder Chadha depicts an authentic experience of belonging to an Indian family who immigrate to the UK, which is rarely seen.
If the meaning of art lies in the interpretation of an artwork's audience, then I'm going to claim that Bend it Like Beckham is a lesbian movie. The lesbian energy between Jess, played by Parminder Nagra, and Jules, played by Keira Knightley, is not exactly hidden. The homophobia in the film makes it easy to imagine how Jess and Jules were not only hiding their sexual orientation and love for each other from their families, but from the audience as well. They were battered with homophobic shame.
The best way to clear this up is a sequel. It's not abnormal for teenage girls to struggle with their sexuality and not come to terms with their lesbianism until after they confuse friendship feelings towards men as romantic ones. That tussle over coach Joe wasn't believable at all. In fact, the jealousy between the girls seemed to be about each other, not about their relationships with Joe.
Many of us assume we're straight until the attraction to women (and lack of attraction to men) is simply too hard to ignore. The romance between Jess and Jules is more plausible than many explicitly-lesbian films. Bend it Like Beckham could easily be a convincing story about the complicated relationship lesbians have with heteronormativity. We deserve it.
Let's get this straight
Bend it Like Beckham stands alone as a great movie without asserting that it is also a love story between women. Namely, the movie shares the underrepresented experience of Indian families who have immigrated to the UK. It fights stereotypes: Jules' white mother is arguably the most homophobic character. The movie reveals how homophobia is a global thing, misogyny is a global thing; they're not specific to certain ethnicities.
The racism (and internalized racism) in Bend it Like Beckham is heartbreaking. Jess' dad says, about chasing dreams:
"Listen, people like us can't aim that high. People like us, we're not allowed to be at the top. We can clean tabletops, we can work in bars, we can serve in restaurants, we can be in nail bars, but we can't aim so high. Don't aim so high, Jess, because people like us, we don't get those positions."
Jess goes through an intense transformation during the movie. At first she's angry her dad stifles her dreams, then she appreciates his experiences with racism after immigrating to England, and then she meets in the middle and advocates that "people like us" can and should dream, even though the journey is more difficult because of racism.
She inspires her dad to fight, too:
"I don't want her to make the same mistakes that her father made of accepting life, accepting situations. I want her to fight, and I want her to win. Because I've seen her playing, she's brilliant."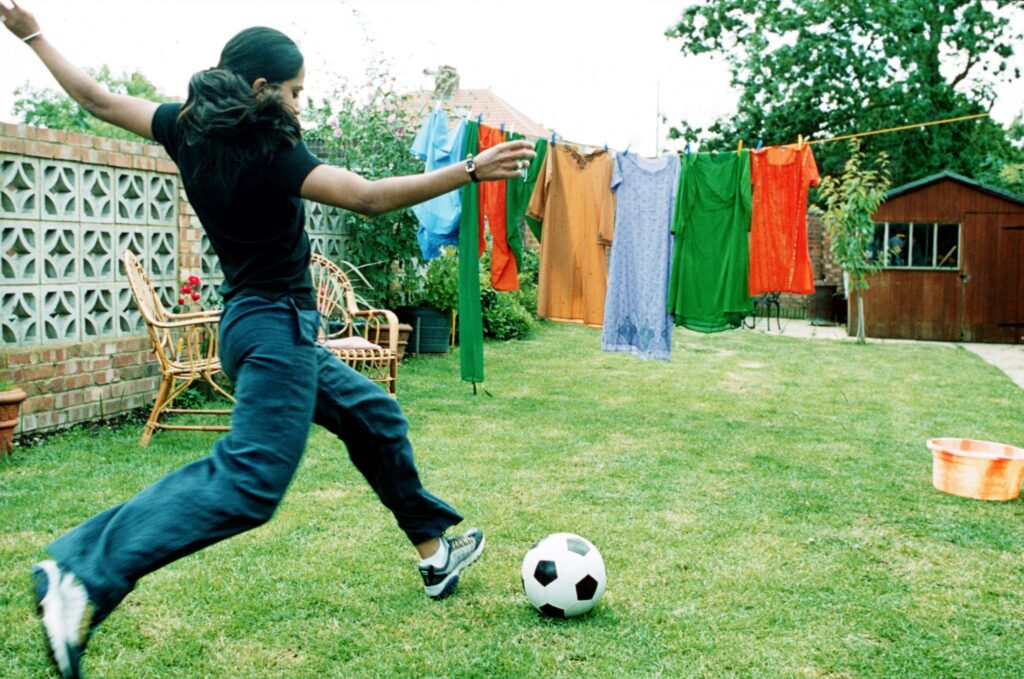 Katie Barnes and Aishwarya Kumar write for ESPN:
"Director Gurinder Chadha wasn't trying to fulfil a quota; the story of a Punjabi girl in London necessitated a diverse cast. And that simple truth brought a sense of authenticity to the movie — one that's still difficult to achieve in 2018."
There is hope…
We have Keira Knightley on board for a sequel. Knightley said that Jess and Jules "should've been [lesbians]…I think that would have been great. We need a sequel." But, on top of that, director Gurinder Chadha is open to it!
Gurinder Chadha, in her interview with Burn it All Down, a multicultural feminist sports podcast, replied to the widespread belief that Jess and Jules should have been lovers:
"Yeah, yeah. I think that's definitely one way the story could've gone. Definitely. We were working with a company at the time, and originally Joe, the coach, was much older. And then someone in the company said why don't you just make him younger. And then I was like, oh! Have Jess and him fall in love. I was like yeah, I can see that. That gave it a new engine, you know…But there's no reason why that other story wouldn't be just as valid. Maybe, who knows, if we ever do a sequel…I know there was an article recently in the press where Keira was quoted as saying, we should do a sequel and make Jules a lesbian, right…I was like okay, come on Keira if you want to do that, we can do that."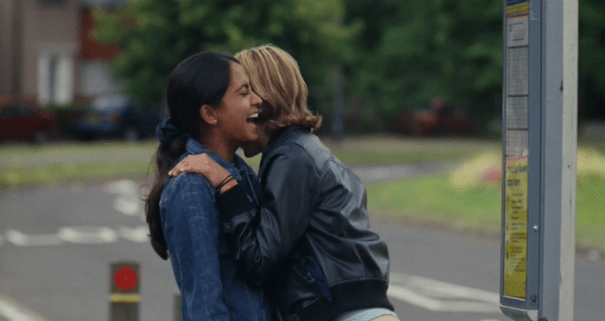 A friend of Gurinder Chadha, Nisha Ganatra, claimed that Chadha "planned to have a lesbian main plot, but 'chickened out' at the last minute for fear of offending and upsetting Indian audiences." Chadha only mentions making Jules a lesbian in the potential sequel and ignores the fact Knightley wished for both Jules and Jess to be lesbians. Together. We want them to be together.
Look, I'm not going to complain if I only get to see Keira Knightley play a lesbian. It's better than nothing and, who knows, maybe Chadha will make Jess bisexual. Either way, us woman-lovers need closure when it comes to the obvious love between Jess and Jules in Bend it Like Beckham.
So stop leaving us on read! It's been almost 20 years!