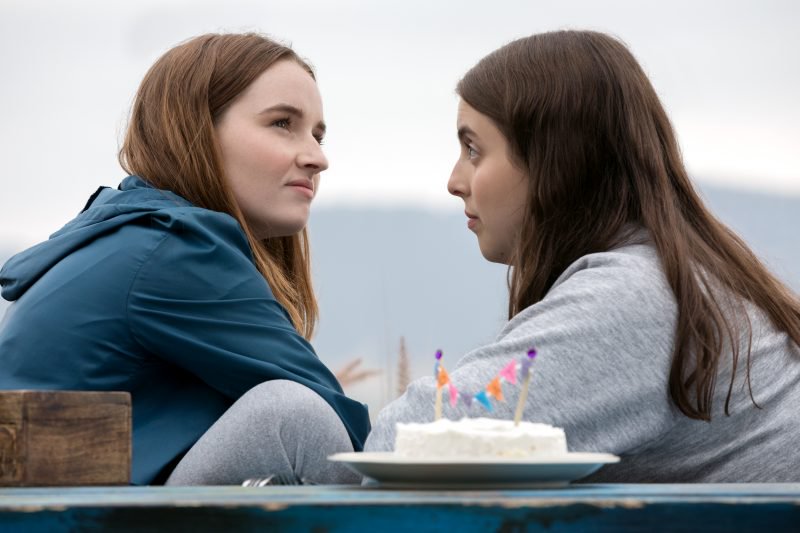 They kicked high school's ass academically. They are besties to end all besties. And on the night before their high school graduation, they are realizing they forgot to have fun while they were doing all of that studying. So, what's a pair of girls to do? Why manage to have four years of fun all packed into one night, of course. That is the story of Booksmart, a new film that's set to set some new standards for buddy comedies. Olivia Wilde is the film's director and Kaitlyn Dever and Beanie Feldstein play the BFF leads Amy and Molly, respectively.
On a set visit last spring, I asked Wilde what attracted to her to this project. She explained, "This script for me is the movie I've been waiting to watch. A story of female friendship I connected with. It's about seeing people and being seen and getting rid of judgment."
Wilde says the film tells a really vital story about female friendships. "It's the most intimate relationship of our lives at that age and it requires a break up at some point," Wilde said. "And it's not specific to women." More than anything, Wilde wanted to do something real and this script is just that, and more, she said. "I wanted to tell an authentic story. A buddy comedy about women that I haven't seen before," Wilde added.
The cast clearly adores Wilde. "She's so confident. It's such a huge movie, and she's just center of confidence and calm. She leads our team with the most relaxed nature. She's the director but I can talk to her like she's my best friend. She understands what it's like to be an actor," Feldstein says. "I want to be her when I grow up. She's so engaged. So tapped in with every actor and every department. She has her hand in everything."
The whole set just felt like the most fun place to work in the world, complete with a snow cone truck right outside the real-life high school where the school scenes were shot. And real home in Encino, California was used for the house party scenes. That kind of authenticity was important to Wilde. So much so that she suggested that Dever and Feldstein room together during filming, something which the two girls absolutely loved. They couldn't be any closer friends now they both say.
In case you're wondering, yes, the film has a lesbian twist, a very sweet one at that. I won't spoil it for you. But Amy has a crush on a female classmate and finally does something about it on this fateful night.
"My character, like most girls in high school, has a crush on this girl, on Ryan, from afar," Dever says. Amy has had this idea of Ryan, Dever explains, but has been afraid to approach her. "Amy finally talks to her even though she is really afraid to talk to her." Dever said it felt like the handling of the storyline represented a really modern way of thinking. "She's gay. But it's just who she is."
In films where there is a lesbian storyline, it's all too often the whole of the character's story. Not so in Booksmart. "The gay characters in a lot of films, even today, have to have a coming out story. But in Booksmart, the coming out part of the story is about Molly revealing to Amy that she likes Nick. That's what was so awesome about this movie, and another aspect that drew me to the film because that never happens," Dever explains.
Booksmart is set to be released May 24, 2019. Until then, you can check out the official trailer at www.booksmart.movie. Better yet, you can watch this behind the scenes video, right here!