photo by Shervin Lainez
Even if you've never heard of Meg Toohey, you've definitely heard of the many projects she's done over the years. Most recently she played guitar for the Broadway musical Waitress, a gig for which she was hand-picked after touring with Sara Bareilles. Toohey was formerly in the Weepies, a band featured in Sex in the City, Friends with Money, Morning Glory, and Last Shift and others. She's not just a performer, she's also a songwriter and producer. You can hear her work in Pretty Little Liars, Vampire Diaries, Parenthood, Grey's Anatomy, Gossip Girl, and other shows on MTV, PBS, and more. AfterEllen spoke with the artist about her career and new album in an exclusive interview.
On starting out in the music world, Toohey is candid. "People saw me as a songwriter, but I moved toward a rock and roll style, instead of going toward singer/songwriter/folk track. That was part of why I wanted to be in a rock band. I had a lot of success as the front person for the So and Sos. We were recorded by all the labels and we were going to be the next big thing. We ended up getting dropped because the style of music on the radio changed. It was the Brittney Spears and the Christina Aguileras who were the hitmakers. We were trying to be the Replacements."
She took more rock gigs, playing guitar and singing harmonies for acts like The Weepies.
"I did a lot of odd jobs in the music industry. I took a shot at everything from film scoring to working as an editor on American idol. I was burning the candle at both ends trying to make ends meet."
She played in all-women supergroups with grunge and alternative stars.
"It was all great and it was all fun, but I was searching, searching, searching for what I was supposed to be doing. I was thinking about giving up, thinking about leaving the business to make a better life for myself. And that's when Sara [Bareilles] said 'come to New York'."
It was when she moved back to New York to play guitar in Sara Bareilles' Broadway show Waitress that Meg started to cross paths with old friends with whom she'd come up as a musician in the early stages of her career.
"They were like, why aren't you writing? Why aren't you putting out your own music?"
Her solo material began to pour out in an alt-country record with strong pop and rock influences that knocked me out. Butch is poetic and clever, with lyrics that cut to the bone, just like one of her biggest inspirations, Joni Mitchell. This comes across particularly in the opening track "Ballad of the Butch," where poetic lyrics are paired with high-lonesome guitar riffs. The songs are catchy, sometimes in a haunting way, as in "Are You Going to Be the One," which will wander around your brain for days.
"I was able to get to an honesty in my writing that I'd never really felt like I was capable of expressing before, whether it was because I was trying to hide my personal experiences or if it was because I was trying to be somebody that I thought people wanted me to be."
The album has certain themes that run through much of the songs, but the influence of many genres and artists gives each one a different vibe. Bonnie Raitt, Barbara Streisand, and the rhinestoned country singer Barbara Mandrell all played a part, too.
"I love the fact that Barbara Mandrell played the pedal steel guitar. I thought that was the coolest thing in the world. And watching the Mandrell Sisters Show growing up, seeing women playing drums and pedal steel guitar and mandolin. I was just like, 'Oh man, this is so cool!' It was something that you didn't see except in country music. Great country music appreciated women instrumentalists as well as singers."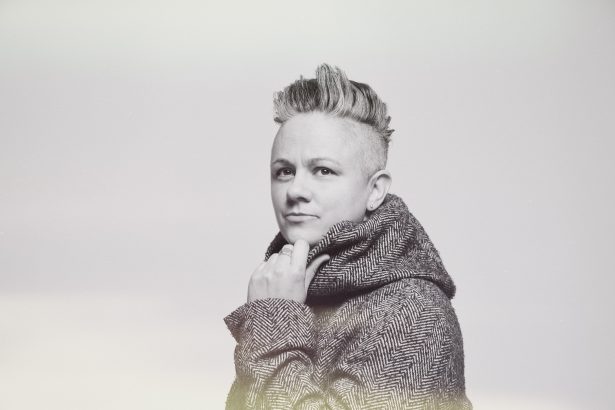 photo by Shervin Lainez
Meg listens to everything. Jazz, grunge, and hip hop shaped her tastes. Butch shows off the musician's proficiency as a guitarist and lyricist, and as always, she's as catchy as she is clever. When she moved from LA back to the east coast, her musical influences came full circle, and she started listening to more alt-country -women like Patty Griffin, Lucinda Williams, and Brandi Carlile.
On this topic, Meg and I really connected. I personally love country music and was raised on strong women in country like Reba McIntyre and Dolly. I immediately knew, after listening to Butch, that Meg belongs in the new generation of iconic country women. Country as a genre is more open to lesbian storytellers than it ever has been.
"Singer-songwriters are playing with new sounds and different musical influences," I offer.
"Yeah, I feel like there's like a new Laurel Canyon happening, which is really cool," Toohey agrees.
As for the album title, I could imagine typical reactions from many, like Meg's mom, who, according to Meg, thinks the term is derogatory and was shocked at the album's title. "[Butch] is a term of endearment in the lesbian community…you know, even as a kid, I used to wear my brother's clothes and his belt that was dragging on the floor cause it was too big for me. It got brushed off as being a tomboy, which I also consider myself to be."
She went on, "I never wanted to wear dresses. I always was into the prettiest girl in the room. I was kind of the classic [butch], like I consider myself to be tough in a pair of work boots. I've always got a drill. I'm building my own bookshelves and things. But then, like, I'll cry at the Hallmark commercial. I definitely have the tender, overly sensitive heart, you know. Butch is just the term that I feel encompasses all that I am."
We touched on the fact that butch, as a term, is going through an interesting existential transformation. Butch has gotten dragged into a dispute about gender roles and identities. The redefinition of terms like butch and femme (historically also spelled fem) shows a lack of understanding about lesbian history. Butch and femme describe a dynamic as much as an aesthetic presentation.
"I went to Whole Foods today and I saw this big ol' butch and I just was like, yes! You know? It's always older women. It's so funny, I look in the mirror now and I'm like, holy shit, I'm one of those women that I used to look at when I was 17 years old and be so fascinated by. I'd think, 'That's a woman, but she looks like a man and she's wearing the clothes that I want to wear and that's what I want to be when I grow up.' You only really see this a lot in the older lesbian community."
Older lesbians are often 'called out' or targeted for silencing on the basis of being old-fashioned or behind the times. Meg and I talked about how this attitude toward butch and femme have accelerated these words' disappearance from popular usage. Our experiences as lesbians are rewritten or written over. But is the younger generation ready to embrace the historical lineage or sense of family that comes with butch identity? Meg's album is an indication that a comeback is on the way.
When we look at how Gentleman Jack immediately gained such popularity among lesbians, it seems that representations of butch women may inspire the younger generation to step into their power. Rejecting femininity and the roles that are carved out to limit and coerce women, that is our inheritance, regardless of the word we use to describe it.
Meg points to KD Lang (another rebellious woman in Country music) as another example of the irresistible magnetism of the butch/femme dynamic. This expression of desire is timeless, and even if we deny its name is Butch, could it really be suppressed?
"This record is such, such a personal journey. It was incredibly difficult to make, because I worried that I might upset people, and I've spent a lot of my life worrying that I was going to upset people. I've been able to release that thing that is part of coming out, you know? Being true to who you are. This is the first time I really just don't give a rat's ass what people think. I know it's good for me. It's like my therapy, my absolute expression, and I feel so, so proud of it."
We are too, Meg.