Interviews
Movies
Donna Deitch on Her Timeless Lesbian Love Story 'Desert Hearts'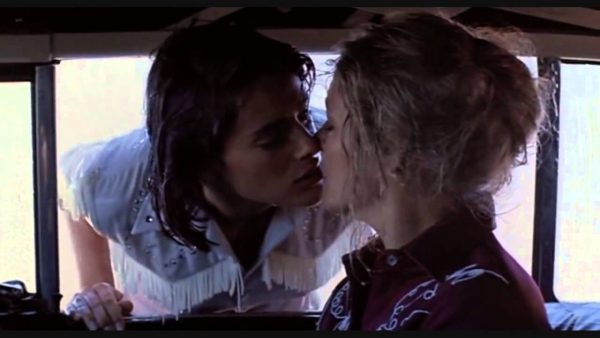 "If you don't play, you can't win."
The words, spoken by director Donna Deitch in her one line in Desert Hearts, go well beyond the movie screen. Deitch has reaffirmed the mantra often since she produced and directed her 1986 lesbian drama, which made cinema history and received impassioned reviews following its release. The novel upon which the film was based, Jane Rule's 1964 work of lesbian fiction, "Desert of the Heart," made an immediate and lasting impression on the filmmaker. "I read the book seven times in a row," Deitch told me when I caught up with her via telephone last week. She was in New York City for the premiere of the newly digitally restored theatrical release of her film, which is screening again tonight in Los Angeles.
I wanted to know what inspired Deitch to make the film, which was something audiences had not yet seen in 1986: a positive, uplifting lesbian love story that didn't involve a man or a death. "My goal was to make a lesbian love story that did not end in a bisexual love triangle or a suicide. Because that's all that had been made at the time I set out to make Desert Hearts," she says plainly.
Gene Siskel wrote in The Chicago Tribune shortly after the film premiered, "the filmmaking and performances are so seamless that "Desert Hearts" may accomplish on film what hasn't been achieved in society—the de-sensationalizing of lesbianism."
"Lesbianism isn't exploited for angst a la Children's Hour, or touched upon then summarily dropped as in Personal Best; it's handled tenderly and optimistically, if not with a lot of levity and wit," wrote Michael Musto in The Saturday Review.
Today, we live in a different world. It has become much more commonplace for actors to play gay roles. But things were very different back in 1986. I asked Deitch what she thought of the current climate, where playing gay has become almost trendy in a way, and she didn't hesitate to answer.
"Yes, well trendy is much better than verboten, don't you think?" Indeed. Back when the filmmaker cast Desert Hearts, few would touch it. "It wasn't just about not wanting to play a gay role back then. It was worse than that. People didn't want anything to do with the movie. They didn't want to be involved, period. It was just too controversial," she explains. Ultimately, she cast Helen Shaver as Vivian Bell, and Patricia Charbonneau as Cay Rivvers. It was Charbonneau's first film. The two women were brave enough to take on the roles, fortunately, and they had undeniable chemistry.
We pause our conversation for a moment as sirens punctuate the New York City air, and I recall that in 1986, I was eight years old and my parents wouldn't allow me too see the movie, despite how tame it actually is. What was it like for adults? For women who were bravely out, or those who were still closeted? Desert Hearts came out just after the second wave radical feminist movement that took place from the 1960's through the early 1980's. "What about the women's movement?" I nearly shout into the receiver. "Did the second wave feminist movement have any influence on the film?" The sirens finally stop.
"Well it had an influence on me, so it had an influence on the movie," Deitch tells me matter-of-factly. "All I really did was make the movie I wanted to see." But I wanted to talk about second wave feminism, and she humors me. Confident and self-assured in a way that only comes with age and experience, Deitch seems open and willing to engage, which makes her a great conversationalist. "The concept that the personal is political is really the main influence it had on me," she divulges. "That came directly out of the movement."
"It's also a theme in the movie, right?" I offer. "There's sort of this universal theme of love, but also a specifically female collective experience?"
"The story is set in the wild west, it's the divorce capital of America in the 1950's when the film took place. So that's the backdrop. It's a story about finding yourself, about being your authentic self, AKA coming out. And there's a risk involved in that. But if you're not willing to take that risk, the risk of being who you really are, you can't win. I say, in my one line in the movie, as the so-called Hungarian gambler, "If you don't play, you can't win."
"And that's a universal theme," I suggest. I can almost hear her nodding through the phone, and wish we were having this conversation in person, before she goes on, "And that's next to another universal theme, which is the power of choice."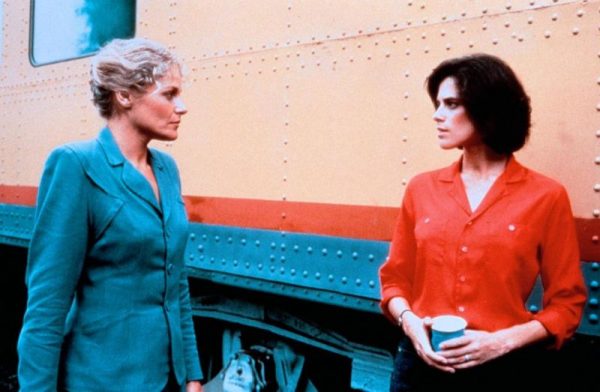 I suddenly have a rush of burning questions. "Do you think younger audiences appreciate Desert Hearts as much as older generations? Do you think we have enough lesbian characters and lesbian representation in the media in general? How do you think things have changed?"
She meets my burst of energy with calm. "Of course there isn't enough lesbian representation. There has never been a time when there was enough."
Deitch enters an elevator, our call is dropped momentarily, and when she calls me back she hasn't forgotten my stream of questions, picking up from where we left off as soon as I answer.
"My experience being in the theater here in New York when the film was screened, was that women of all ages were present. Millennials possibly seeing the movie for the first time, to older women who first saw it when it opened in 1986 all came together. And the movie played as though it were made yesterday. You know, over the years and even last night, women come up to me and tell me their stories about how they are connected to Desert Hearts. It might be a love story, it might be a coming out story, it might be what happened in line at the theater to see the film. All sorts of stories, and so many women have shared these intimate parts of their lives with me, that I decided the thing to do is start a collection of these stories. I'm asking women to send me two-minute videos telling me their Desert Hearts story. Because I have seen that this film brings women together. It connects people, across all divides."
"I think that's a wonderful project. And I'd love for the AfterEllen team to be a part of that."
"Oh, I'd love it if you would."
"I must ask you one thing. and I know you can't tell me too much about it, but just whatever you can. I also don't want to ruin the movie for anyone who hasn't seen it, so I won't say much about the movie's ending except that it leaves an open-ended question. And I hear you are making a sequel to the movie. Is this true?"
"Yes I am making a sequel, and all I can tell you is that it takes place in New York City in the heart and at the height of the women's movement."
It goes without saying that I nearly faint at this moment but I press on, "I won't ask if it picks up from where the original story left off, then. But, there is an open question there that audiences are left to answer on our own. You said that when you set out to make the film, you wouldn't let it end in a death or a suicide or a love triangle…"
"That's right. And I did what I said I would, didn't I?"
Desert Hearts is playing at the Aero Theatre in Santa Monica on Wednesday, July 25 at 7:30 p.m. and Donna Deitch will be present for a Q&A following the screening. The film has been digitally restored by The Criterion Collection/Janus Films and UCLA Film & Television Archive in conjunction with Outfest UCLA Legacy Project and Sundance Institute.