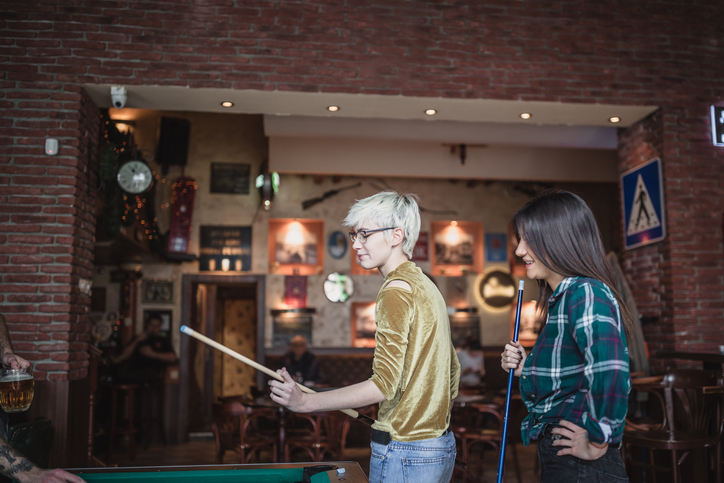 Lesbian spaces have been rapidly disappearing in recent years. But not all is lost! There are exactly 15 lesbian bars left in the United States, including two in DC, because they won't save some for the rest of us, apparently. They were hiding the line, but then the pandemic hit in full force. Now many are left struggling to stay afloat. And who will help lesbians if not other lesbians? That's where the Lesbian Bar Project comes in.
What Is It?
We've mentioned it in passing a few times before, but we never really got into what it is. The Lesbian Bar Project was created to celebrate, support, and preserve the remaining lesbian bars in the US. "Without space we lose power, validity, communal safety, and intergenerational dialogue," they say on their website. Lesbians have lost a lot of our spaces in recent years, and the pandemic threatens to erase one of the last bits of ground we have left, lesbian bars. So, the Lesbian Bar Project launched a 4-week fundraising campaign to ensure these remaining 15 bars survive Miss Rona's onslaught. You can donate to the cause on their website.
Dyking Out!
But wait! There's more! Do you like comedy and music? Do you want to help the Lesbian Bar Project? Then Dyking Out Presents: The Lesbian Bar Project #savethenight event is for you. Carolyn Bergier and Melody Kamali, co-hosts of the Dyking Out podcast, have brought together a bunch of stellar guests for a virtual lesbian bar hang. So what can you expect from this virtual bar hang? DJ Sha Savage will walk you through a Jägermeister cocktail tutorial. Then, get ready for some comedy featuring Lea DeLaria, Cameron Esposito, Emma Willmann, Leo Sheng, Sydnee Washington, Rita Brent, and Ali Clayton. The night will finish off with a performance by Mary Lambert. The virtual event will take place on November 23 from 6:00 PM to 7:30 PM PST. You can register by clicking this link.
Glimmer of Hope
"When our history isn't protected, we must protect it ourselves," The Lesbian Bar Project reminds us. This is about more than just saving 15 bars. It is about preserving one aspect of lesbian history. These bars have often severed as safe havens for lesbians. We were free from male harassment, surround by women just like us, accepted for exactly who we are in places like lesbian bars. And with so much of our spaces having disappeared, isn't it worth it try and save the few we have left?