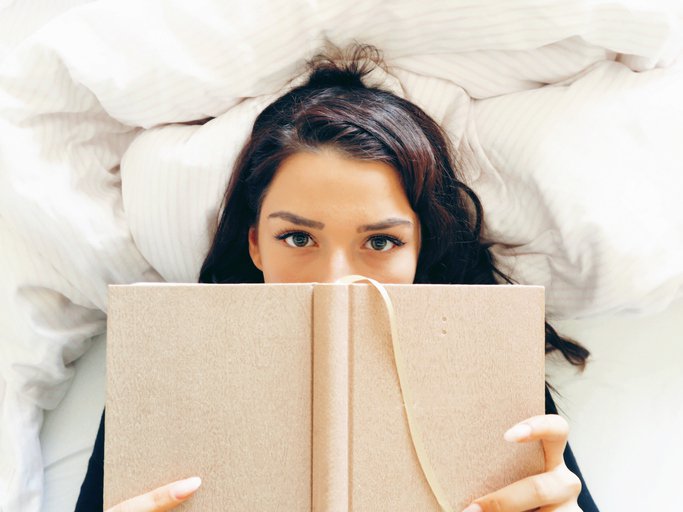 Getty Images
It would be easy to write off the lesbian pulp novels of the '40s and '50s as dated, exploitative works. After all, most have tragic endings in which the lovers are separated by death, institutionalization, or compulsory heterosexuality. On the surface, they're simply bad representation.
It takes digging into the history of the pulp novel to understand why these books should have importance in the Lesbian canon.
Many lesbian pulp novels were written by lesbian and bisexual women, or by women who found themselves identifying more with the young ingénue who falls for the older, more experienced woman. Perhaps most importantly, these novels were gateways for young women who lived in rural areas without the thriving urban gay scene, and who therefore had no other way of finding others like themselves. The tragic endings were only a means to an end, as most censors wouldn't allow publication of lesbian pulps unless they had a tragic ending.
The tragic endings are even empowering, from a certain point of view. These women did not try to make the tragedies seem like actual happy endings. A return to heteronormativity is not seen as a victory but rather as a tragedy, a repression of these women's true nature and happiness. They become statements against a society that demonized them and showed that an ending where a woman becomes Donna Reed is not always a happy one.
Here are five important lesbian pulp novels to read that showcase the importance of the pulp for modern lesbian and bisexual readers.
Women's Barracks by Tereska Torres
Published in 1950, Torres's "frank autobiography of a French girls soldier" kickstarted the lesbian pulp sub-genre with its depiction of the romance between the shy Ursula and the promiscuous, older Claude. Many of the tropes in pulp novels can be dated back to Torres's work – the predatory older woman who seduces a younger woman, the younger realizing their love isn't as real as her love for a man, and the tragic ending.
Torres, a straight woman, later expressed shock that her novel, which was based on her own wartime diary, had kickstarted such a movement. "I look on the internet and I learn that I am the literary queen of the lesbians, the person who wrote the first lesbian, erotic pulp novel. I hate it. I hate it," she said in a 2010 interview with The Independent. "If you look at Women's Barracks, there are five main characters. Only one and a half of them can be considered a lesbian."
No matter the author's thoughts on the matter, Women's Barracks stands as the first text in the canon. It was the success of this novel that opened the doors for other pulps to be published. Despite being a slow read, it's worth a look just for the fact that we owe the creation of an entire sub-genre to its publication.
The Price of Salt by Patricia Highsmith
Film lovers will most likely be familiar with the film adaption of the novel – 2015's Carol starring Cate Blanchett and Rooney Mara. Highsmith's 1952 novel broke new ground, as it was one of the rare pulp novels that had a happy ending. Instead of ending in tragedy, Therese and Carol get to have the happiness long denied to the other characters in their canon.
The Price of Salt also marks a shift in Highsmith's career. Originally, she made a name for herself writing suspense novels; most famously, she penned Strangers on a Train and The Talented Mr. Ripley. Highsmith also had numerous relationships with women during the course of her life. However not wanting to be pinned down as "the lesbian-book writer," and as she drew inspiration from her own experiences, she originally published The Price of Salt under a pseudonym. It is her only novel that contains an explicit lesbian relationship.
The Price of Salt took a place in the spotlight during the Academy Awards last year when Carol was nominated for six awards. It's only fitting to read the book to judge the adaptation, as well as enjoy one of the rare novels that has a happy ending rather than tragedy.
Three Women by March Hastings
This love triangle set in 1958 is famous for one very tragic ending. March Hastings even re-wrote part of the ending in the 80's so that it would be somewhat less depressing. As it still stands, the novel is a hard read.
The plot is as pulpy as it comes. A young woman named Paula, engaged to a man she's not in love with, falls for his older, seductive aunt Byrne. However, her paramour is hiding a dark secret from her past. With a plot like this, it's hard to imagine that the novel would have a happy ending. What's so striking is that the ending's bleakness doesn't come from the tragedies that befall Paula and Byrne but the looming threat of losing oneself to a heteronormative culture. That specter is far more frightening than any secret or act of violence in the novel, which makes it a groundbreaking work for the time it was published.
If you can stomach a tragic ending – and indeed, why would you be reading lesbian pulps if you can't – Three Women presents a sobering look at 50's cultural norms as well as all the pulpy goodness you could ask for.
The Girls in 3-B by Valerie Taylor
This might be the most uplifting novel on the list – and that is saying something, considering this novel tackles sexual assault, drug use, workplace sexism, and unwanted pregnancies. Still, this novel is less about the dangers of alternative lifestyles and more a celebration of women breaking gender norms, a sign of the changing times (the novel was published in 1959).
Three best friends – Annice, Barby, and Pat – move from a small town to the big city of Chicago, where all three immediately struggle to break free from the patriarchy and establish their own identities. The lesbian subplot in the novel is not the center of attention but is ultimately uplifting, where Barby learns to overcome past trauma and move forward with her life thanks to her relationship with an older woman. It's an interesting spin on the predatory lesbian trope, and an empowering arc in a time when queer women rarely were uplifted by their relationships with other women.
The novel's ending is sad for one of the characters, but if you're looking for a lesbian pulp that places a microscope on society and empowers all three of the leading ladies featured in it, this is your best bet.
Under the Mink by Lisa E. Davis
I'm cheating a little with this novel – it was published in the 2000's. Still, if you're looking for a noir centered around gay women, you'll find it all in this book. Dames and danger populate the Candy Box Club in Greenwich Village, where emcee Blackie Cole must investigate the murder of socialite Didi's brother.
The novel was written by long-time Greenwich Village resident Lisa E. Davis, who researched the novel meticulously. She drew from interviews with lesbian and bisexual women who lived through the 40s and 50s nightclub scene, and her novel shows the pre-Stonewall history of the Village and gives voices to these women's stories and experiences while still drawing readers in with a pitch-perfect example of the noir.
Of course, this is one of the more recent entries into the canon. If you're looking for a classic, there are novels such as Odd Girl Out, Spring Fire, Another Kind of Love, and Lesbo Lodge. However, if you're looking for some history mixed in with your pulpy goodness, then, by all means, pick up this novel.