The Tokyo 2020 Olympics has a record breaking 181+ LGBT athletes competing in it. It has seen more visibly out Olympians than all the previous Olympics combined. Furthermore, there are more lesbian and bisexual women than gay and bisexual men, with a ratio of about 8:1. So let's take a look at some lesbian and bisexual women from Team Australia!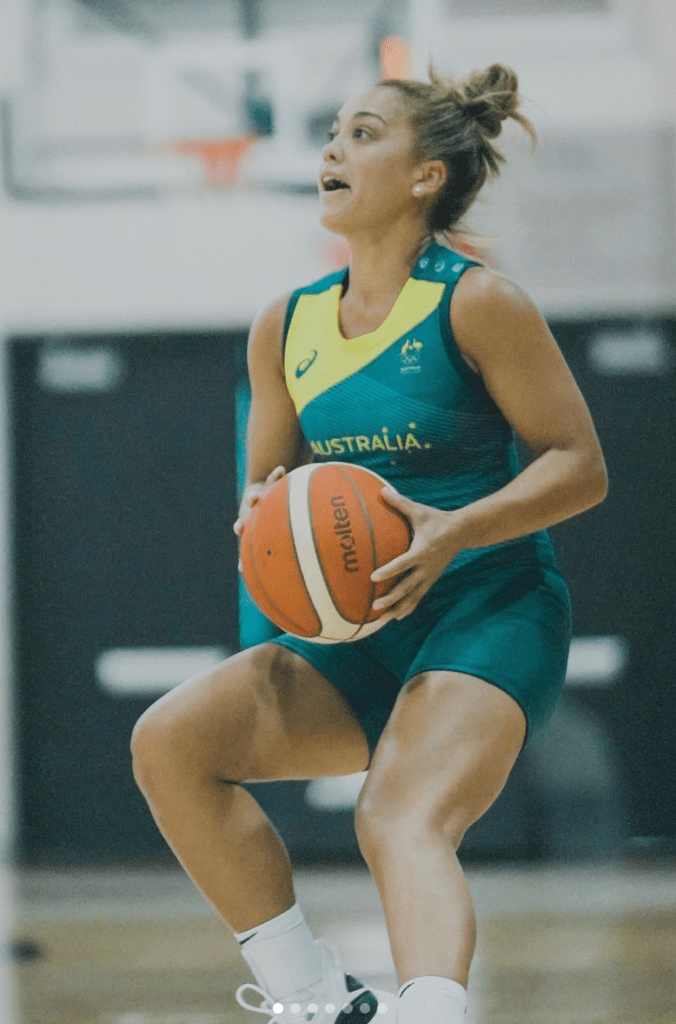 Despite playing for the Washington Mystics on the regular, basketball guard Leilani Mitchell played for Australia in the Tokyo 2020 Olympics. She "was able to obtain dual citizenship with the United States and Australia thanks to her mother, a native Australian. During multiple WNBA offseasons, Mitchell has played in the WNBL in Australia. The time she spends playing in the Australian league has allowed her to improve her shooting," according to the Washington Post.
The plant-based-diet athlete and her fiancée, Mikaela Dombkins, another basketball player, welcomed their son Maxwell in 2018. This baby was a "miracle." Having him took "842 days, the 75 needles, surgery, two IVF rounds, biochemical pregnancy, two failed transfers, overseas travel, endometriosis, unresponsive trigger attempts and hyper-stimulations," according to the Sydney Morning Herald.
Sharni Williams, rugby player and co-captain, demonstrated her pride during the Rio 2016 Olympics by wearing rainbow headgear. Recently, when asked to comment on homophobe Israel Folau, who said "homosexuals were destined for hell unless they repented for their sins" being signed up to a new Super League contract, she said to reporters, "I don't know who you're talking about," with a straight face. 
Sharni's partner, Mel Smale, showed support for Sharni this Olympics, on Instagram: "I never wish you luck because you always tell me it's not about luck, it's about preparation. I doubt there's a moment in time that's been more prepared for than this one. So you're ready. It's your time. LET'S GO! Always on your team x"
Katarina Kowplos, Australian shooter – and on team GAY – is described as a teenage sensation. At 19-years-old, "Katarina Kowplos only started shooting four years ago and in that short time has made her mark on rifle shooting, pushing for Olympic selection while juggling her final year of high school," according to the Olympics AU website.
Being there to compete at skateboarding's Olympic induction is 21-year-old Poppy Starr Olsen. Her love for skateboarding started because her mother thought taking the kids to Bondi skatepark was "something she was able to do with the whole family," according to the ABC. "So, it was a good place for us to hang out. But gosh, we lived down there," said her mother, Thomas Olsen.
Skateboarding wasn't something a young kid could commit to for a living even ten years ago, especially a girl. There was no coaching or financial support. "It took a lot of help from the village," Thomas said. The family held community fundraisers, sold Poppy's artwork, Thomas' jewellry, and received donations from local businesses to get Poppy started.
Soccer is evidently the most Sapphic sport. Australia's Olympic soccer team is no exception. The woman-loving soccer players include: Emily Gielnik, Sam Kerr, Chloe Logarzo, Teagan Micah, and Temeka Yallop.
Sadly Sam Kerr and long-time American girlfriend Nikki Stanton called it quits in the leadup to Sam competing in the Olympics. The pair had simply "fallen out of love." Sam reports being targeted by homophobic "vile trolls" over the relationship, with one even recently calling her a "dyke."
There was no love lost between Team USA and Team Australia when the final siren rang at Tokyo 2020, putting Team USA in bronze position and Australia without a spot on the podium. "After the final whistle blew to bring the 4-3 thriller to a close, many of the devastated Aussies stuck around on the field to mourn their loss. Superstar striker and Matildas captain Sam Kerr — who became Australia's all-time leading goal scorer with a 17th-minute equalizer — was among the most dejected out on the pitch…USWNT midfielder Kristie Mewis made her way over to comfort Kerr, following her team's heartbreaker. Fans already suspected that the pair of international soccer stars were dating based on their social media interactions, and photos from Thursday's bronze-medal match offer further evidence that Mewis and Kerr may be one of sports' newest power couples," according to Insider.
Nice to see lesbian drama isn't isolated to small networks! As we've seen from our Gays at the Games series, competition remains on the field… many Olympic athletes are dating members on opposing teams, even if this particular relationship is (or is not) merely hearsay.
Kaia Parnaby, softballer, was glad to see the sport back at the Olympic games after 13 years amiss. Batter up! "Parnaby started playing softball throughout her school years and it was clear she always wanted to be like the role models she saw in the Aussie Spirit team when she was a kid," according to Sporting News. She is in a relationship with Michelle Clark.
Rowie Webster, water polo, said "you'd have to cop my leg off to keep me from Tokyo 2020," after battling injuries for the past few years." She continued, on Athlete's Voice, "I told my coach that I'd play with a broken arm at the Olympic Games, I just don't care. My dreams match my pain tolerance: high. That's why back surgery was not an option; everything we did was to escape going under the knife." Tough!
Sam Stosur, Australian tennis sweetheart, has had a long battle with accepting and disclosing her sexual orientation. Sam and partner, Liz Astling, welcomed daughter Genevieve in June 2020, but Sam still had trouble vocalising her relationship on the big stage earlier this year. "The former US Open champion had just accepted the Spirit of Tennis award at Tennis Australia's 2019 Newcombe Medal presentation night and when she began to speak, internal conflict was raging," according to WWOS. "By the time she stepped off stage, she'd had enough. The person that Stosur failed to mention was her partner, Liz Astling. When the moment came, she was still too afraid."
Australia still has a problem with homophobia. Not only were we one of the last Western countries to make same-sex marriage legal in 2017, but we all know marriage isn't where it ends. Homophobic taunts, like Sam Kerr mentioned, make other gay people, including esteemed athletes like Sam Stosur, keep quiet.