The Tokyo 2020 Olympics has a record breaking 181+ LGBT athletes competing in it. It has seen more visible out Olympians than all the previous Olympics combined. Furthermore, there are more lesbian and bisexual women than gay and bisexual men, with a ratio of about 8:1. So let's take a look at some lesbian and bisexual women from Team USA!
Stefanie Dolson, the 3X3 basketball player, came out during an ESPN interview in 2016. "Not everyone in the WNBA needs to be out, but I feel called to lead an authentic life in the open," she said. "I know who I am and I don't care if people judge me. I am 6'5″, and I dye my hair purple and experiment a lot with fashion. My motto is: If they're going to stare, they might as well stare at something fun. There are a lot of girls who struggle being who they are. We need people who are out so that those girls know it's OK to be themselves, regardless of stereotypes. By being open, I give them someone to look up to, and however they identify, I can inspire them to support equality and LGBT issues."
Sue Bird, the basketball player, got engaged to her girlfriend of four years, soccer star – and fellow Olympian – Megan Rapinoe, in 2020. The pair bonded in the Rio 2016 Olympics, 12 years after Sue's first: Athens, 2004. Sue confesses she is naturally shy, but Megan helped her speak up, even convincing her to publicly come out in 2017. "What Megan helped me understand was that, yes, what I was already doing was great, living authentically [to family and friends]," she said. "But it was important to say it [publicly], because the more people that come out, that's where you get to the point where nobody has to come out. Where you can just live. And it's not a story."
In 2019, basketballer Chelsea Gray didn't spend the offseason at the USA Basketball's college tour. Instead, she got married to her partner, Tipesa Mercedes Moorer, in a "star-studded wedding," according to OutSports. Tipesa jumps at the chance to testify for the brilliance of her wife: "I admire her drive to be better, her accountability in every failure, and her desire to prove why she's one of the best," she said on an Instagram post. "So when you see me acting crazy on the sidelines and cussing out the refs (rightfully so) understand that I'll always be an advocate for her goals (and FOULS), a fan in all her success, and passionate about her passions."
Brittney Griner, basketballer, has been out and proud for a decade. She recently declared that she has suffered with her own mental health issues, making her able to empathize with Simone Biles, who taught the world that there's a limit you shouldn't push yourself past, regardless of the stage. "It was a very hard decision," Brittney said about Simone's choice to focus on her mental health right now, "I've always been very vocal about it: I've dealt with some really bad depression and suicidal thoughts when I was younger. I felt like I was hurting my team, but also felt like I was crushing [myself] on the inside. If you're not your best self, that's when injuries come in because you're not all the way focused."
Basketballer Breanna Stewart recently got engaged to partner – and opponent – Marta Xargay. "Breanna Stewart's winning streak on the basketball court expanded to a park in Phoenix, Ariz. on Sunday, where she proposed to girlfriend and fellow pro basketball player Marta Xargay," OutSports reported.
Diana Taurasi is "arguably the greatest player in the history of women's basketball," according to ESPN. Diana got married to Penny Taylor, her former teammate, in 2017. On March 1st, 2018, the couple welcomed a baby boy, Leo Michael Taurasi-Taylor. Aww!
Perris Benegas, BMX bike rider, came out only this year. "My whole life I've been searching for happiness, while forcefully suppressing who I really was, moreso, who I really AM. My opening line with close friends and family for the past month or so has been "so, I've been living a lie all my life"… I felt that was the best way to break into an honest conversation of telling my friends, family and love ones that I'm gay," she announced on Instagram.
Rashida Ellis is a lesbian boxer. "Rashida Ellis has always been a fighter. From the elementary school playground where she took on her male classmates to her father's efforts to channel that aggression inside the boxing ring, Ellis' entrance into the 2020 Summer Olympics has been 15 years in the making," according to OutSports.
Evy Leibfarth, canoe slalom, was "the youngest in both paddling categories at the 2020 Tokyo Olympics," according to Davidson's website. One to watch out for in the future, clearly.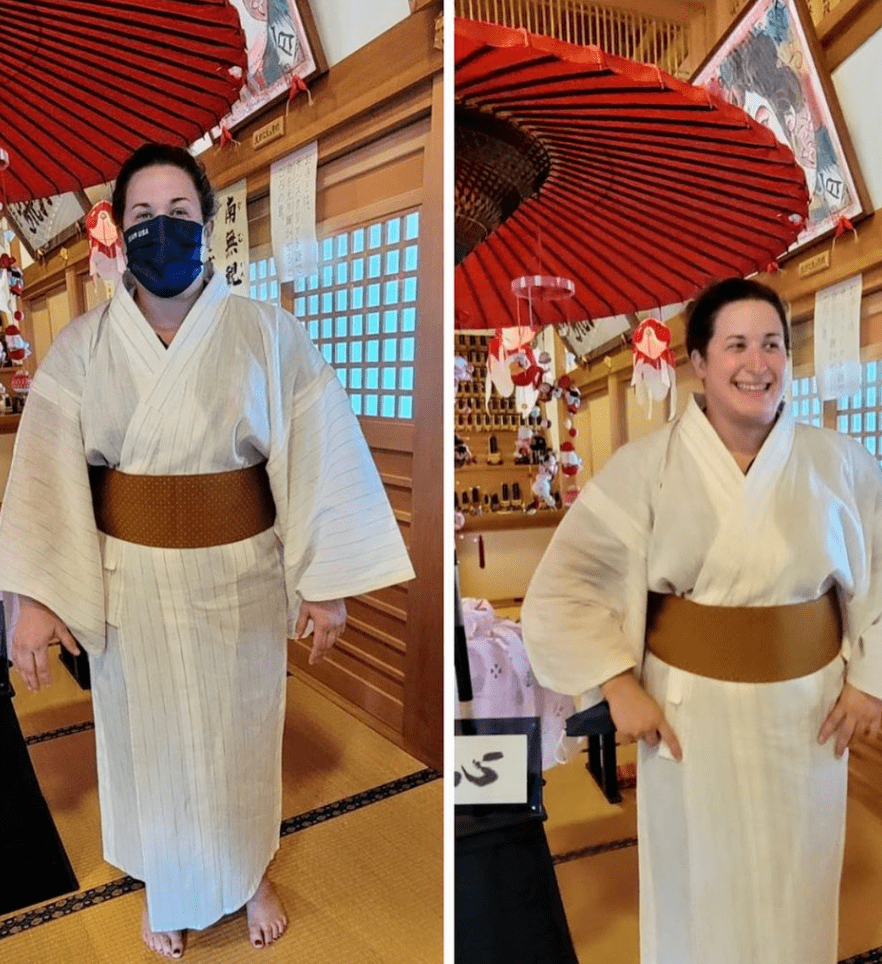 Nina Cutro-Kelly, lesbian, made her Olympic debut in judo at this year 36 years old. This made her "the United States' oldest judo competitor in Olympic history," according to the Times Union. Here's to showing up despite your age!
USA's rugby team has three lesbian or bisexual women on board: Lauren Doyle, Alev Kelter, and Kristen Thomas.
In skateboarding's debut at the Games, USA is represented by Alexis Sablone. "​​Sablone is a queer artist from Brooklyn and the rare athlete who can justifiably claim that making the Olympic squad is only one of several fascinating aspects about her life. She first caught the eye of the skating world as a 16-year-old in 2002 as the only female featured in a famous video entitled "P.J. Ladd's Wonderful, Horrible Life," according to OutSports. "Whenever I was met with that hostility, I feel like that fueled me," she said to GQ's Noah Johnson. "I liked it because I wanted to prove them wrong."
In soccer, the gays (and USA), are represented by Adrianna Franch, Kelley O'Hara, and Megan Rapinoe. In 2019, the Women's World Cup final "had the most out lesbians and bisexuals in the history with five apiece," according to OutSports. This was a perfect spark to a conversation about lesbianism for girls watching, especially when Kelley O'Hara embraced her girlfriend straight after the game. This just so happened to be Kelley's "coming out moment," as well.
And now for the softball! Ally Carda, Amanda Chidester, Haylie McCleney and Taylor Edwards all flew the gay flag for USA this year. Haylie McCleney publicly came out as gay in 2020, saying "As human beings it's our nature, especially as females, to want to please everyone, but we have to come to terms with the fact that what pleases everyone is not necessarily always what is right. To be a leader and an advocate you have to push peoples' buttons on certain things and certain issues. You have to be vocal about what you believe because you won't help anyone being on the fence or hiding. … It was a process for me, but I'm at the point now where my life is my life, I'm with the love of my life, I'm living my best life every day with her by my side and love it or hate it, I don't care because I'm over-the-moon happy."
How could we leave out swimmer Erica Sullivan? Erica has had to overcome a lot in order to make it to the podium: "I'm proud of the mental health barriers that I got through, with my dad dying in 2017 and really hitting a rock bottom in 2018 from the stress of losing a parent at age 16 and having to get over the anxiety, the panic attacks, the depression, the PTSD, all that."
Raven Saunders, shot putter for team USA, demonstrated for the downtrodden when she won silver at the Tokyo 2020 Olympics. Raven lifted her arms above her head and formed an "X" across her wrists, explaining it symbolized "the intersection where all people who are oppressed meet."
Erica Bougard, heptathlon competitor, made a stand for gay rights when, in 2019, she wore "rainbow-flapped Nikes in anti-gay Qatar," reported OutSports.
Kayla Miracle is the first out Olympic wrestler! "When she started in the sport, women did not compete in the Olympics in wrestling. Throughout high school, she competed against boys. In college, wrestling women, she was a four-time Women's Collegiate Wrestling Association College National champion for Campbellsville University in Kentucky," reported OutSports.