It's just like Smash Mouth said, "the years start coming, and they don't stop coming." The end of another decade is upon us. And what a decade it has been. Short-lived memes, a whirlwind news cycle, and binging five seasons of a show in one weekend has distorted our sense of time. Plus, many of us tend to zone in and focus on the bad. It's hard to remember all the good things that happened in the last 10 years. Luckily for you, we've made a list of some of the best lesbian moments of the decade.
The Rise of Lesbian Jesus
On June 24, 2015, Hayley Kiyoko released the music video for the song "Girls Like Girls." And so Lesbian Jesus was born. The nickname is well deserved. As a singer, songwriter, and director Kiyoko works hard to normalize lesbians in media though her music and videos. And she did just that. "Sleepover" had us bawling over our unrequited crushes. At least we had her in our heads, right? We all fell in love with the absolute bop that is "What I Need" featuring Kehlani, whose music video was a cinematic masterpiece. The Notebook whomst? We were all just "Curious," wondering if it was serious. Her relatable lyrics and catchy beats had us hooked. While she's definitely not the only lesbian artist we've seen rise to fame this decade, she is notable for giving lesbians a bigger voice in the pop music scene. She has no doubt inspired a legion of future artists. Now more than ever is it vital for lesbians to create content for other lesbians. And she's doing it no matter what. We can't wait to see what she has in store in 2020.
A Kiss 10 Seasons in the Making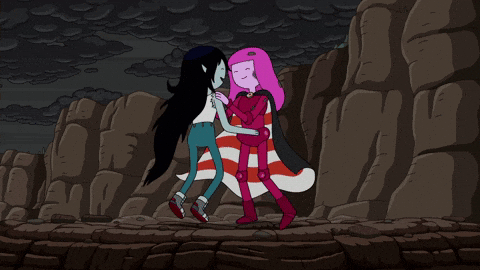 On September 3, 2018, the series finale of Adventure Time aired. And during that episode we finally got what we wanted: Princess Bonnibel Bubblegum and Marceline the Vampire Queen shared a kiss during the epic final battle. While theirs is not the first same-sex kiss in a cartoon, this one took nearly all 10 seasons to happen. Fans of the show have known of their "more than friends" type relationship for a while. The episode, "What was Missing" in season three all but confirmed our suspicions when it revealed that Princess Bubblegum often sleeps in Marceline's old T-shirt. And it just kept going from there, from Marceline singing "Slow Dance with You," to Bonnibel asking her to move in, the relationship was the slowest of burns. And why wouldn't it be? Behind the scenes we knew the Adventure Time team fought tooth and nail to make it happen. Furthermore, the show did something most Hollywood movies couldn't do. The same-sex couple got a happy ending. We hope the success of Bubbline will allow more same-sex couples to appear in cartoons, giving little lesbian girls some representation and reminding them that they're okay. But the adventure isn't over yet. The pair will have their own one-hour special premiering next year on HBO Max.
World Champion Lesbians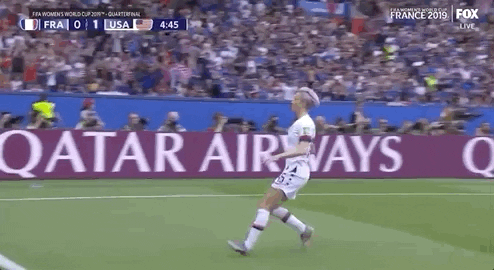 It seems like every week we're hearing about another lesbian athlete winning yet another award. Well, just this week Sports Illustrated named Megan Rapinoe as the Sportsperson of the Year. And why not? She's been sweeping up the awards since winning the World Cup, the golden boot, and the golden ball. Before this, Pinoe made the headlines for being the first white athlete to kneel in solidarity with Colin Kaepernick. But enough about Pinoe. Her USWNT teammates Ashlyn Harris and Ali Krieger announced their engagement after dating for nearly a decade. Let's not forget that USWNT coach, Jill Ellis, won back-to-back World Cups. Meanwhile, Australian forward Sam Kerr has been breaking goal-scoring records left and right. We were also blessed with all the cute pictures of athletes kissing their girlfriends and wives after a win during major international tournaments. And outside of soccer, we have the US women's basketball team winning gold at the London and Rio Olympics. This decade also saw India's first and only out lesbian athlete in Dutee Chand.
Harold… They're Lesbians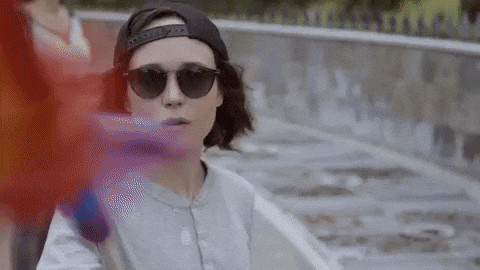 This decade, we saw several iconic figures come out. Orange is the New Black writer Lauren Morelli came out in 2014. Three years later, she and OITNB star Samira Wiley got married. Also in 2014, Ellen Page came out during a speech at an event for the Human Rights Campaign. Two years after that, she hosted the documentary series, Gaycation, that sought to explore the lives of gay people around the world. In 2013, Jodie Foster addressed her sexuality during her Golden Globes acceptance speech, stating that she had come out ages ago. That same year, news anchor Robin Roberts publicly addressed her sexuality. In 2016, Raven-Symoné also publicly acknowledged being a lesbian during The View. In 2018, actress Amandla Stenberg came out in an interview with Wonderland magazine. While others felt there was no need to make a public announcement to come out. They simply exist as lesbians. And sometimes, that's enough.
Ins-Anne-ity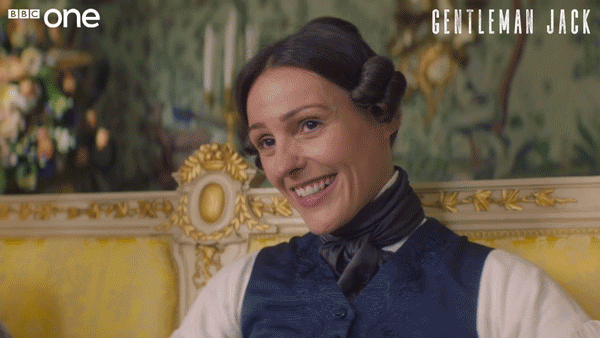 Dear mother I cannot weave, for Aphrodite has filled me with longing for lesbian tenderness. And Gentleman Jack delivered. There wasn't a lesbian in the land who hadn't watched it. Who doesn't love a lesbian period-piece? HBO 7-day free trials probably spiked to an all-time high. Based on the life of one of history's most iconic lesbians, the show gives us a look into the life of Anne Lister, portrayed by Suranne Jones. Anne power walked her way into viewers' hearts. Her relationship with Ann Walker was so tender and loving, it rivaled anything else on air at the moment. But Gentleman Jack did more than just fill our need for happy lesbian romances, it reminded us of our history. We have always existed, in every time, in every place. We have lived full lives and loved deeply despite society's refusal to accept us as we are. In fact, this decade saw lesbian characters in many time periods. Max (Black Sails) held her own against pirates in Nassau in the 1700s. Clare (Derry Girls) managed to come out as a lesbian in Northern Ireland during the Troubles in the 90s. Even Karolina Dean (Runaways) navigated life as a teenaged superhero in present day Los Angeles. We can only hope the next decade brings even more well-written lesbians.
Laughing Lesbians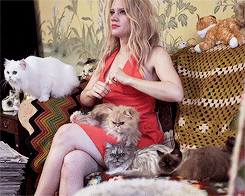 We were truly blessed with the success of many lesbian comedians this decade. Ellen celebrated the 17th season of her show in May of this year. She also had a stand-up special on Netflix. Several other lesbians had hilarious specials on Netflix, too. We all became enamored with Tig Notaro's deadpan comedy. We even had the opportunity to watch her battle cancer and start a family with her wife. And when Hannah Gadsby's Nanette debuted, we felt all the emotions. She made us laugh, cry, and feel like maybe we aren't alone in all this. Kate McKinnon killed it on SNL with every one of her impressions. Even her interviews were entertaining. Writer and comedian Jenny Hagel graced us with her wit on Late Night with Seth Meyers, often making guest appearances on the show to tell jokes only a lesbian could make. We can't have a Great British Baking Show without one lesbian host. Sue Perkins was often found using her comedic skills to cheer up contestants. And when Sue left, Sandi Toksvig took over to turn every frown upside down. We've always known lesbians are hilarious. It's nice to see the world waking up to that, too.
Is That All?
Of course not! There was a whole decade of amazing lesbian moments. Here are few more moments that made us lesbians feel pretty damn good.
Icelandic Prime Minister Jóhanna Sigurðardóttir became the first openly lesbian head of state.
Senior advocates for the Supreme Court of India, Arundhati Katju and Menaka Guruswarmy, came out as a couple. Both women helped decriminalize homosexuality in India in 2018
Taiwan became the first Asian country to legalize same-sex marriage.
In fact, in the last decade same-sex marriage became legal nationwide in many countries including: Portugal, Iceland, Argentina, Denmark, Brazil, France, Uruguay, New Zealand, England, Wales, Scotland, Luxembourg, the United States, Ireland, Greenland, Columbia, Finland, Malta, Germany, the Faroe Islands, Australia, Austria, and Ecuador. With nationwide legalization going into effect next year in Northern Ireland and Costa Rica.
Kenya banned the film Rafiki due its lesbian main characters, citing the ending was "too hopeful and positive." Instead of bowing to demands, the film's director Wanuri Kahiu sued the Kenyan government. The film was then allowed to be screened, as is, for one week.
Two contestants on The Bachelor: Vietnam, Minh Thu and Truc Nhu, fell in love, confessed to each other on the show, and eventually got married.
What are some of your favorite lesbian moments of the last decade that we missed?