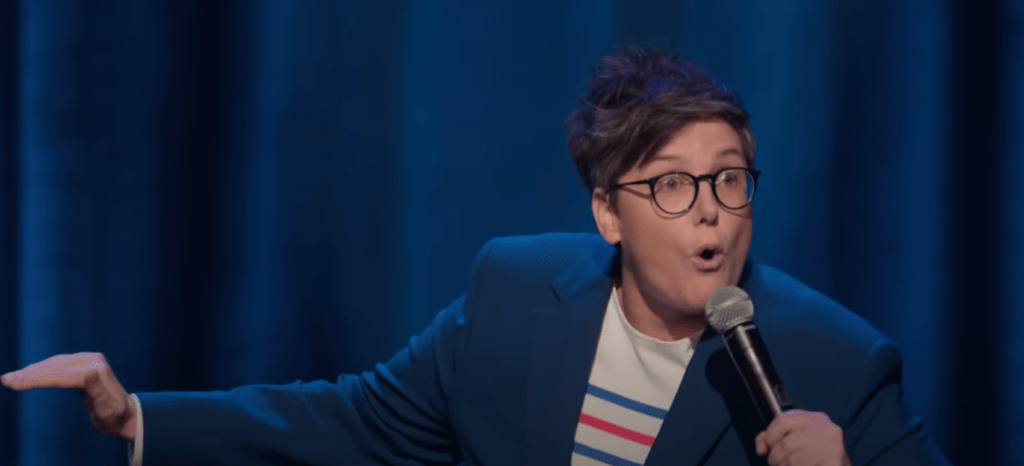 Hannah Gadsby has revealed on Instagram that she got married to Jenney Shamash in January 2021. Hannah posted the couple eating ice cream, pictured below, captioned with: "I would like to introduce all y'all to Jenney Shamash. She is a producer extraordinaire. She is very funny and is really talented at reciting facts. It is a joy to behold. We got married in January and we are very chuffed about it. For the record: this is me gushing. I am full of very positive feelings. This is a nice story. My heart felt thanks to everybody who voted for marriage equality. #married #really? #yeahtotally"
Jenney, who is also The Emmy Award winner's producer, managed Hannah's rise to international fame with the touching, raw, relatable "comedy show" "Nanette," released in 2018. By Hannah's own admission, "Nanette" was not really a comedy show; more so, it was a revealing look at homophobia, mental illness, and disability, especially in the art and entertainment industries. Hannah cleverly used her comedy platform to acknowledge some serious societal problems.
"Nanette" wasn't an invitation to laugh at Hannah Gadsby. Melena Ryzik writes, for the New York Times, that the show is "lacerating in its fury," detailing the way people "who might behave or look 'other,' get treated, dismissed and silenced." Hannah is "unflinching about the abuse that they — she — endured, and the cultural norms that enabled it. She called out men, powerful and otherwise."
"Nanette" was a huge success. It rocketed Hannah Gadsby to international acclaim and quickly became the most talked about, and written about, comedy act in ages. "In its success Ms. Gadbsy has perhaps pointed the art form of stand-up in an altogether new direction," Ryzik points out.
Despite vowing to quit the business on the stage of "Nanette," Hannah merely took a break, after encountering the encouraging reception. "I have built a career out of self-deprecating humor, and I don't want to do that anymore," Hannah says during "Nanette," "Because do you understand what self-deprecation means when it comes from somebody who already exists in the margins? It's not humility. It's humiliation."
The reception to "Nanette" was "beyond [Hannah Gadsby's] comprehension." The special went so well that Hannah grew tired from touring the act, including in both New York and London, after winning the Melbourne International Comedy Festival and the Edinburgh Fringe. "Over 250 times I did that show and it took a toll," she said. "I need to spend the next year mostly napping."
After "Nanette," and the world tour, Hannah continued with her activism, going on to inform people about autism and develop a new enlightening show, "Douglas." Becoming known as quite the passionate activist and frank educator, Hannah said to ABC, "people don't always want to learn [about autism], so screw them."
"Douglas" is "a deliberately lighter touch that draws on her experience living with autism and weaves in anecdotes from her life." The show is, in part, an ode to Hannah's dog "Douglas." But doggie Douglas is "more a jumping-off point to discuss the Pouch of Douglas, a vacant space in the female anatomy that 18th-century man-midwife James Douglas "discovered." He duly planted his flag and named it," according to The Guardian. "Douglas" focuses on the way men take ownership of women, and the world, through the act of naming and claiming.
Hannah Gadsby's marriage announcement is a poetic outcome, four years after she originally performed "Nanette," which was created and performed amidst a toxic debate surrounding same-sex marriage in Australia. The same-sex marriage debate was "marred by hate speech, vandalism and bullying," reported the ABC. Hannah Gadsby had had enough of gay, lesbian, and bisexual people having their relationships being the topic of mass deliberation.
Lesbian, gay, and bisexual Australians were scared. A neo-Nazi group put a 'stop the fags' poster up in Melbourne. Tires were slashed outside a Sydney theatre show about gay love, called Holding the Man. ABC radio aired a caller who "praised Hitler for interning gay people in concentration camps." Politician Kevin Rudd's godson was punched on the streets of Brisbane for "standing up for marriage equality." A 14-year-old girl received a death threat for supporting same-sex marriage. The Australian Football League was evacuated "due to a phone threat," one day after it publicly supported same-sex marriage. This was only a small percentage of the threatening behavior and flat-out abuse over same-sex marriage, and was only a sample of 4 weeks: from mid-August to mid-September, 2017.
All of the old homophobic arguments were regurgitated in the name of "debate." We didn't win the postal vote by a landslide, either, with 61.6% voting in favor of same-sex marriage. There was 79.5 percent voter turnout. After we were "given" same-sex marriage by the powers that be, we were expected to pretend like homophobia was over and there was nothing else to complain about, despite so many Australians – even our own relatives – revealing their hatred for who we are and even explicitly threatening to harm us. Some did.
Hannah Gadsby thanked the "YES" voters on her Instagram marriage announcement. She said her "heart felt thanks," while getting married, "to everybody who voted for marriage equality."