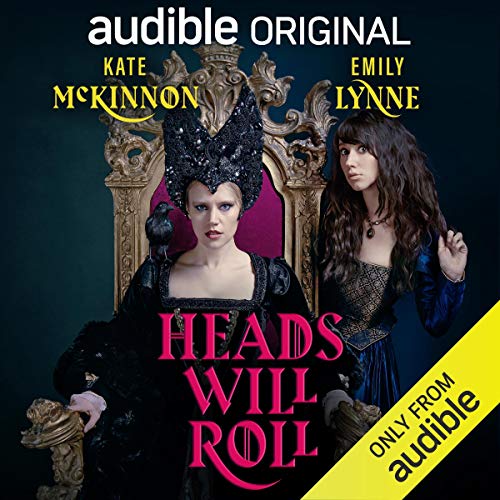 Confession time: I never understood the hype around Kate McKinnon. Whatever legions of white lesbians saw in her was lost on me. Sure, she's a gifted impressionist. I liked her SNL skits as Carol Aird and Hillary Clinton. But I didn't feel the magic. That all changed when I listened to Audible's new Original drama, Heads Will Roll. McKinnon stars as Queen Mortuana of the Night Realm – a despot who decapitates her subjects on a whim, and spends the kingdom's annual water budget on a personal supply of chocolate.


The peasants aren't happy. Ordinarily this wouldn't bother Queen Mo. But then a prophecy is delivered. And all hell breaks loose. A peasant uprising is coming. The concepts of 'liberal democracy' and 'debate' are invented overnight by one random guy in the bathtub. And when celebrity activist Catherine Staunch (Meryl Streep) throws her weight behind the cause, the balance of power begins to shift. Queen Mortuana is in trouble.

With her Raven sidekick Jojo, Mortuana sets off on a to find the Shard of Acquiescence. But this quest is also a voyage of self-discovery for both Queen and bird. Does Mortuana really want to be an Evil Queen? Can Jojo track down the hag who cursed her? Listen to find out! Four hours long and free to Audible members, Heads Will Roll is well worth hearing.

Kate McKinnon crushes it as Mortuana. Even when she roasts a room full of children alive, it's hard not to love the Evil Queen (though, in fairness to her, it was a total accident). With her vocal fry and, um, like, Emily Lynne is completely convincing as a preppy-princess-turned-raven. Though the Night Realm is a medieval kingdom, many of the challenges facing its people will be recognizable to a modern audience. It has start-ups selling tights you can wear to plough the land or party; support groups for royals turned into animals by a witch's curse.

Made up of ten episodes each around the half hour mark, Heads Will Roll is highly digestible. But – unless you live alone – you're probably going to want headphones to listen. This Original is not family friendly. But it is really f*cking funny. From balloon fetishes to a prince who uses dead birds as fleshlights, Mo and Jojo's journey takes us on a wild ride. And their story is narrated by two bards (also McKinnon & Lynne) who are definitely not virgins and don't own 57 cats.

Kate McKinnon isn't the only gay icon to star. General Galafhar, leader of Queen Mo's army, is played by none other than Tim Gunn. He steals every scene, leaning into the camp that gave Project Runway a cult following. Another honorable mention goes to the Queer Eye crew, who steal straight women's hearts as sassy, stylist sirens. The star-studded ensemble cast takes Heads Will Roll to the next level.

Lucky for us, the ending (no spoilers) left the door open for another season of Heads Will Roll. And Audible must deliver the goods. You can't cast Meryl Streep and Kate McKinnon as rivals without an old-fashioned showdown. Catherine Staunch vs Queen Mortuana. We need to know what happens. We need to know whose head will roll.
Heads Will Roll is now available on Audible.