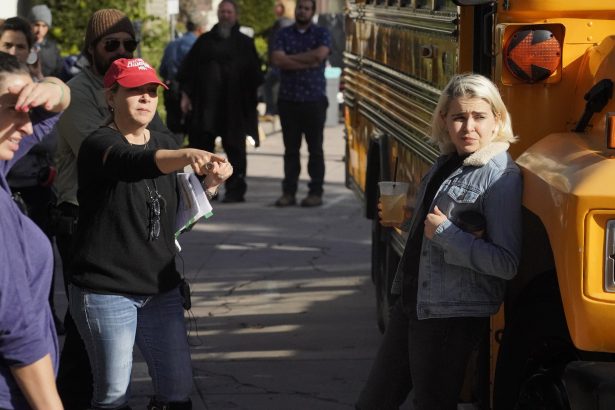 Good Girls is a show about a few suburban moms who, struggling to make ends meet, hold up a grocery store. Their heist does not go according to plan, and they find themselves in deeper and deeper shit, juggling money laundering and gang bosses among others, as the mundane trials of middle-class American life continue around them.
Despite excellent casting and production, the show went largely unnoticed until the first season went to Netflix in advance of the season two premiere on NBC. It's just been renewed for a season three with middle-of-the-road viewership, but a cult following. My personal theory about this is that a certain type of viewer is very, very ready for a female lead with the veneer and sexual prowess of a Don Draper, or the criminality of a Walter White. The average viewer might not be there yet, but there is a vocal and lusty contingent of women desperate to watch good girls go bad.
I spoke with Lee Friedlander, an out lesbian and director, about her involvement with NBC's Female Forward program, which matches women directors with network shows. Friedlander directed season two episode 10, "This Land is Your Land."
AfterEllen: Thanks so much for making the time for me today. Good Girls is my favorite new show. Up to now I haven't had a reason to write about it here, but an out lesbian in the directing chair gives me a good excuse.
Lee Friedlander: When I got accepted for the Female Forward program, one of the things they ask you is what show do you think fits your sensibility and I was like, uhhh Good Girls, Jenna Bans.
AE: How did you choose Good Girls? You mentioned in part it was because of Jenna Bans, who is also known for Grey's, Desperate Housewives, Scandal and a bunch of other hits.
LF: Yeah, she's amazing. When I interviewed for Female Forward, I researched every TV show on NBC. I'm a big homework person. I read every pilot I could. I had already seen Good Girls and loved it and I really wanted to do strong material, something edgier. When I went to the interview, they asked 'what show would match your sensibility,' I said my dream would be to work with Jenna Bans. Not sure if you saw a short-lived show called The Family. It was ahead of its time and it probably should have been cable and not network. That's the direction I wanted to go. They asked and I knew I wanted to be working with Jenna Bans and Good Girls. A bunch of us interviewed for Good Girls, I guess others went on multiple interviews but I only interviewed for Good Girls.
AE: You had your heart set on it.
LF: It exceeded my expectations. Wonderful people.
AE: So in the Female Forward program, you shadow a few episodes before you make your directorial mark.
LF: Yeah it was a great thing that NBC started Trayce Pakosta, Lisa Katz and Karen Horne. There's a lot of shadow programs around, but they never seemed to get anyone any episodes. Getting that first episode is so hard. So they decided to do a program where you interview for a job, and if you get it, you're guaranteed to get an episode.
What's nice about the program is they don't force the decision on the TV show, they let the show decide if the person was qualified and if they wanted to participate. So it's not just a shadow where you get the job, you shadow a few episodes to get to know the cast and crew and be as successful as you can. But it's so sad because you're there for half a season and you make friends, and then after your episode, you come back and they're like 'it's weird you're not here everyday!'
AE: In terms of equity and inclusion, this seems like a model program to get the industry where it needs to be. You demonstrate you're capable, and then you get an episode.
LF: They hire you. They're like, 'You shadow this one and this one, and you will direct this one.' And it's different because you're on set as the director of a future episode, not as an up-and-comer. They've asked me back to direct an episode of next season and I've booked a couple other network episodes.
AE: We talked a little about Jenna Bans, can you say a little about what is the esthetic or directorial vision of Good Girls, for our readers who haven't seen it yet?
LF: I wish I could say television is a director's medium, and I did have a vision of my episode, but it's a writer's medium. It's our job to give them what's on the page, while elevating the scene with our own creative tone and style, but keeping it in the format of what Jenna and the other creators have established. I think it's fun, because I get to deliver what they want and within the page range and then shoot it in my own style. Where can I bring in my own flair while giving them what they want and make them feel like they were heard?
I got a really good episode. Things like — on the page, it says the FBI team is preparing for the raid. It was written that they're standing in a hallway. But I found this amazing glass stairwell. Well my team is not just standing in a hallway, I made them counter up and down the stairs, slow-mo to the guy who's the emotional point we need to hit, then when she's behind the door we went in between the wall. I was able to bring a lot of flair and style to it while keeping Jenna Bans' tone. She really focuses on the acting and performances. In the beginning, there's a close up of Christina through her monologue. I decided to wrap around from one side of her head to the other. I know Jenna likes wrap-around shots. So it's also knowing who you're working for. It's really important to tell their story. Come up with a really cool shot in television and it still might end up on the cutting room floor.
The show meets my sensibility. I like that it's dark and weird, and the average girl goes in another direction. These are real people in extraordinary circumstances, doing crazy shit.
It's also about sisterhood and friendship. The season, the core issue is friendship and the bond between the women.
AE: That's one of the things that's so appealing about the show for women viewers, and especially for lesbian viewers, if they wanted to get into it, because the show continually passes the Bechdel test. There are characters who have steamy romantic moments, including with men, but the primary relations in the show are between the women. And they're deep relationships between women, about loyalty, and also the relationship with the self, finding an authentic relationship with the self.
Good Girls comes out with a fresh vision of a female-focused show that doesn't slip into creating too much sexual tension at the cost of women doing cool shit.
LF: Christina's character is closer to her friends than her husband. And the show is totally about women power. She'll do it on her own. Being able to not be scared with guns in your face. It's like a female breaking bad. They're becoming their own bosses and controlling their own destiny.
Then there's Retta's character. She loves her husband so much and will do anything for her family. In the last season she evolved from leaning on her husband to this independent, 'I have to become the one you lean on.' The characters are written so well, there is so much to play with. They're taking risks every day on their own. This career [television] has been difficult for women and you just go for it, not looking or comparing.
AE: Where can viewers find more of your work?
LF: I've done such diverse things. I'm doing more episodic stuff, but in the past I did several Hallmark movies. Sailing into Love, a yacht love story, they're a lot of fun, but I'm really loving getting more into the episodic world. I'm working on creating shows and bringing shows out that are stronger and have strong female characters. That's why I love television, because there's just so much out there. I want to keep working for Jenna, I'll follow her anywhere. There are a lot of great men who work on the show too that are so female-supportive. All the writers and producers down to the AD came in with their arms open to me to make me successful. It's become very nurturing, especially on this show.
And I'm seeing that a lot more. The doors are flying open for female directors. People are beyond 'trying' now, it's actually happening. The change is happening.
AE: is that a response to the organizing for Times Up and Me Too? Has organizing against sexual violence and harassment simultaneously uplifted equity and inclusion for women in the industry?
LF: Men and women in this industry are realizing quality is important. I think they're all taking a stance to make that happen. The men involved have been a big asset, and as people decide enough is enough, we're going to promote equality and whoever is the best for the job should get it. There's a bigger mandate — and it's also coming from above, it's coming from the press, it's not just one thing. I see it every day. It's not feeling like a negative thing like oh we have to hire women. It's changing for everybody. I'm just lucky to have gotten on this show.