Movies
Lesbian Movies to Stream on Amazon Prime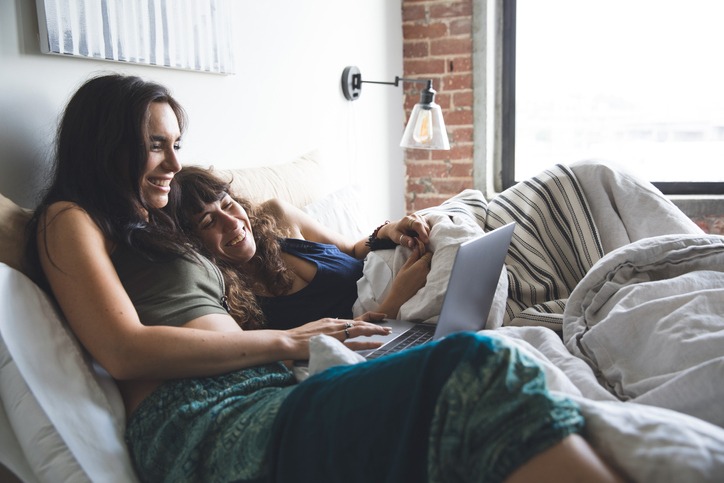 Saving Face
A Chinese-American lesbian is reluctant to go public with her relationship. As it turns out, her mother also has a relationship she wants to keep secret. Will they continue to hide or go against cultural expectations?
Our Love Story
Quiet grad student Yoon-ju meets Ji-soo and they immediately hit it off. But since this is the first time Yoon-ju has ever fallen in love with a woman, she proceeds with caution.
The Guest House
A heartbroken goth girl falls in love with the grad student staying in her family's guest house. Can this romance work out if they're both headed in two different directions?
When Night Is Falling
A conservative college professor falls in love with a liberal carnival worker. What a sentence that was, am I right ladies? Romeo and Juliet whomst?
City of Trees
A woman returns to her hometown for the holidays and naturally she's met with people from her past. But when it comes to one woman in particular, can she deal with her unresolved feelings?
More Beautiful For Having Been Broken
An FBI agent is suspended from her job all while struggling to grieve the loss of her mother. She travels to a small mountain town and is befriended by a special needs boy and his mother.
The Handmaiden
The Korean adaptation of the classic Sarah Waters novel Fingersmith has just as many twists and turns, if not more, than the original. Be warned though, the sex scenes in this version are much more explicit.
A Luv Tale
A lesbian photographer and her straight editor find themselves falling for each other. But you do remember that the editor was straight, right? See how far they're willing to go make it work.
Raven's Touch
Raven secludes herself in a remote cabin as she blames herself for a tragic accident. Meanwhile, Kate takes her children camping in an effort to save her family. And, well, you know where this is going right?
Girl/Girl Scene – The Movie
This movie was based on the series of the same name. Think of it as a low-budget version of The L word in that it follows lesbians struggling with their romantic lives. 
The Secret Diaries of Miss Anne Lister
Before there was Gentleman Jack, there was this film. If you, like us, just can't wait for the second season of Gentlemen Jack, this movie might be worth a watch. 
Bean
This documentary follows couple Lori and Alana. When it turns out that Alana needs a new kidney, Lori doesn't hesitate to donate her own. This is sure to be an emotional ride, so get the tissues ready.
A Date For Mad Mary
Fresh out of prison, Mary does her best to reconnect with her friends. And as her best friend's wedding fast approaches, she needs to and a date to be her plus one. Mary is unable to connect with any of the men she goes on dates with, but finds herself falling for a female photographer.
Almost Adults
A fan of the hit web series Carmilla? You might want to look into this movie starring Natasha Negovanlis and Elise Bauman. The pair star as two lifelong friends struggling to keep their relationship strong as life takes them in two different directions.
Bound
This neo-noir crime thriller follows the story of Violet and Corky. Violet longs to escape her relationship with her mafioso boyfriend. When she meets Corky, the two start an affair and hatch a plan to steal $2 million dollars from the Mafia.