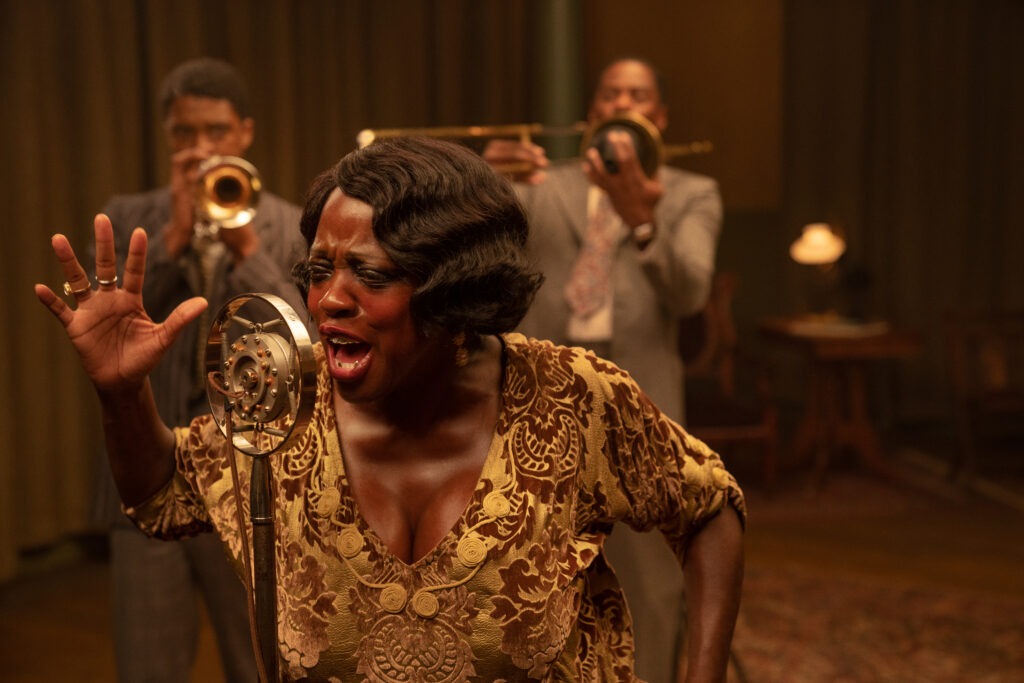 Ma Rainey's Black Bottom is Netflix's latest contribution to Sapphic cinema. And you need to watch it. The rip-roaring soundtrack, the stunning 1920s aesthetic, and an electrifying performance from Viola Davis all make this film a must-see. More than that, Ma Rainey's Black Bottom acknowledges Ma's romantic and sexual relationships with other women. When Ma's rich cultural legacy as Mother of the Blues is discussed, her sexuality too often gets downplayed or erased altogether. But Davis was determined that Ma's desire for women be central to her performance:

"In researching Ma Rainey, she was unapologetic about her sexuality," Davis said. "This is a woman who went to orgies. She was arrested at an orgy. I felt like Ma always had a woman with her. A lot of the women who dance with her were her women. She had orgies with them. That was her world. I didn't want to sweep it under the rug."

Gertrude Pridgett, aka Ma Rainey, was known to keep the company of women. It's even speculated that she had a romance with fellow blues icon Bessie Smith. And years before the gay rights movement kicked off, almost a century before today's conversations about the importance of representation, Ma Rainey was singing explicitly lesbian songs. There is no better example than Prove It On Me Blues, recorded in 1928:

Where she went, I don't know
I mean to follow everywhere she goes;
Folks say I'm crooked. I didn't know where she took it
I want the whole world to know.

I went out last night with a crowd of my friends,
It must've been women, 'cause I don't like no men.
Wear my clothes just like a fan,
Talk to the gals just like any old man.

Sadly, this song doesn't feature in the film. But Ma is nevertheless open about her sexuality. Where Ma goes, her young girlfriend Dussie-Mae follows. Ma dresses up Dussie-Mae in fine clothes, brings her along on tour, even caresses Dussie-Mae in public places. The chemistry between Davis and Taylour Paige is sizzling as Ma croons into Dussie-Mae's ear, arms snaked around her waist.
Ma Rainey's Black Bottom is thick with both sexual and dramatic tension. Inspired by August Wilson's play of the same name, it's one of the most compelling dramas Netflix has ever produced. The film follows a recording session in a Chicago studio. To the frustration of her producer and manager, Ma is late. And the delay is costing them money.

Meanwhile, Ma's band rehearse the song they are to record: Black Bottom. Toledo, Cutler, and Slow Drag play the song the way Ma likes it. But Levee – a talented trumpet player hungry for success – is keen to add his own flourish. The knowledge that this was Chadwick Boseman's final performance before cancer claimed his life last year adds a layer of poignancy to his performance as this charismatic young man who believes the whole world is in front of him.

Ma's producer, Mel Sturdyvant, prefers Levee's arrangement. And he dangles the hope of a lucrative recording deal in front of the young trumpet player, encouraging him to write more songs. But relations become strained; between optimistic Levee and his older bandmates, who have had the hope ground from them; between Levee and Ma, rivals not only for the spotlight but Dussie-Mae's affections; between Ma and Sturdyvant, each fighting for control; between Levee and Sturdyvant, who pays the young musician in false coin.
This Molotov cocktail of conflicting hopes is explosive in the heat of the Chicago summer. And Ma is not pleased by these power struggles.

It would be easy to write off Ma storming out of the studio or halting recording over a bottle of coke as the antics of a diva. But, throughout Ma Rainey's Black Bottom, the rage of Ma and every other Black character is given a context: Jim Crow era America, where society is forcibly divided along the lines of race. "They don't care nothing about me," Ma says of the white music executives. "All they want is my voice. Well, I done learned that. And they can treat me the way I wanna be treated – no matter how much it hurt 'em."

Though Ma Rainey is a star, dripping with diamonds and driving a flash car, she knows that her fame is fleeting compared to the empires built by white music industry moguls. And Ma understands that in their eyes she is nothing more than a commodity; that her Blackness is tolerated only because she makes these white men money.

Her lavish displays of wealth are a way of pushing back against a society that treats dark-skinned Black women as worthless. And Ma is canny enough to grasp that keeping white executives tripping over themselves to please her is the only way to retain control of her work. Music, after all, is an industry that's greedy to consume Black culture, stopping only long enough to spit out the Black artists who produce it.

Throughout the film, Black characters are disrespected in ways both subtle and overt. Ma's producer Mel Sturdyvant forces her band to rehearse in a dank basement; takes scrupulous care not to touch any Black person's skin; refers to even the genteel and silver-haired Toledo as "boy"; offers insultingly little pay for the music that has made him rich and elevated Sturdyvant to an industry gatekeeper – a power he abuses, passing off the work of Black artists as the work of white singers. As the mountain of disrespect grows, so too does the tension in Ma Rainey's Black Bottom. And the consequences are devastating.

This drama is raw, tapping into the racial trauma carried by each Black character. But it's also thrilling, a story from which it is impossible to turn away. And in honouring her as an artist, by celebrating her sexuality, Ma Rainey's Black Bottom reminds us that Ma was a trailblazer in more ways than one.