Sometimes seeing ourselves in movies gets a little too real, doesn't it? Here are 10 movie scenes that reflected your IRL lesbian life.
1. When you realized you were gay
Although it was a Peptol-Bismol pink satire of epic proportions, Jamie Babbit's "But I'm a Cheerleader" pretty much nailed it: that moment of realization in which your heterosexuality slipped through your fingers like water, never to return. Shortly thereafter, the initial shock and concern wore off, to be replaced by acceptance and confidence: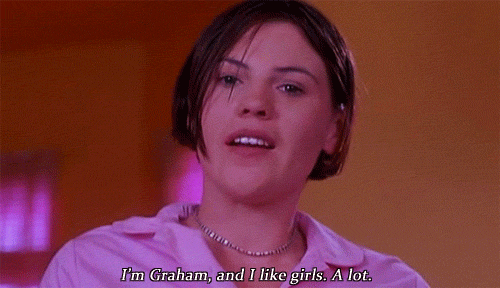 For many lesbians, Megan Bloomfield's (Natasha Lyonne) experience discovering her sexuality…and Graham (Clea DuVall)…was a larger than life reflection of their own experiences. It was also the first time they saw young lesbians like themselves on screen. Chalk one up for nostalgia!
2. When you worried about what you were wearing for a first impression
In "Life Partners," Gillian Jacobs and Leighton Meester play best friends, one straight, one gay. Although the movie ends up being slightly underwhelming, nevertheless Meester's Sasha provides the movie a funny entrée into lesbian subculture, introducing straight viewers to events such as "how many lesbians can fit into a Subaru" and asking: