Happy Friday, lady lovers.
Today I could go on a long soliloquy about the demise of America and the dark days ahead, but I'll spare you.
Instead of spiraling through a dark tunnel of heartbreak, today let's focus on all the magical things happening in the world of LGBT news and entertainment. This week we have a new queer web series, a pregnant lesbian YouTuber flawlessly shutting down her haters, and a lot of tidbits about your favorite celesbians.
Lez get to it!
Queer Web Series Brown Girls Drops New Clip
I'm always happy to hear about a new web series, especially when it involves women of color who also happen to be hilarious.
Spearheaded by writer Fatima Asghar and director Sam Bailey, Brown Girls follows two best friends navigating their sexualities and the "mess of their mid-twenties." The series will primarily focus on humorous plot-lines and the casual day-to-day lives of its characters. Better yet, the show's crew is made up of about "95% women, people of color and/or queer people."
Elaborating on Brown Girls' concept, Fatima explained to Out Magazine:
"These characters are funny, messy, complex and get to live pretty well-rounded, happy lives. Some of them also happen to be queer and brown. Those things aren't exclusive. So much content surrounding LGBTQ characters ends up highlighting the traumatic experiences and while I think those stories are valid and need to be heard, they can't have a monopoly on what gets shared. My hope if that people see this series and they get to laugh and breathe for a moment."
Check out the clip HERE and let me know if you'll be tuning in when it premieres in March!
Holly Miranda To Perform At The Anti-Ball, A Women's March After-Party
The always lovely and politically conscious Holly is set to perform at one of the Women's March after-parties in Washington this Saturday. The "Anti-Ball" will take place at the Black Cat, which is a really cool and legendary music venue.
The lesbian songstress said of the event:
"I think the next four years will be one long protest, it has to be. So, I see this as the beginning of a movement and not just a march. It's not just for women, it's for everyone everywhere. This is bigger than one sex or one country. I am happy to lend my voice and body to the fight. If artists aren't reflecting the times we live in, then we aren't doing our job."
Other performers include Kimya Dawson of Moldy Peaches fame, TV On The Radio's Kyp Malone, and Nels Cline of Wilco.
Tickets are available HERE. $30 General Admission, $50 General Admission + signed event poster.
Ellen Page's My Life As A Zucchini Gets A New Trailer
When I first heard Ellen's name and zucchini in the same sentence I had no idea what the fuck was going on.
Following a quick Google search, I learned the adorable actress has lent her voice to the animated film My Life As A Zucchini. The movie was nominated for a Golden Globe and has been selected as Switzerland's entry for the Foreign Language Film Oscar.
The film's story follows Zucchini, a young kid who struggles to find his place in the world after the sudden death of his mother.
On Thursday, a new trailer for the movie was released and you guys can check it out below:
Pregnant Lesbian YouTube Star Claps Back At Haters
This is an incredible story about normalizing pregnancy for same-sex couples and defying stereotypes.
For those who aren't familiar with YouTuber Domonique AKA Domo, she's pregnant with a baby boy. Throughout the course of Domonique's pregnancy, she and her partner have shared many photos and videos documenting their journey. Unfortunately, Domo has received a ton of negative comments from haters who don't understand why she's carrying the couple's baby when she's the more "masculine" one of the pair.
As we all know, there's no Pregnant Lesbian Handbook which clearly states the more "feminine" partner should carry the baby. The backlash Domo has received is incredibly frustrating for a lot of reasons, but mainly because queer women shouldn't beholden to the stereotypes of straight people… especially when they're carrying a tiny human inside of them.
The positive side to this story is, Domonique SHUT DOWN her haters with a long post about how she doesn't "give a shit" about "stereotypes."
Check out the clap back below!
https://www.instagram.com/p/BPGkxvhANyH/?taken-by=domo.crissy.15
Yes, yes, and YES.
Cara Delevingne Raises Awareness For South Sudanese Refugees In Uganda
Go, Cara!
In an essay for Marie Claire, Cara detailed her experiences working with charity organizations Girl Up and UNHCR. The orgs provide relief to South Sudanese refugees in Uganda and aim to provide education for refugee girls.
While the model shared a ton of pictures from her trip to Instagram, her essay provided insights into the daily struggle of these girls and how important it is to give back.
Ms.Delevingne wrote:
"At Bidibidi refugee settlement, I got to sit with a class of girls who shared their stories of fleeing home in South Sudan and talked openly about what they need to continue attending school. There was one girl, she had this incredible fire, and this very strong voice when she said, 'It's very simple. This is what we need: We need books. We need uniforms.' That's when it hit me. What they need seems so easy, so small to us, but it's so important to them. It makes you feel spoiled because all they want is an education, and that's something so many of us take for granted."
You can read the full essay HERE.
Bisexual Daughter Of Conservative Radio Star Comes Out In Emotional Op-Ed
To be honest, I'm not well versed in the world of conservative radio stars, but this essay was too incredible to pass up.
For those in the dark like myself, Brandi Burgess is the daughter of Rick Burgess (Rick & Bubba). Rick is a very religious radio star based in Alabama who happens NOT to be a fan of homosexuality. Surprise!
Brandi, who is currently in a relationship with a woman, recently decided to speak out on her orientation and denounce her father's shame once and for all. I particularly enjoyed this piece due to the quality of writing, emotional honesty, and how she didn't denounce religion at large. I think it's important to recognize you can be religious and not homophobic at the same time.
A portion of the poignant note reads:
"For the past three years, my father and I have been debating God's stance on homosexuality. It started with my Instagram post at a Pride parade: a picture of a mother holding a sign saying 'I love my gay son.' I got a text demanding its removal: 'How dare you compromise my platform!?', 'Remember who you represent.' 'Are you a gay?"I have been praying, researching and meditating on the many emails, sermons and verses my dad has sent me. I always come back to the same conclusion. Love is love…. Perhaps you have heard my father on the radio and it makes you want to go to sleep and never wake up. I love you. Your worth is untouchable. Find a good friend. Invest in therapy. Dance in the middle of the night and hold yourself accountable to the life you've always wanted. At the root of all this hate speech is fear. This is not your fear to carry. Release it."
You can read the full essay HERE. Seriously, read it.
Carrie Brownstein Announces The End Of Portlandia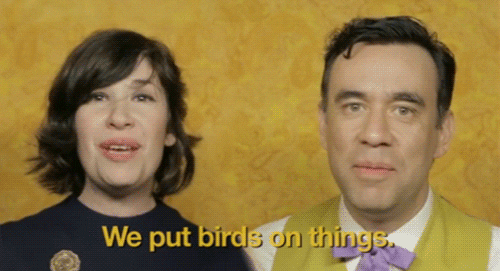 Over the years, Portlandia became that show you forgot was still on the air. As much as I love Carrie, I had no idea the series was still a thing.
According to the queer writer and her creative partner Fred Armisen, the upcoming eighth season will be their last.
Brownstein explained:
"In some ways, just trying to create a container for something that has edges, in terms of intentions…I think in terms of the creation of art, it's nice to put parameters around it. I think it helps to keep it pointed. I think nothing ever really ends anyway."
See ya on the flip side, Carrie.
The Advocate Covers "9 Of The Country's Last Lesbian Bars"
We've discussed disappearing lesbian bars numerous times before, but now it looks like The Advocate is taking a stab at what they believe to be the "last lesbian bars."
A few on the list: Pearl Bar in Houston, Lipstick Lounge in Nashville, and the Henrietta Hudson in New York.
You can check out the full list HERE.
Entertaining side note: the article initially referred to the Cubby Hole as the "Chubby Hole" because of course.
Activist Group WERK For Peace Threw An LGBTQ Dance Party In Front Of Vice President/Homophobe Mike Pence's House
Everything about this is amazing, and all I can say is I wish I was able to go.
Take a look at some pics and videos from the event below:
https://www.instagram.com/p/BPdOIMDjxuk/?tagged=werkforpeace&hl=en
https://www.instagram.com/p/BPcIdPsDVQ2/?tagged=werkforpeace&hl=en
Lesbian Mystery Writer Scores A Landmark Achievement
Fantastic news — Minnesota author Ellen Hart has been named the 2017 Grand Master by the Mystery Writers of America. This is the first time an LGBT writer has been awarded the honor.
For those unfamiliar with Hart's work, she has written over 30 mysteries, including the popular and well-received Jane Lawless series. The mystery guru has always gone out of her way to represent lesbians through her work.
To give you a better perspective on how big of a deal this is, the award "represents the pinnacle of achievement in mystery writing and was established to acknowledge important contributions to this genre, as well as for a body of work that is both significant and of consistent high quality." Translation: Ellen is a kick ass writer.
Hart said of the win:
"This is the pinnacle. This puts you in an awe-inspiring group of writers — Graham Greene, Agatha Christie, Tony Hillerman, Alfred Hitchcock, P.D. James. I used P.D. James' books to teach me to write. You have to have a real ego to think you belong on that list."
A big congrats to this gay renegade! I can't think of a more deserving author in the genre.
That's it, folks! Have a fantastic weekend and stay safe out there.