Uncategorized
Raya and the Last Dragon: Disney's Sensational, Sword-Fighting Epic
Raya and the Last Dragon is fun for all the family, a film that brings to life the best of Disney. Thrilling, funny, and profoundly touching, it has something for everyone. The film follows Raya, warrior princess and guardian of the dragon gem, on her quest to save humanity. In classic Disney fashion there are adorable sidekicks and teachable moments aplenty. And in modern Disney style, Raya doesn't wait around for a prince to save her.
Raya lives in the mythical kingdom of Kumandra; a land of plenty until the Druun attack. evil spirits with the power to turn living creatures into stone. The kingdom is saved by Sisu – the last dragon – who channels her magic into a gem that banishes the Druun and revives their human victims. But humanity didn't live up to Sisu's faith; the question of who should possess the gem triggers power struggle that divides Kumandra into five separate nations. When the gem is broken and the Druun return, it's up to Raya to track down each piece and reawaken the dragon.
Raya makes friends and allies along the way, none more important than Sisu herself. Awkwafina steals the show, utterly believable as a dragon. In turns playful and wise, she adds some desperately needed comic relief to a film that revolves around epic battles and heartbreak. Raya has a fierce opponent in Namaari, aka Princess Undercut. And to save Kumandra the two women must learn to trust one another.
The intensity of the relationship between Raya and Namaari – which involves a lot of passionate swordfighting – has some fans speculating they are destined for one another. These warrior women share some truly touching moments along the way. And they have the perfect enemies-to-lovers arc. Even Kelly Marie Tran, who played Raya, believes it's romance.
In an interview with Vanity Fair, the actress admitted "I'm obsessed with Namaari and I'm obsessed with Gemma Chan… I think if you're a person watching this movie and you see representation in a way that feels really real and authentic to you, then it is real and authentic. I think it might get me in trouble for saying that, but whatever."
However Disney execs might feel about it, Kelly Marie Tran said lesbian representation!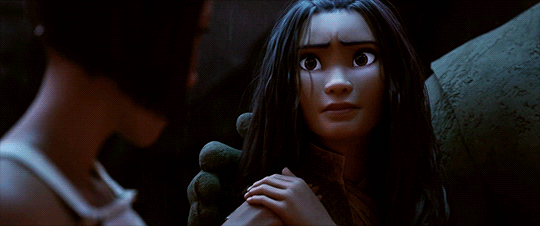 "I also love their relationship!" she said. "I think it's very clear, too — there are even specific lines in the movie — where they both talk about like, 'Oh, if things were different, we could have been friends, or this could have gone a different way.'"
AKA a gay way.
Tran is also enthusiastic about the depth to Namaari's character. "I think the writers have done a really good job of making sure that even though Namaari is technically a villain, she's still a very well-thought-out character. You learn her motivations. You start to recognize that no one's really a villain.
"We just come from different places, and have different ways of seeing the world, and different motivations. I think that's really important because it might have started off as something where you feel like, 'Oh, here's two women against each other.' But by the end, you're really seeing how they start to see where the other one's coming from. That's a really important distinction for me."
Can we expect to see Raya and Namaari as a couple if there's a sequel? The jury's still out on that one. Disney have created more than 150 films. Yet only one of them has an openly lesbian character. Released last year, Onward features Lena Waithe as Officer Specter – a one-eyed cop who mentions her girlfriend. However small, this scene was a step forward for lesbian representation. We can only hope there will come a time when Disney feature a lesbian protagonist. And with Kelly Marie Tran on board, it just might be Raya.
Raya and the Last Dragon is out in selected cinemas and available to stream on Disney Plus