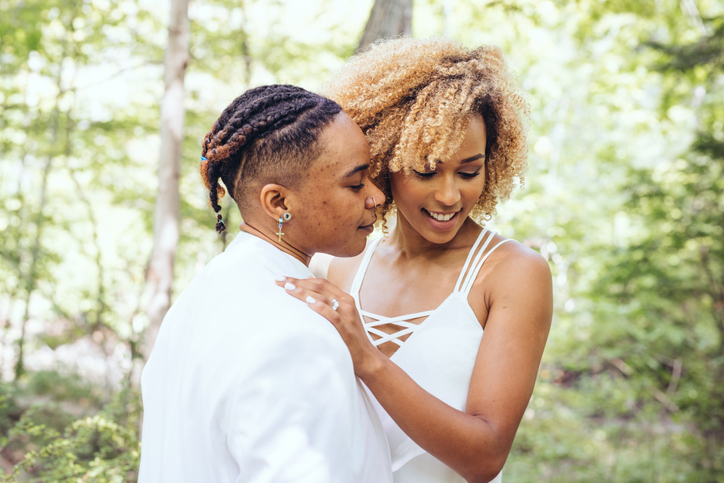 In light of the global pandemic and less-than-stable legal right to marry in the United States, more and more lesbians are opting to elope. With large gatherings putting guests at risk, financial hardships, and the ticking time bomb that is Amy Coney Barrett hanging over our heads, an elopement is feeling both necessary and more appealing.
But elopement is a valid choice, regardless of the chaotic state of the world! New couples starting their marriages in extreme debt to afford huge, Instagram-worthy ceremonies are more likely to divorce, and the elopement has grown into an industry all its own, leaving the Vegas stereotype behind. Many couples choose an elopement because it better suits them, not just because the world is burning. Regardless of why you may be considering an elopement, check out these five beautiful locations to fall in love with.
Angels Rest on Resurrection Bay
Nestled on Lowell Point, an Alaskan Peninsula is Angels Rest of Resurrection Bay, a gorgeous waterfront lodging and retreat center with a beautiful view of local wildlife and an array of activities to make your experience unique. You can go on a dog sled tour, go on a romantic stroll by horseback, watch for whales, or spend time on the water in a canoe or kayak. For the couple who loves the great outdoors and cares about the preservation of our environment, Angels Rest on Resurrection Bay is an ideal location, having received the Green Leader award from TripAdvisor for their eco-friendly lodging.
Westbrook Inn
Westbrook Inn is a vintage bed and breakfast in Westbrook, Connecticut. It was built in 1876 by a local sea captain and has been beautifully restored. The rooms are elegant and charming, and the main level has a gorgeous event space to hold the ceremony including a field stone fireplace and Victorian library and parlor. If outdoor is more your style, you can hold your ceremony in the gazebo or a view by the pond. If you're hoping for a beautiful vintage look for your wedding, photos taken in this historic building will beautifully compliment your wedding aesthetic.
St. Francis Inn
St. Francis Inn is the #1 best rated bed and breakfast in St. Augustine, Florida. If you want beautiful Florida weather and water without the chaos of a crowded Disney elopement, St. Francis Inn may be for you. The building dates back to 1791, and the decor of each room is unique, so you can select the lodgings that best suit your preferences and style. The bed and breakfast offers elopement packages including a nondenominational officiant, champagne, cake, a gourmet breakfast in bed, and add-ons such as a carriage ride tour around Old City. The elopement package takes the stress out of the planning, so you can just enjoy your stay.
Same Sex Wedding Venue Pine Manor
Same Sex Wedding Venue Pine Manor in Chicagoland is a wedding venue dedicated to weddings for people like us! The Reverend Pamela Magnuson is an interfaith, non-denominational, pagan wedding officiant. She has over 35 years experience in planning and officiating weddings. Her background in comparative theology gives her a wide repertoire of different traditions and ideas to incorporate into your ceremony to make it exactly what you want. The venue, Pine Manor, is her private home with a beautiful garden and stone fireplace in a historic neighborhood close to the city.
Blue Sky Elopements
Blue Sky Elopements has helped couples tie the knot in Colorado and California in a number of beautiful locations. It was difficult to narrow down, but the photographs on their website from the Estes Park ceremonies were our favorites. Because this company is all about elopements, you can rest assured they've thought of everything for you already. They can provide everything from hair and makeup, to photography, to location consulting. Their experienced staff will help you design the perfect ceremony, reflective of you and your wife-to-be's styles and personalities.
These are our top picks for lesbian elopements and micro weddings. Did you and your boo run away together? Where does your fantasy micro wedding take place? Let us know in the comments.