TV
Riverdale and The Tokenization of Bisexual Women
WARNING: SPOILERS AHEAD
We need to finally talk about the CW's hit show, Riverdale. More specifically: the relationship between Cheryl Blossom and Toni Topaz, and how they have become another token set of characters to reach the lesbian and bi quota.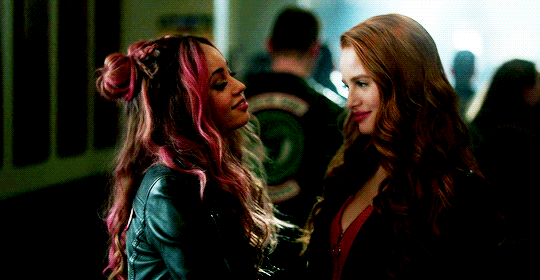 Let's back it up a little bit. If you've been watching the show, you probably are a fan of #Choni. However, they did not always have such a peachy relationship. In the beginning, Cheryl and Toni didn't really get along, and it took awhile before they became friends. Almost instantly, though, they jumped into a romantic relationship. More on that later.
Cheryl took over Toni's flag-girl role during a drag race, starting the feud between the two. Thus far, Toni has been known as a tough-girl, part of the Serpents. She also had a flirtation with Jughead going on, leading the audience to believe, at least for the time being that she is in fact, straight. Cheryl is the popular girl, adhering to all the stereotypes you'd usually expect of the popular girl for most of the show. As Cheryl gets more character development, fans learn that things are not so great at home, especially after the "loss" of her brother, cultivating the hard shell that Cheryl has.
So when Cheryl and Toni begin to squash their beef and become friends, they almost immediately jump into a relationship with one another; sharing a Christmas kiss. At first, this seems innocent enough, but when you truly look at how the girls have been written, you start to see something undeniable: tokenizing. Suddenly, Riverdale is trending more than ever before because they have a lesbian relationship! Shocking! Outstanding! But who is left with nothing? Toni, of course.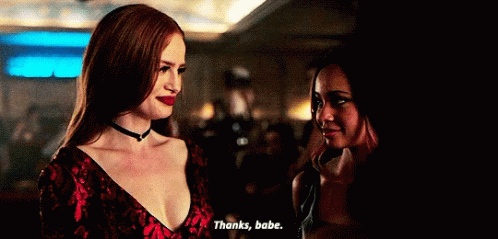 Toni was developing quite nicely as a character, coming in to her own as a Serpent, falling in love, beginning to soften. After diving into a relationship with Cheryl, Toni suddenly is nothing but Cheryl's girlfriend. The only redeeming quality about Toni now is that she is in love with Cheryl. In contrast, suddenly Cheryl is all the more interesting. Cheryl's softer, nicer, and let's not forget: bisexual. Fans are even more interested now in who Cheryl is because she's suddenly all the rage for being bi, while Toni sits on the sidelines, essentially a pawn in Cheryl's character expansion.
Not to mention, Toni is a woman of color. Thus giving way to the idea that white characters in shows, particularly white women, ride on the backs of women of color to further their development. Toni gets tossed to the side so Cheryl can come out on top; tokenizing not only Cheryl's bisexuality, but also the idea of the WOC lesbian. Toni no longer has a storyline outside of Cheryl, no individual personality.
This isn't the first time Riverdale is guilty of this, however. Kevin has been an openly gay character from the start, and in season one he grew and grew as a character. But in the later seasons, it's rare if Kevin has a line that doesn't have to do with him being gay. Obviously, Kevin is not a lesbian, but it's worth nothing that the writers of the show are tokenizing multiple characters throughout each season.
It's almost as if Toni represents the meeting of a quota. She's gay and a woman of color that the writers can use to bring out further character development in a main character, Cheryl. Plus, Josie and the Pussycats basically disappeared off the Riverdale map, making Toni even more important as a woman of color. Toni simply exists to be Cheryl's girlfriend, and nothing more, as fans watch their relationship blossom and the two discover their sexualities together.
That's another thing all together, though. Essentially, fans of the show are watching two teenagers (well, pretty much every teen in the show) having sex. While the actors themselves are adults, is it not weird to be watching, as an adult, two teens getting it on? When you also have two tokenized gay women having sex, that's another layer of it entirely. Some could argue that it's educational, and helps young girls feel accepted in their sexualities. While that is true, it's also important to remember Choni represents more than just equality, because they are written as token characters. The one-dimensionality of their relationship is fetishizing.
Toni's character has been erased to be nothing but Cheryl's partner, and Cheryl continues to grow and blossom throughout the relationship the two share. Cheryl is now the token bisexual woman, and her character expands while Toni's dissipates. Toni, on the other hand, has been reduced to the token gay woman of color, and isn't allowed to have any other individual personality. Thus, Riverdale may have met their lesbian-quota, but they definitely have some work to do.
Riverdale is streaming on the CW.