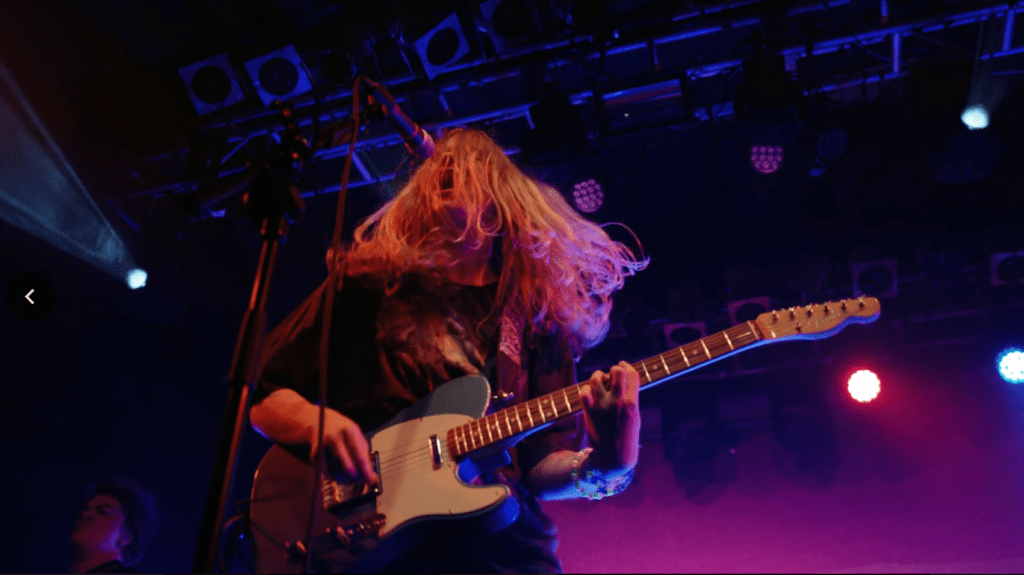 1. girl in red
girl in red's Marie Ulven doesn't alienate her personal life from her professional one and it's evident she's working hard in both. The release of her newest single, 'serotonin', is the first track and teaser for her debut album if i could make it all go quiet, coming on the 30th of April. The confessional single details Marie's experiences with mental health issues in ways we haven't seen from her before, including Marie rapping.
girl in red and Spotify have teamed up for a mini-documentary that features Marie Ulven off-stage in her hometown of Horten, Norway with her mother, friend, and dog, Luna. The 22-year-old Norweigan singer-songwriter is candid, bubbly and grounded in the documentary. She's hopeful about her future, claiming she's a crazy dog woman who just wants to be a rockstar.
While girl in red is currently exploring the theme of mental health in her music, she says she feels like herself for the first time in a long time. Perhaps that's why she's able to talk about it. She's articulating mental health issues from the perspective of someone who's doing okay now, but hasn't always been.
2. Phoebe Bridgers
In early March, Phoebe Bridgers united with singer-songwriter Jackson Browne for a more delicate rendition of 'Kyoto' and, solo, she covered John Prine's 'Summer's End', as part of the Spotify Singles series. As if 'Kyoto' wasn't already an emotionally heavy track, Phoebe's voice is more fragile in the version with Jackson Browne. The vibe's much more meditative.
Double J's Dan Condon wrote of Punisher, the album the original 'Kyoto' was featured on, "Her songs are beautiful in the same reasons as any other…Rich guitar tones, dramatic sympathetic strings, emotive arrangements that swell and recede, percussion that adds a sense of atmosphere rather than drive or propulsion…Those heartfelt, perceptive, wry and relatable lyrical snapshots set it apart."
Phoebe declared that her ten main inspirations for the album Punisher were 1. AI-Anon ("support group for people affected by someone else's alcoholism"), 2. Limekiln State Park in Big Sur, California ("I travel for my job and am lucky enough to see all types of beautiful shit"), 3. Harry Potter: A History of Magic exhibit at the British Library ("I love Harry Potter. I'm a Slytherin"), 4. Fleabag ("It's so fucking humanizing in a way that I didn't even know was allowed"), 5. itsblitzzz YouTube channel, 6. My Favorite Murder podcast, 7. Synanon cult ("a cult based in Santa Monica that began as a rehabilitation program in response to Alcoholics Anonymous"), 8. Max the dog, 9. A list of "unsolicitated advice" by musician Haley Dahl, and 10. Halloween.
3. Julien Baker
Julien Baker recently released the solo album Little Oblivions, which details the struggles of sobriety, relapse, heartache, and black-and-white thinking. She also covered "A Dreamer's Holiday" for Christmas, as part of Spotify's Holiday Singles, explaining to Rolling Stone, "I chose 'Dreamers Holiday' because I found it incredibly unique as far as holiday songs are concerned…It's a very understated song – both lyrically and musically; while it's technically about a 'holiday', it doesn't directly reference any specific holiday theme, it leaves the lyrics a bit more open-ended."
Julien, who is in the trio boygenius with Phoebe Bridgers and Lucy Dacas, is as confessional as girl in red is in 'Serotonin'. Julien makes heavy personal admissions about her alcoholism and sobriety in Little Oblivions, in order to breakdown the "false mystique" surrounding the "common and mundane," as she said to Spin. Like many other lesbian and bisexual artists, Julien often focuses on her religious background and relationship with God in her music, fighting privatizing confession strictly to a priest by using art as a vehicle to share the grimy human experience.
There is an impulse among artists to make the private public through art — a drive to share life's messiness — and Julien illuminates how her "confession booth songs" are much more helpful than the black and white concepts of "sin" and "repentance." She explains to Apple Music, "I feel like whenever I imagine myself in a pulpit, I don't have a lot to say that's honest or useful. And when I imagine myself in a position of disclosing, in order to bring me closer to a person, that's when I have a lot to say."
4. Rina Sawayama
Rina Sawayama is a Japanese-British singer-songwriter, model, and friend of Elton John, who brings the sounds of early-2000 to today. Sawayama has been featured on Spotify's Pride campaign of 2020 and emerging artists program, RADAR. She also collaborated with Elton John for the new single 'Chosen Family'.
The ballad with Elton John is very different to Rina's solo music. Rina Sawayama has a sound of her own, but the closest comparison would be if Britney Spears went through a gothic stage, started making music with Evanescence, and took inspiration from Korn. But you have to listen to Rina's album Sawayama, released in 2020, to notice the way she takes what's been done before and cleverly exposes and crushes every bit of cliché.
Rina takes what we expect from a traditional, "sweet," female popstar and makes her demonic… in a way that's strangely satisfying. If you think Lady Gaga pushes boundaries — if you ever wanted Christina Aguilera to do a screamo song — then check Rina Sawayama out.
Sawayama's song 'STFU!' is headbanging nu-metal meets sickly-sweet pop princess. She outlines that the song is about microaggressions, inspired by a particularly racist date she experienced. Sayawama growls and laughs to a thrashing guitar, singing "How come you don't expect me / To get mad when I'm angry? / You've never seen it though I know I'm not the only one / How come you don't respect me? / Expecting fantasies." Then sweetly sings "Shut the fuck up / Shut the fuck up / Have you ever thought about taping your big mouth shut? / 'Cause I have, many times, many times."
5. Emily King
Emily King's dreamy, feel-good, sensual music is made out of a satisfying blend of R&B and soul. In her 2020 album, Sides, she scaled back the much-loved songs of her decade-long career and made them acoustic. The focus is on her soothing voice like never before.
The album before Sides was Scenery, released in 2019. Emily King wrote the first track on the album, 'Remind Me', when she felt the wind through her hair in a used Nissan that her grandmother – an ex used car salesperson – helped her find, after moving out of New York City. Emily said to NPR, "It just felt like one of those scenes from the '80s where you're blasting music, driving down the road, wearing a neon-colored shirt – wind is in your hair. I just felt so cool…when I was living with my mother, I felt like a loser. All this excitement just rushed into my soul."
6. Clairo
Claire Cottrill, known as Clairo, got her start in the way many people her age try to: she uploaded videos of herself singing to YouTube, Facebook, Bandcamp and SoundCloud. Starting when she was just thirteen years old and taking inspiration from Frankie Cosmos, Norah Jones and Brockhamptom, Claire Cottrill was just a young singer who was entertaining a small bunch of viewers, until something changed: a video went viral.
Clairo sings modestly and dances goofily in the video, wearing baby pink sunglasses and a rotation of different colored sweatshirts. She reads the lyrics to 'Pretty Girl' off of her computer screen with her headphones in. She sips on a juice and bobs her head to the beat. The video has 73 million views. She's just being a regular teenager.
The Ringer claims Clairo "wrote and recorded the song 'Pretty Girl' in about two hours; filming the video took even less time." She says to Fader, "I woke up, it was like a terrible day. My hair was disgusting, my skin was so gross, I didn't even take off my makeup from the night before. It was just a terrible day for me to look in the mirror. I had nothing to wear; it was so bad. I decided it was the perfect day for me to make the music video, and to portray that I don't need those things to make myself who I am."
Perhaps that's why 'Pretty Girl' has 73 million hits. Claire Cottrill's natural appearance, in front of a regular, laptop webcam — sitting on her teenage-style bed with a backdrop of fairy lights — matches the homemade pop sound, which is "centered around a chintzy drum machine, simple keyboard riff and Cottrill's dreamy vocals." Its apparent haphazardness adds to the song's power.
Clairo has since signed up with Chance the Rapper's manager, released an album, Immunity, and a few singles, and has performed at Coachella.