The drama continues at the CAC and we open to Bette and Pippa swooning over the crowd of picketing artists in front of the museum before joining in. I do love seeing couples passionately engage in their causes together and Bette and Pippa reliably deliver.
Alice starts the press tour for her book and, bingo, the relationship question comes up. Is it natural to assume that as soon as a lesbian gets out of one relationship, she must be on to another? I'm ready for that narrative to change. Alice doesn't come clean and cleverly deflects in true literary suspense by vowing to save that juicy info for her next book.
Sophie hasn't heard from Finley since she took off last episode when she couldn't hear the truth about how her behavior affects the people around her. Sophie keeps trying to call Finley, even while acknowledging the futility of her endeavors. This continues through the episode. No one else has heard from Finley either. No one ever said loving an addict was easy.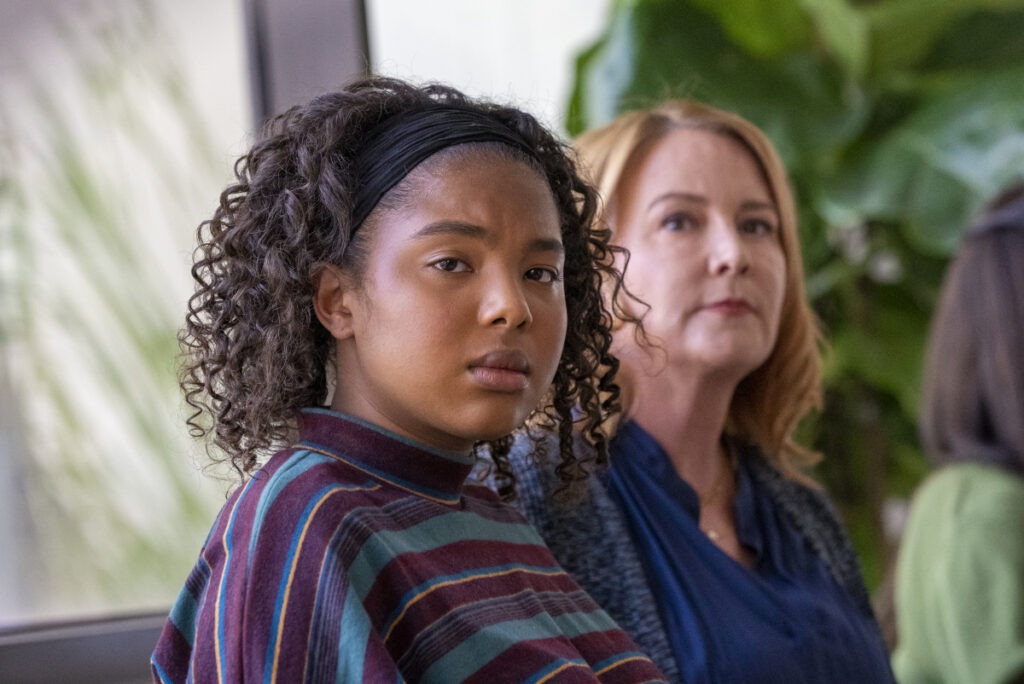 Angie's much anticipated donor meeting has arrived. Tina, Bette and Angie sit in the hospital waiting room only to be left disappointed as Marcus decides he will not follow through and does not wish to see Angie. She struggles as she processes her donor's refusal to see her. Jordi continues to be about as supportive as a cardboard box in the rain. Jordi asks Angie to shove her feelings aside in pursuit of typical teenage fun and lightness, it is prom night after all. Shane and Tess show up to the pre-prom gathering at Bette's house as a couple. Yes, this is happening and I'm going to choose no comment.
Alice fusses about the bisexuals in lesbian spaces dilemma as she tries to decide whether to publicly disclose her relationship with Tom or not. Divulgence hesitation carries over as Tess suggests that Shane tell Tina about Carrie's drunken lamentations. Shane doesn't think it necessary to upset Tina over remarks fueled by booze, although she is quick to point out that she's ready to throw down if Carrie hurts her. We love a protective Shane. Only time will tell if this was the right call.
Angie finally calls Jordi out, rightfully so. I know Jordi's just a kid, y'all, but it is hard to watch Angie hurting and looking for comfort. We have watched this baby grow since the original L Word so I guess we're all aunties now. Jordi responds as expected- poorly. Angie spins into a full on panic attack and refuses to go to prom. 
Meanwhile at Sophie's family dinner, everyone is asking where Finley is. Cover up lies ensue and Maribel isn't having any of that so she out's Finley's D.U.I. and hot mess behavior to the fam. Sophie retaliates by unmasking Maribel and Micah's relationship. Maribel tells everyone she loves him. A little nudge from Tess later on makes Sophie start to realize she can't fix Finley. We can only hope, at least.
Dani navigates the aftermath of her attempt to renew the image of her family's pharmaceutical company by donating to the CAC. Did any of us expect to see Dani's doe-eyed admiration of Bette go up in flames like this? Gigi and Dani meet up for dinner after Dani's been through the ringer, and Dani starts into her usual 'Gigi as punching bag for my bad day' conduct. Gigi lovingly lets her know that she's got to stop pushing away people she cares about with her "prickliness." She is proving to be quite the class act in the communication department this season and I'm here for it. Will Dani ever change, though?
Here we go– wasted Finley stumbling down the hallway of Dani's apartment building and relieving herself on the floor. She proceeds to belligerently bang of Dani's door, who opens. Drunk Finley breaks down to Dani and Gigi. Is it hitting home that she is, indeed, a scary alcoholic like everyone's been telling her? Sophie comes to retrieve her and that's all we get of Finley this episode. Sweetheart, please stop doing this to yourself.
Angie decided to go ahead and catch up with her girlfriend at prom. In a sweet sixteen scene, Jordi apologizes to Angie in the hallway and they share a dance. While Angie gets this reprieve from the heaviness she's been carrying, Bette and Tina meet with Marcus. Tina takes this opportunity to accuse Bette of still being in love with her but we don't get a reply from Bette because they are ushered into Marcus's hospital room. He again agrees to go ahead with meeting Angie but before Bette and Tina even make it out of the hospital wing, Marcus passes. I don't think this scenario could be any more heartbreaking.
Alice is finishing up a phone interview with a reporter who's cheering on her lesbian visibility and positive influence. Alice bites the bullet and admits to her relationship with Tom, leaving the reporter speechless. Mic drop, ladies.
Episode 9 leaves us with a strong set up for a lot to happen in next week's season finale. The L Word never disappoints in the drama department. Isn't that what we are here to watch?