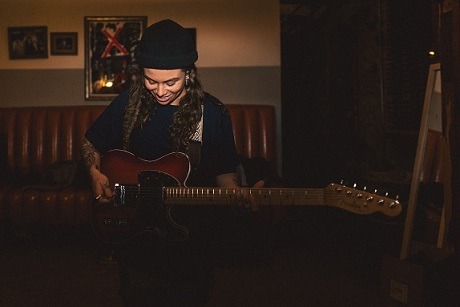 Tash Sultana had to hide away for 200 days and discover a new passion for the craft of making music again, when creating the album Terra Firma. After much success with the debut album, Flow State, Tash tells triple j, "I needed to go back to school, I needed to refine the craft by working with other musicians and working with other engineers. It's been an entire year of going back to school, except the project was the record. And now it's done."
The multi-instrumentalist seamlessly blends each song into one another on Terra Firma. While listening, I was on the fourth track, 'Greed', before I realised I'd left the first, 'Musk'. That's not to say the songs are the same, they're not, but the difference is nuanced and the album is uniform. It's clear this is a performance with a consistent point of view, despite it being about changes. As much as one song stands alone, so does the album. Similar to the way Tash plays multiple instruments: making them shine individually while also in a comforting, coordinated unity.
While Tash has a new, redefined sound, 'Pretty Lady' is a throwback to the busking days. Tash reunites with Matt Corby, who co-wrote the song "in a 10 day back-to-back writing session." Tash explains that 'Pretty Lady' is more about mood than it is about any topic in particular: "I wanted to write something that was easy for people to capture the melody and remember it, and sing it. Especially for a lot of my fans who don't speak English – might be their second or third language – they find some of the lyrics in my songs a little bit hard to understand." The song makes me want to sit in a cool, low-key music bar with some friends and a beer, so I can see how it's mainly intended to create a mood.
Tash says, on Apple Music, the song 'Beyond the Pine' is about loving each other "beyond the social norms of what is accepted and what is not. But who cares what other people think? As if society can make laws and rules about who you fall in love with or how you should even love yourself." The romantic, soulful sound is as much about loving somebody else as it is about loving yourself. It's about choosing love – in all its forms – especially if there's unfair judgement.
'Maybe You've Changed' is a heartbreaking ballad that's got a level of vulnerability I've not heard from Tash before. "That song came from the depths of my heart…I was really struggling to hold it together while I was doing the vocals for that song. There's a bit of shakiness in the voice, because I was pretty upset. I was like 'Well that's the take, then, because that was real'," Tash explains. While the song is led by piano, it's Tash's voice that takes centre stage, more so than in work that's more about the mood than the words, like 'Pretty Lady'.
The song reminds me of the betrayal when people say to each other "you've changed" with disdain, as if we don't naturally grow, adapt, and fall away from others – especially when they attempt to control the discourse of our lives – even if our choices are unhealthy. Juxtaposing 'Beyond the Pine', perhaps this song is about the anguish in preventing love: either by shutting others out in times of depression or others leaving us behind when we're a little too hard to deal with.
Tash says about the song, on Apple Music, "And so we do as we roll on through. Adapt and change, fall in, fall out, be happy, be sad, overcome, be defeated, lose track of why we are here in the first place." The lyrics, 'You're supposed to be relieving me / Then maybe you'll change because we do / But you just don't believe in me no more,' followed by a repeating 'Why don't you believe in me no more?' indicates that this song isn't about changes isolated to our own body or mind. It's about how those changes in us interact with other people and what that means for our relationships. Change often means grieving those who are stuck in the past.
Terra Firma is about change. Tash is changing. Tash's music is changing. By including older tracks like 'Pretty Lady', Tash reminds us that the new, post-change homeostasis doesn't completely abandon the past. Despite the overarching theme of change – whether that be societal, inside ourselves, or our relationships with other people – these unique songs operate in harmony with each other; the smooth transitions between tracks are just a testament to Tash's distinguishable point of view.
Tash says it was time for a change: "The way that I had been living, probably since about 2015, was just unsustainable…I just played so many shows and I wasn't actually home for more than three to four weeks at a time…My head well and truly flew off my shoulders and I don't know where I was for a bit of that. I started to almost become somebody that I didn't recognise, because I had no time to myself…If you were to discover me now, you wouldn't know any of the music prior to Terra Firma."
The process of change might be extremely painful at times, but Tash's final song on Terra Firma, 'I am Free', describes the reward of taking it on, rather than resisting its inescapable necessity.