Movies
Top Lesbian Movies You Can Watch On Netflix Right Now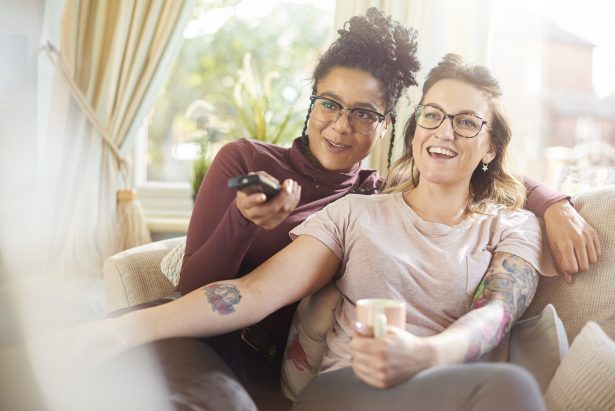 Searching for lesbian movies on streaming services is categorically exhausting. It's like opening the fridge, finding nothing in there, coming back 1o minutes later hoping something magically appeared. But it didn't. You wind up bemoaning lousy lesbian representation before you've even picked something. Then, once you decide on something to watch, there's nothing quite like struggling to decide whether or not to abandon the movie for being too cliche, too boring, or too obviously under Hollywood's delusions of mandeur. So, let us do the work for you!
A Secret Love
This documentary tells the story of a nearly 70-year long love affair between two women who had to keep their relationship a secret. Still unsure if you want to watch it? Read our review here.
Ek Ladki Ko Dekha Toh Aisa Laga (How I Felt When I Saw That Girl)
While her family tries to marry her off to man and a male writer pursues her, a woman struggles to reveal the truth… She's a lesbian and she's fallen in love with a woman. It's a huge leap forward to have a Bollywood movie featuring lesbians, but the problem is the lesbian isn't even at the center of her own story. Instead, the male character who falls for her becomes the hero of this movie.
Elisa and Marcela
This biographical drama tells the story of Spain's first same sex marriage in 1901. The title characters pretended to be a heterosexual couple in order to marry. Want to know more? Read our review.
The Half of It
When dumb jock Paul starts crushing on popular girl Aster, he enlists the help of gifted introvert, Ellie to help woo her. As it turns out, Ellie has a crush on Aster too. Watch if you'd like a modern take on Cyrano de Bergerac. Don't watch if you dislike the whole "himbo" thing.
The Feels
Under the influence of some chemical feel-good, a bachelorette reveals to her wedding party that she's never had an orgasm, unbeknownst to her wife-to-be. Her friends try to be supportive but feels of their own stand in the way.
Tig
This documentary about Tig Notaro details the comeback the out comic makes after going through the hardest time of her life. Her relationship with now-fiancee Stephanie Allynne is part of the happy ending. Watch if: You like stories of triumph over adversity. You can also catch her stand up special Happy to Be Here, streaming on Netflix.
Duck Butter
Two women undertake an experiment to see if they can fast-track falling in love by spending 24 hours together, orgasming together every hour. There is a lot of eroticism in this movie, and on balance that's probably worth wading through the gross stuff (Google duck butter). The ending might have you scratching your head about the message, so don't bother if you like endings with closure (both within the movie, and in the industry context, wondering how this movie got made).
Lovesong
Two best friends, Mindy and Sarah decide to go on road trip. But after a night of intimacy, Mindy bails after Sarah treats their night together like it was nothing. Years later, the two reconnect right before Mindy's wedding. They confess their love to each other, but Mindy goes ahead and marries a man anyway. Needless to say, that was not cool.
What Keeps You Alive
Jackie takes her wife Jules to a remote cabin to celebrate their first anniversary. But when Jackie's childhood friend appears, long held secrets start to unravel. Is Jackie who she really says she is? If you're in the mood for thriller this might be the movie for you.
Wanda Sykes: Not Normal
In this comedy special, Wanda Sykes tackles politics, reality TV, and racism. Watch if you'd like to see a comedy legend in her element.
Prom
When a teen is barred from attending prom with her girlfriend, a group of Broadway stars use her situation to repair their damaged reputation. This star-studded movie includes, Meryl Streep, James Corden, and Nicole Kidman. Read our review of it here.
Ellen Degeneres: Relatable
You thought we forgot about this one, huh? This is AfterEllen, we would never! Relatable is Ellen's first stand-up special since 2003. She revisits her moments from her life and tells some jokes along the way.
A New York Christmas Wedding
A bride-to-be starts getting cold feet just before her wedding. An angel visits her and gives her the chance to see how her life would've turned out had she had the chance to tell her childhood best friend she had feelings for her. Will she chose her old life and marry a man or take a chance with the woman she could have loved years ago? If you're looking for Hallmark movie vibes, this might just the movie for you.
So My Grandma Is a Lesbian
What a title, am I right ladies? When a successful young lawyer is about to wed into a rich, ultraconservative family, her grandmother decides to marry her girlfriend and come out as a lesbian. Needless to say, hijinks ensue.
Jewel's Catch One
This documentary shines the spotlight on the famous LA nightclub, Catch One, owned by Black lesbian Jewel Thais-Williams. The documentary covers four decades fo LA history and the nightclub team's battle against homophobia and racism. Definitely one to watch for history buffs.
I Care A Lot
A fan of Rosemund Pike being an absolutely horrible character? This is the movie for you. Pike plays a court appointed legal guardian who defrauds senior citizens in her care. But when her latest mark isn't who she thought she was, all hell breaks loose. Read our review of it here.
Ride or Die
Based on the manga, Gunjo, features a lesbian named Rei and her best friend Nanae. When Rei decides to kill Nanae's abusive husband, the two of them turn to each other for love. But it doesn't last. Read our review of the Japanese thriller here.
Pariah
A 17-year-old Black lesbian juggles being out amongst her close friends, and keeping her sexuality a secret from her parents. Needless to say, it's a struggle.