Happy first week of July, ladies! Before I get to the the news, I'd like to congratulate Germany on legalizing same-sex marriage. Although one of Chancellor Angela Merkel's top officials is attempting to a put a wrench in things, I have a feeling he won't succeed given the fact that about 83 percent of Germans approve of same-sex marriage. It's also important to note that Merkel, who also voted against the law, likely won't fight its passage considering she's up for re-election in September.
Moving on! As for this week's round-up, I have a pretty wide range of stories. From a Parks and Recreations star coming out to Mara Wilson discussing why she wants more "boring bisexual representation," this installment of LDIO is quite the mixed bag. Lez get to it!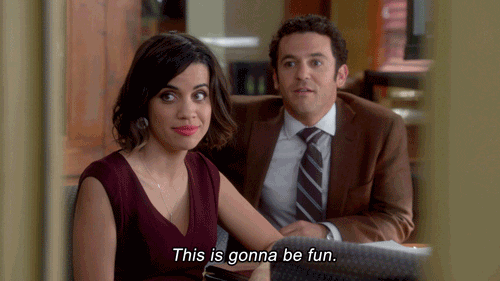 JAY-Z Reveals His Mom Is A Lesbian
Yes, I know I'm a bit late to the game here. Unfortunately, Jay didn't get in touch to coordinate the release of 4:44 with my last installment of LDIO … I'll try to sync that up next time.
Anywho, I'm really excited to report Shawn Carter's mom, Gloria Carter, is a lesbian. Although it's unclear how long Gloria has been out to her family, she just revealed her sexuality to the world in the song "Smile." The lyrics about Gloria are as emotional as you'd expect, and I'm pleased to see the rapper tackling something so real and honest in his music.
Jay's lyrics:
"Mama had four kids, but she's a lesbian/Had to pretend so long that she's a thespian. Had to hide in the closet, so she medicate/Society shame and the pain was too much to take. Cried tears of joy when you fell in love/Don't matter to me if it's a him or her," Jay-Z rapped. "I just wanna see you smile through all the hate/Marie Antoinette, baby, let 'em eat cake."
If you're not crying already, prepare yourself for Gloria's a spoken-word verse about her sexuality:
"Living in the shadows. Can you imagine what kind of life it is to live? In the shadows people see you as happy and free. Because that's what you want them to see. Living two lives, happy but not free. You live in the shadows for fear of someone hurting your family or the person you love. The world is changing and they say it's time to be free. But you live with the fear of just being me. Living in the shadows feels like the safe place to be. No harm for them. No harm for me. But life is short, and it's time to be free. Love who you love, because life isn't guaranteed. Smile."
Seriously, what else can I say here? Gloria summed up her journey perfectly and I wish her nothing but happiness going forward.