Another Friday, another lady lovin' installment of LDIO. This week had some highs and lows, especially in the realm of relationships. Although I have to report a very sad break-up in the Real L Word universe, I also have a new and exciting lesbian pairing to fill you in on.
Lez get to it!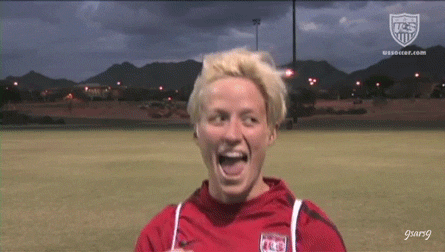 LGBTQ  Celebs Dominate Out Magazine's Power 50 List
On Monday, Out magazine released its annual "Power 50" list. According to Out, the "list recognizes those individuals who are working to make a positive impact on LGBTQ culture, beyond simply being at the pinnacle of their field/professions."
Although a lot of worthy people made the list, here are the LGBTQ women that made the cut:
Ellen Page, Rachel Maddow, Kate McKinnon, Tammy Baldwin, Mary Kay Henry, The Wachowskis, Ellen DeGeneres, Jill Soloway, Laverne Cox, Roxane Gay, Janet Mock, Hanne Gaby Odiele, Sarah Kate Ellis, Caitlyn Jenner, and Lisa Sherman.

Congrats to all the women that were honored. You can check out the full list HERE.
Real L Word Stars Break-Up Following 11 Years Of Marriage
I'll be honest – I full on gasped when I saw this news on Instagram. Late last Thursday, both Kacy Boccumini and Cori Boccumini (now McGinn) posted identical Instagram messages announcing the end of the their 11-year marriage. The breakup is upsetting for a lot of reasons, especially since Kasey and Cori portrayed a rock solid marriage on the Real L Word. Not only did the two get through heartbreaking death of their daughter together, but they also gave off a vibe that they'd be wives forever.
Take a look at the dual announcements below:
https://www.instagram.com/p/BWgU2toFlmq/?taken-by=coricupcake&hl=en
So… is anyone else a little teary-eyed? Please tell me I'm not the only one heartbroken to see this ship sink.
Following the IG posts, Kacy took to Tumblr to elaborate on the breakup. Although the full note is a little too long for me to copy and paste here to LDIO, here's a portion of Kacy's note that was especially poignant:
"After 11 years, Cori and I have decided that we are better, and stronger as friends. There is no blame. No fault. We did incredible things as a couple. We will do incredible things on our own. We will continue to cheer each other on from the sidelines. Cori and I were babies when we met, broken and struggling in a very hard world. We recognized each other's bruises and scars immediately, and even more immediately, began to lick each other's wounds. It truly was "Us" against the world and that is how I will always remember those first years. We met. Set roots. Took hold of each other. This is what allowed us to weather the storms that followed, of which you're all too familiar.  During the storm of "Cori and Kacy", her air was my air and vice versa. Her story and mine were the same, and had that been the only gale our story may have remained. But it was not. She lost someone in her foundation. I lost someone in my foundation. In order to stay standing, we had to find our own footing. Once we did, we noticed that we could weather storms on our own.  She found her own laughs and joy in wonderful new friends and a new career. I rediscovered my old self, and started to unpeel my layers to reveal the athlete beneath. When you're standing on the outside of something looking in, you have new perspective.  She used to say my face was a vacation.  Then one day I noticed that I wasn't that anymore. I was a reminder of the worst days, through sheer virtue of being there to witness them, but nonetheless, a reminder. People grow. Some together. Us, apart. Yet I digress, as there is no more simple reason for this update other than to say this: We don't owe anyone an explanation, but it felt irresponsible to pretend as if Cori and I weren't used as pins to some of your hopes as proof that love does exist and that it's real. Despite this news, I can tell you whole-heartedly, that if love didn't exist, I wouldn't be writing this. If we hadn't loved each other for 11 years, we wouldn't have been able to let each other go when we knew it was causing the other pain."
Kacy hits on a lot of great points here. It's a very honest explanation of why the couple is no longer together, and I think the reasoning behind this breakup is something a lot of people can relate to. If you have been in or are currently in a long-term relationship, then you now how difficult it is to independently evolve and change together. Most of us have even experienced this phenomenon in friendships too, right? All I can say is, I'm happy that Kacy and Cori were able to make the best decision for themselves as individuals. More often than not, it's hard to conjure up that type of strength.