WARNING: SPOILERS AHEAD
Netflix's show Trinkets just dropped a new season full of lesbi-goodies. The show featured Elodie as the lesbian helm, who we left in season two running off with bisexual rockstar Sabine. However, season two is packed full of good stuff that makes this show a must watch.
Let's back up a little bit. Trinkets is a show about three high-school girls that become unlikely friends, because of their addiction to stealing and shop lifting. What makes the show so good is that the writing is far from lazy; the teenagers are simply, teenagers, navigating personal struggles and friendships. They are not forced to act like adults, deal with insane crimes, or any of the dramatics you normally see on teenage based shows. Everything seems normal, but is also entertaining for adults to watch too, as the girls experience some rather juicy life lessons.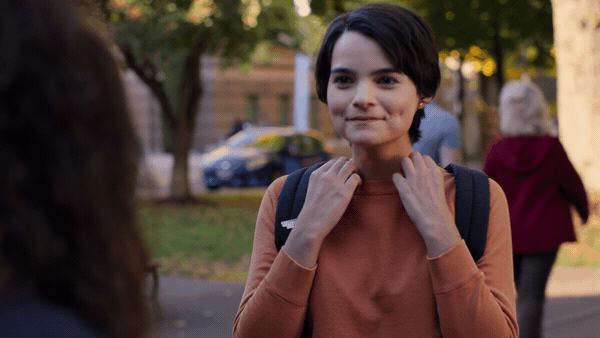 Back to Elodie. In season one, Elodie falls for Sabine, lead singer of a local band. When Sabine leaves for tour, Elodie decides to run away from home and join Sabine. Why? Elodie has struggled for the past year with the passing of her mother, being ghosted by her best friend who she thought she was in love with, and her stealing addiction. Teenager stuff, right? However, what's interesting about Elodie joining Sabine is that they seem to be girlfriends, sharing kisses here and there. Yet, NO ONE is talking about how Sabine is an ADULT and Elodie is a MINOR. It's almost as if this is normalized, and leaves fans of the show somewhat shocked when Elodie decides to ditch Portland and go on a rock-n-roll tour. Through Elodie's eyes, Sabine is not much older than her, and at this point they have only kissed so far; she's chasing the dream of freedom. That's where season one leaves us.
As we hop into season two, life on the road was not suiting Elodie. Eventually, Elodie decides to come back home and face the wrath of her family. Elodie accepts her punishments, and is reunited with her friends. The most exciting part for Elodie in season two is that she has a new love interest! Part of Elodie's punishment/grounding rules is that she needs to join an extra curricular activity; Elodie decides to join a band, playing a ukulele she stole from one of Sabine's band members. This is when Elodie meets Jillian, a fellow band mate. You know how the story goes, girl meets girl, girls fall in love. AGE APPROPRIATE LOVE, at that. Elodie's friends even comment on the fact that they are happy Elodie is persuing someone her own age, finally addressing that elephant in the room. Thank goodness.
However, Elodie and Jillian do have their own set of struggles. Jillian has not come out to her parents and doesn't want to; she says she wants to keep their relationship a secret. Elodie is reluctant at first and the pair breaks it off. Elodie decides to tell Jillian about her stealing addiction, furthering their breakup. By the end of the season, however, the two do get back together and Jillian decides to come out! The relationship up and downs are very high school, but with more serious undertones, and the writers do a great job of portraying the contrasts between the two women and their experiences being gay.
Elodie tells Jillian she always knew she was gay, and so did her family. For Elodie, coming out was effortless, because she was welcomed with open arms, and confident in her sexuality. Jillian directly contrasts Elodie here, as she was still questioning herself for much of this season. What makes this show so special is that while it is very dramatic, the writers keep it real. The conversations between Elodie and Jillian are realistic conversations teenagers have daily, and the struggle of coming out and not being accepted causes an array of emotions. Sometimes coming out is easy, like for Elodie, and other times it can be the most difficult thing a person does, if they decide to at all. Especially for an adolescent, coming out can feel overwhelming and extremely scary. Elodie and Jillian are exact opposites, and yet somehow have found this blissfulness together, and make each other stronger.
While Trinkets is a show based in the strength of female friendships, the addition of Elodie and Jillian's storyline makes it even stronger. Jillian and Elodie come to a place where they accept each other exactly how they are despite Elodie's past and Jillian's fears. When Jillian does come out, she lets Elodie know, but it isn't harped on for too long. This transitions the couple into the realm of normalcy, which is exactly what the writers do for the entire show. If you've watched other high school based shows like Pretty Little Liars, you know those teenagers face impossible situations daily. While Elodie faces some strange things herself, Trinkets uses her character to show normal, coming of age, coming out, teenage stories. Thus, making the show a must binge.
Seasons 1 & 2 of Trinkets are on Netflix now!