The pop culture site that plays for your team.
---
AfterEllen.com works the lesbian/bi pop culture beat with a fun, feminist perspective on film, television, music, books, and fashion. We also cover lifestyle issues like lesbian sex and dating, coming out, and our take on the current political climate as it affects our community. AE delivers new and exclusive celebrity interviews, film reviews, TV recaps, original video and more, and is a continually evolving website for women.
Founded in 2002, AfterEllen.com quickly became the largest and most comprehensive website dedicated to the representation of lesbian/bi women in popular culture. Since then, the site has continued to expand its reach beyond coverage of pop culture, and is now the go-to resource for a unique lesbian/bi perspective on all entertainment news.
We have a solid reputation as a reputable site run by real journalists, conducting insightful, factually correct interviews – all of which means actors, publicists, managers, TV studios, film companies trust AfterEllen as a place to connect with online fandom.
---
Have a hot tip you'd like to share or have an inquiry for our editor and/or writers? Contact our Editor-in-Chief at [email protected]
Want to help keep us in business? Give us some love and subscribe! Your $5 each month will help us with costs like web hosting and paying our well-deserved, hardworking lesbian writers!
Meet the AfterEllen Team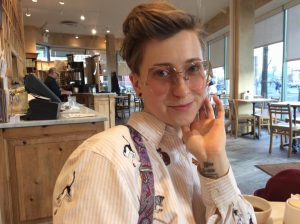 Jocelyn Macdonald, Editor-in-Chief
Jocelyn Macdonald is a poet and activist dreaming of Lesbian Nation. In her spare time, she hand pokes tattoos, reads tarot, and collects birth charts. She lives in D.C. with her cat and her motorcycle.

Claire Heuchan, Contributing Writer
Claire Heuchan is a Black radical feminist, award-winning blogger and activist from Scotland. Read more of her work on her blog, and follow her on Facebook and Twitter.
This page is currently under construction as we add all team members and contributors. Thank you for your patience.