Ruby Rose's Urban Decay Campaign Sparks Outrage
Eep.
Over the past few days, people have expressed annoyance with Urban Decay's decision to feature Rose as the face of their Jean-Michel Basquiat campaign. Fans are particularly upset by the brand's choice not to feature a woman of color to honor the late artist, a valid point considering Basquiat was of Haitian Puerto Rican descent.
Here's some angry responses to the campaign:
https://twitter.com/oculat/status/842416771697115137?ref_src=twsrc%5Etfw
Why the fuck are y'all getting a white woman to be part of honouring Basquiat, a legendary BLACK artist? Who Tf approved of this? https://t.co/OVOjAUcgaW

— farxiyo. (@hausofriya) March 15, 2017
https://twitter.com/holy_wuu/status/842361693132992544?ref_src=twsrc%5Etfw
Thoughts?
Kate McKinnon Gets Animated In LEAP! & Parodies A Reality Show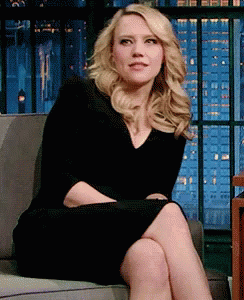 This is kind of a weird situation, but I'm glad Kate landed this gig!
According to reports, the lesbian comedienne will lend her voice to THREE characters in LEAP!, an animated film about two orphans who decide to take a risk on their wildest dreams. While the film is set to drop on April 21, producers decided last minute to involve McKinnon in the movie– in fact, she recorded her parts just this week. The French-Canadian project also feature Maddie Ziegler, Mel Brooks, and Carly Rae Jepsen.
The trailer:
https://www.youtube.com/watch?v=sMpmYXi94Jo
Moving on!
If you're from the New York area, you're probably familiar with Fire Island and it's reputation as a vacation haven for gay men. I learned this factoid when my AP Environmental Science teacher (who drove a hummer, btw), took us on a field trip to one of the surrounding islands. As our ferry edged past Fire Island, he pointed at the mass and flatly said: "That's where the gays live."
The gays. So educational and oh so appropriate.
Anyways, LOGO TV network recently unveiled its unscripted series about six gay men and their summer beach house on Fire Island. As expected, the trailer is full of stereotypes and underlying whispers of YASSS QUEEEEN everywhere you turn.
In response to the tired and offensive tropes, Kate and her SNL cast members decided to skewer the show with their own lesbian parody called Cherry Grove. Get ready for Annie Lennox sing alongs, perfectly swaddled miracle babies, and lots of feelings.
Tegan and Sara To Headline Regina Folk Festival
Good news, Canada!
On Thursday, Tegan & Sara announced they'll be headlining the Regina Folk Festival set to take place August 10-13. The appearance comes fourteen years after the ladies tried to perform at the festival back in 2003. Apparently a freak electrical outage prevented Sara from getting to the venue all those years ago.
The official announcement:
https://www.instagram.com/p/BRtfto0FMZ_/?taken-by=teganandsara&hl=en
The full lineup so far: Tegan and Sara, Lights, Buffy Sainte Marie, Marty Stuart and His Fabulous Superlatives, Coeur de pirate, Natalie MacMaster, José González, Vox Sambou, Kacy and Clayton, De Temps Antan, DJ Shub, Les Hays Babies, Begonia, Kobo Town, Como Mamas, William Prince, Blake Berglund, Kiera Dall'Osto, Tomato Tomato, Choir! Choir! Choir!, Ponteix, Ryan McNally, Dirty Catfish Brass Band, and Al Simmons. Tickets HERE.
In addition to Regina, the lesbian duo will be strutting their stuff at a New York City Pride event on June 24. Get your tix HERE.