Greetings, lady lovers!
This week gifted us with a new lesbian character on UnREAL, the season five trailer for Orange Is The New Black, and a much needed graphic novel featuring queer women of color. Lez get to it!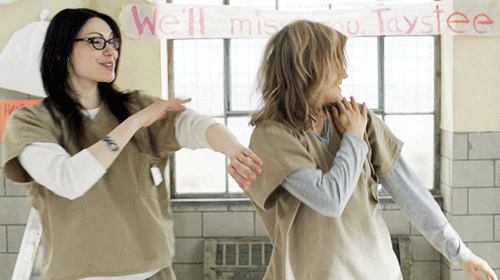 Bella Thorne Totally Wants To Date Kristen Stewart
Tell us how you really feel, Bella!
In an interview with Harper's Bazaar, Ms. Thorne opened up about dating women and her unabashed love for Kristen. While the actress came out as bisexual in August of 2016 (AE covered the moment HERE), she has yet to be in a relationship with a woman.
The bi starlet revealed:
"I've done other stuff with girls, but I really want to actually date a girl… maybe girls just don't like me. I can't tell if a girl is hitting on me or she just wants to be friends. And I don't want to flirt with a girl if she thinks I'm just being her friend. What if I kiss a girl and she's like 'Oh, I'm just your friend dude, I can't believe you just crossed that boundary.' I'm confused on what they want from me."
Romantic frustrations aside, the 19-year-old has no confusion about her major crush on K.Stew:
"She's so hot. She seems like the raddest chick, I'd be so down."
Hmm, maybe someone should remind Bella that Stewart and Stella Maxwell are currently joined at the hip.
Kristen Celebrates Her 27th Year On Earth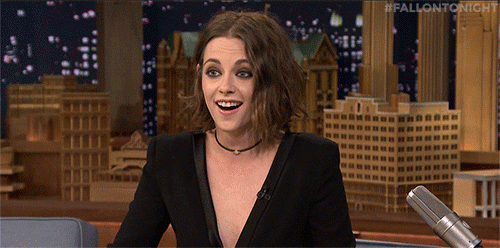 If you're an amateur astrologer like me, you're probably not surprised to learn Kristen is an Aries.
On April 9, the celesbian celebrated her 27th birthday in New Orleans alongside girlfriend Stella. The two hit the streets in pretty similar outfits, so they're clearly in the throes of a committed relationship. You know it's serious when you're twinning.
Check out a snap of the couple sporting tiny shorts, identical sneakers, and tube socks:
Kristen Stewart and Stella Maxwell; aka the hottest girlfriends pic.twitter.com/UFI8xZ1TbP

— Sol (@angelitodelxsol) April 11, 2017
Following the release of these photos, some members of the media freaked out because Kristen dared to flaunt her stomach and a little underboob. A woman's body is DANGEROUS, you guys!
UnREAL Adds A Lesbian Character To The Mix
Any UnREAL fans out there?
Ahead of the show's third season, Tracie Thoms (you probably know her as Joanne Jefferson in Rent) announced she's set to play Quinn's longtime lesbian bestie. Tracie's character, Fiona, is described as a "a fun-loving, gorgeous gay woman with swagger".  Zing!
The even better news? Not only is Thoms a phenomenal actress, but she's also no stranger to taking on lesbian roles. Tracie most recently starred as one of the "lesbians next door" in the Broadway hit Falsettos.
Check out Thoms' announcement below:
Congrats, Tracie! Thanks for bringing the gay to such an amazing TV show.
Kelly Osbourne Slams "Young Hollywood Girls" Pretending To Be Gay
Kelly has never been shy about her opinions.
While promoting her latest book, Ms. Osbourne took aim at "young female celebrities" who disrespect the LGBTQ community by supposedly pretending to be gay.
Kel ranted:
"… But I also don't like it when people claim to be gay and then not. There's this whole generation of young Hollywood girls who can't find love where they think it's supposed to be, and then they come out being gay and two weeks later they have a boyfriend. It drives me nuts! I think it takes all the proactive work the LGBT community has done and sets them back. Oh, so now you're gay? Then two weeks later: "Oh no, that was just a phase." You don't get to do that. I'll tell you who's the worst with it: young female celebrities. And I'm like, I know you. I've known you pretty much since before you used to shit outside of a diaper. You are not gay! But I think outing somebody in that way is just as bad as outing somebody who has not come out of the closet. It's one of those things I have to keep to myself… and it drives me fucking crazy! I've marched till my feet bled for the right of equal love in the gay community, and you're just gonna step in because it looks cool for you and now tell everybody that you're a lesbian when you've never even seen another puss that's not yours so you can get attention?"
Over the course of my time at Perez Hilton, I have noticed an increase in "young female celebrities" coming out. You could attribute to this more LGBTQ visibility and acceptance, or some of these women could fall into Osbourne's theory (a theory I personally don't share) of they're faking it. Either way, I agree with Kelly "that outing somebody in that way is just as bad as outing somebody who has not come out of the closet."
As for her own interest in women, the author explained:
"I'm open to loving anybody. It's about the person. I don't think it's about sexuality at all… You know my honest opinion? Everybody's gay. It is a strictly human thing. You can't put a gender on love… my whole rule is, never say never. I've never been in a relationship with a woman, but I don't know that it's not a possibility."
Translation: if you're into Kelly, there's still hope!
Ellen DeGeneres Takes On United Airlines' Recent Controversies
United Airlines — you just got roasted.
Following United's insane decision to forcibly remove a passenger from an overbooked flight, Ellen took to her show on Tuesday to poke fun at the company's PR nightmare as well as their bat shit policy on leggings.
The mogul joked:
"There was a United Airlines flight in Chicago that was overbooked, and to make room for people, they forcibly removed one of the passengers — did y'all hear about this? It's crazy — they charged him a $50 removal fee. That's not true, that's not true. No, your first forcible removal is free."
Listen to the lesbian's hilarious commentary in full below:
Pretty Little Liars Stops By The Ellen Show To Play The 12 Days Challenge

You can't go wrong with the ladies of PLL!

In honor of the show's final season (which AE will be covering, btw), the cast stopped by DeGeneres' show to discuss their matching tattoos and to play a little something called the 12 Days Challenge.
Take in the clip below!
For some additional cuteness, check out the liars' behind-the-scene snaps below:
Here's to the beginning of the end, fellow PLL fans.
Graphic Novel Bingo Love Tells An Epic Tale Of Queer Black Romance
2017 is gearing up to be a great year for LGBTQ graphic novels and comics.
This week, queer black writer Tee Franklin chatted to The Root about her graphic novel Bingo Love. The work tells the tale of a decades long romance between two black women Hazel Johnson and Mari McCrary. The pair's relationship begins at a bingo game in the 1960s when the two are just teenagers. I don't want to spoil too much of the plot, so I'll let you wait for the book when it comes out at the end of this year.
In the meantime, Franklin had some important things to say about diversity and LGBTQ visibility in the publishing industry.
The writer explained:
"Very rarely do we see queer people, women of color and elderly people in comics, so I knew I was taking a risk, but it's been well worth it. People need to see that you can be LGBTQ and have a partner for life. We are all worthy of that happy ending, too."
Yes to all of this! We all know how "happy" resolutions are all too rare for LGBTQ characters.
As for the increase in gay comics, Tee was quick to point out how there's still inequality among WHO is getting published:
"We still have a really long way to go before we are fully represented with characters, creators, illustrators and writers of color. And this isn't any shade to Roxane Gay and Ta-Nehisi Coates, but there have been so many other kick-ass black comic book writers before them who aren't high-profile enough to be given this type of shot. It's truly frustrating. Why is it that in order to be black and write for places like Marvel, you have to be a literary wonder? White writers don't have to live up to that type of standard. Why should we?"
Take note, Marvel.
Here's a few snippets of the graphic novel for you to enjoy:
Cynthia Nixon Stars In Emily Dickinson Biopic & Opens Up About Her Marriage
If you're a fan of Cynthia and Emily Dickinson, your holy grail has arrived. Nixon, who once described her homosexuality as a "choice", is receiving rave reviews for her portrayal of Emily in the film A Quiet Passion. The literary biopic (which hits U.S. theaters TODAY) portrays the prolific writer from childhood all the way to her reclusive life as an adult.
Check out the trailer below:
Movie aside, Cynthia had nothing but gushing things to say about her wife Christine Marinoni during promotional interviews. It's clear these ladies are still madly in love after thirteen years together.
In conversation with The Guardian:
"What was the best kiss of your life?
There have been a lot, but there was one time my wife kissed me in the car underneath an overpass in 2005 that I always think of.

Where would you most like to be right now?
In bed with my wife."
On calling Christine her wife and coming out:
"… She protested a lot at the beginning and wanted a more gender-neutral term, like 'my spouse'. I said, 'You think I'm doing that, you're crazy!' Marriage was never a goal of mine. I was with my boyfriend for 15 years and we never got married. But it seemed like Christine and I did fight really hard for it and we had a lovely wedding [in 2012]. Why wouldn't I have done it?

I had never dated a woman before or even kissed a woman or anything, and so when we started seeing each other, Christine kept waiting for the other shoe to drop, for me to panic about what this would mean – to my career or to myself – as if somehow I just hadn't noticed that she was a woman. And then she met my mother and that was when she stopped worrying about it."
So sweet. Here's to many more years of happiness for the pair.
Orange Is The New Black Releases Its Season Five Trailer
It's that time of the year, OITNB fans.
Netflix just dropped the trailer for season five and it's as tense as you'd expect. The sneak peek shows the women exactly where we left them last — in the midst of a riot and still reeling from Poussey's horrific death. Not to mention Daya is still pointing a gun at that prison guard…
Watch the trailer below:
The new season debuts on June 9.
That's a wrap! Cheers to the freakin' weekend.