On the 21st season finale of Law & Order: SVU, fans finally get to see something that is incredibly rare for the series: a bisexual main character. Jamie Gray Hyder plays Katorina Tamin, SVU's first bisexual, female lead after the series' historic 21 seasons of the female-led TV drama.
At the beginning of the season, Tamin was added as a new detective, and fans of the show did not get to see much of her personal life. This is familiar to viewers, as the writers at SVU like to reveal personal details slowly and really hone into the cases on the show. However, on the season finale, Tamin finally mentions what many fans had speculated already, that she is bisexual.
Tamin's sexuality was revealed on the show in a casual, nonchalant way. Tamin looked over at fellow detective, Amanda Rollins, and asked her plans for the evening. When Rollins asked Tamin back, she showed a picture of her dating app and said, "Gene or Gina?" To which Rollins replied, "Gina." We love to see it.
It's also humorous to note: before the addition of Tamin to the show, many fans expressed that they wanted to see a gay woman of color as the new detective in the squad. Either the writers of the show were listening, or we are all psychic. Who's to say?
The writing of this scene was very intentional because of the way the characters treat Tamin's coming out completely casually. It reminds viewers of the show that everyone is simply a human being, and that it is normal to be attracted to who you are attracted to. By coming out in a casual way, Tamin reinforces the acceptance of the bisexual community across SVU.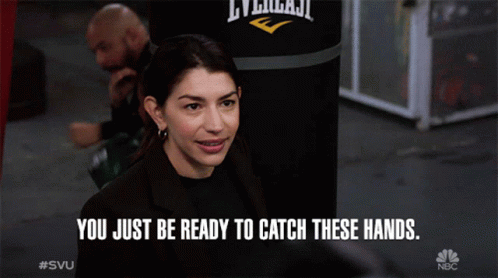 Viewers of the show are elated with the way Tamin's coming out went down. If you're a fan of SVU you know that the writers hardly ever dive into character's personal lives, let alone add new characters to the squad. When Tamin first arrived on the scene, viewers were skeptical of her and were not sure they wanted this particular new detective on the show. However, adding the insight into Tamin's personal life really changed their minds on her character, because they got to see a glimpse of who she is. Similarly, because of the nature of SVU not delving into the personal lives of their main characters, Tamin's coming out felt completely normal, as if she was surrounded by accepting humans in a judgment-free zone. That's what we like to see!
However, Tamin is the first lead bisexual female character on the show. While Law & Order does not shy away from gay characters, they have never had one of the squad detectives come out on the show before. Most members of the LGBT community on the show have been guest stars or secondary characters since the pilot. The last reoccurring gay character was George Huang, who left in the twelfth season. Currently, SVU is the only Law & Order still on television, and the show is now going into its twenty-second season.
SVU is arguably the best version of Law & Order to date but let's be real, the franchise has come a long way since its original episodes. Elisabeth Röhm's Serena Southerlyn was fired and in her last episode, she, seemingly out of nowhere, came out saying, "Is it because I'm a lesbian?" Big yikes. Likewise, the main characters in SVU used to say slurs without acknowledging it, there were many homophobic characters, and often were hostile toward gender nonconformity. SVU has also been accused of homophobia in more recent years, as a kiss was cut between Kathy Griffin and Mariska Hargitay followed by a homophobic comment in 2010.
Thus, as SVU charges forward into their new seasons with Tamin at the helm, the show is giving the message that they are writing with diversity in mind. SVU has always been a safe place for survivors to come and feel their voices are heard. There have been many lesbian and bisexual characters over the course of the show, and the writers at SVU have always tried to be a show that has allies and support. It's no secret that many episodes of SVU are written after real-world events, including shootings and hate crimes. SVU and lead character Mariska Hargitay included hope to shed light on the crimes that affect the gay community directly and by adding a bisexual female lead character, fans can finally see that acceptance in a closer, more intimate way.
As of 2019, Law & Order: SVU made groundbreaking history as the longest-running TV drama with a female lead. While the show is currently on hiatus due to the Coronavirus, it has been picked up for three more seasons. So fans will get to see more episodes featuring Tamin, and hopefully, finally get to see a character arc for a bisexual woman on their Law & Order screen. Dun Dun!