WARNING: MINOR SPOILERS AHEAD
Hulu's original show Shrill, is popping off with the lead Annie and her best friend Fran, who are two fat millennial women who do not believe their weight should determine their happiness. So much yes!
All of us need that best friend who will lift you up when you are consumed with self-doubt. A BFF that gives you confidence and love, and accepts you for exactly who you are. Fran, played by Lolly Adefope, is the perfect best friend for Annie as she exudes confidence in all areas of her life. Fran is Black, British, fat, and a super cute lesbian. What more could a girl ask for?
Adefope has had a huge couple of career years, and if you have not heard of her, consider this your enlightenment! The actress has starred in many British shows, as well as landing the role on both current seasons of Shrill. You may recognize her from The Spy Who Dumped Me where she starred alongside Kate McKinnon. Adefope brings something meaningful to Shrill, as her three-dimensional character Fran highlights issues from race and fatphobia to sexuality, all while having her own storyline, not just as a sidekick to Annie.
Fran is a lesbian that seeks fluid relationships with women. She does not feel like being tied down, and often jumps from girlfriend to girlfriend, as she wants to make a statement about her independence. However, Fran does not waver in her confidence and self-indulgence. Instead, she fully believes in herself and trusts that she knows what is best for her. Fran's beautiful nature of independence normalizes the idea that women, particularly gay women, can be in non-monogamous relationships and still thrive throughout life. This does not make Fran any less of a beautiful person, and instead illuminates the notion that lesbians are human. We love to see it!
Fran also does not refuse what relationship opportunities come her way. She still feels heartbreak and she still falls in love. She dates women who mistreat her and feels that pain deeply. Fran is human, not just a sexed-up lesbian Lothario. In the second season, Fran does in fact find a partner she wants to stay faithful to, and she could not have been happier. Fran finding love does in fact reinforce the idea that we create our own happiness, and it can look like whatever we want it to. Plus, her new girlfriend is super freaking cute, too.
Throughout the show, Fran also addresses her fatness alongside Annie. Both women are unapologetic about their size, and instead, use it to further their confidence in life. However, Annie sometimes does struggle deeply with her self image. This is why Fran is the perfect best friend. Fran encourages Annie take up space, literally and metaphorically, with her passion for writing. This gives Annie the confidence that she never had before to take a stand and truly believe in herself, seeing herself through her best friend's eyes. Fran never apologizes for her confidence, and will not let Annie either.
Similarly, Fran also never apologizes for being Black. She is confident in her own skin and throughout the show, Fran acknowledges her Blackness and what it means to her. Often Fran will make jokes in her own nonchalant way that really does make a louder statement. Having a best friend who is white comes with added challenges for Fran, as she does her best to be a part of open conversations with Annie on what her life has been like in contrast to hers. Fran as a character adds so many layers to the show, and gives viewers the chance to really get to know her.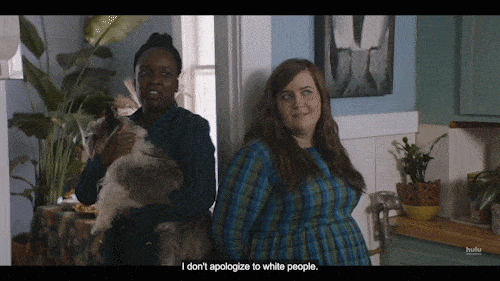 Fran also faces struggles that many other millennial women face. Fran's parents did not always approve of her life choices and in many ways, still do not. Fran had a hard time coming out to her parents, and she then moved to another country to pursue a career that her parents did not approve of. While Fran is the epitome of confidence, especially within her sexuality, she also yearns for her parent's acceptance. Fran fights to be unapologetically herself, even within her own family, and she is truly admirable in how she tackles these issues with her parents and her friends as well.
So, why do you want Fran to be your next BFF?
Fran will put you in your place while also adding a level of sass and sweetness. Confidence is her middle name, and she will always gas you up. She loves herself and celebrates everything that makes her unique, as well as what makes Annie unique. Fran will always be down for a good time and truly believes in loving and accepting everyone for who they are. Fran as a character represents so much more than just Annie's best friend, as she advocates for sexuality, gender equality, fat liberation, and more. Where can we sign up to be Frans BFF?
You can check out the first two seasons of Shrill now streaming on Hulu.