After a 2-week hiatus, Batwoman is finally back gracing our screens! Buckle up, Batwoman lesbians, because this one is a doozy.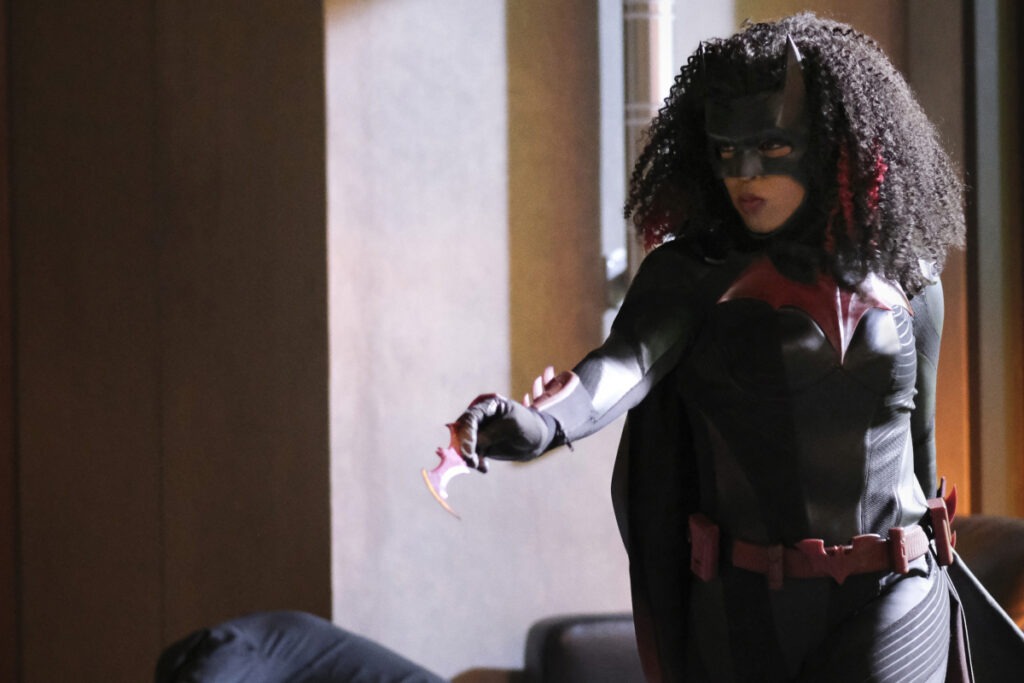 We open with a short recap — for those who don't remember, we left off with Luke Fox being shot by Crow Agent Tavaroff. Why? He was trying to show the Crows evidence of a white guy stealing a car.
Kane is holding a meeting with the Crows to investigate just what went down with Luke and Tavaroff. Tav says that Luke had a gun, and that's why he shot him. (But we know Luke didn't have a gun…)
Meanwhile, Luke is in the hospital fighting for his life; he is unconscious and dreaming. In his dream, Luke sees his dad staring outside a window. Mary and Ryan are also trying to help Luke; they go through the details of what happened in the Batcave, and Mary decides to make a serum out of the Desert Rose to try to heal Luke with it… more on that later.
Alice is still at Enigma's office trying to find the password to unlock Kate's memory. While riffling through files, Alice notices that information is being traded with Black Mask about the entire Kane family. Her family. Ocean shows up to clean up Enigma's body, despite the fact that he and Alice had just had a blow out and he doesn't want her looking for Kate anymore. Alice tells Ocean that Enigma was trading private information about the Kane's to Black Mask.
Batwoman is out tracking down stolen cars, trying to find Eli (the white guy who was stealing the car) to get info on what happened with Luke. Ryan finally catches him, and Eli tells her it was Agent Tav who shot Luke, not him.
Luke is still dreaming, and none other than Bruce Wayne himself decides to show up (in the dream). At the same moment, several riots are breaking out in defense of Luke, which the news is covering heavily.
Mary is still in the Batcave working hard on the medicine for Luke, but is interrupted by Alice breaking in to the offices just above her. Mary goes to see what Alice wants, and Alice tells her that Black Mask is out for the Kane family (including Mary.) Mary tells Alice she knows that she is in love, and that she deserves love, despite all her wrong-doings. Awww.
Batwoman confronts Agent Tav, and they fight, but ultimately Tav gets off free when the Crows van shows up and literally runs over Batwoman. Ouch.
Alice goes to see Ocean, only to find out he is planning on leaving. She tells him that if he truly loves her, he would want her to be in love and have her sister back. They kiss.
Meanwhile, Ryan calls Sophie to get her help because Mary has been blocked from seeing Luke by the Crows. While Ryan and Sophie has out some details, they see news footage of Luke at the shooting. The footage had been doctored, and Luke appears to be holding a gun (which we know he wasn't.) Ryan calls Sophie out for being a Crow, but ultimately blames herself for Luke's shooting. In the previous episode, Ryan had called Luke out for not doing enough; so she thinks that's why he inserted himself in the car jacking.
Speaking of Luke, he is still dreaming about Bruce. Bruce tells him that he has the choice to live or to die…
Sophie goes to confront Kane, saying Agent Tav is a bad person, and that Kane needs to take a hard look at how the Crows are operating. Kane is defensive and upset; Sophie then asks him to fabricate evidence to let Luke go and highlight Tav's evil nature.
Mary goes back to Luke hospital room and distracts the Crows; showering them in compliments. At that moment, Wolf Spider breaks into Luke's room undetected, and gives Luke the Desert Rose injection. Yay!
Kane decides to take Tav's badge and gun away from him while he further investigates, but Tav knocks Kane out and kidnaps him… more on that in a bit.
Batwoman is hacking in to the Crow's database to find the undoctored footage of Luke, but Sophie sees on the security feed that Tav and his boys are taking Kane somewhere, probably to kill him. Batwoman leaves, and catches them red handed attempting to over inject Kane with Snake Bite. The Bat saves the day, saves Kane, and tells him to do the right thing.
Kane opens the floor for a press conference in which he takes the blame for all of the Crow's wrong-doings, and highlights Agent Tav as the worst one of them all. Then, without hesitation, Kane shuts down the Crow's completely as the major share holder. Effective immediately.
At the hospital, Luke is not waking up despite Ryan and Mary's pleas. In his dreams, Luke tells Bruce that no matter how much he tries to help, the world is still too dark. Luke chooses to die, and walks to finally talk to his father. However, in real life, Luke begins to wake up (!!!)
Kane is clearing out his office, and Sophie comes to say goodbye. She and Mary are proud of him for making the right decision. As Kane leaves, he goes to his car and opens the door, only to find Alice sitting there. Alice tells her dear old dad that his favorite daughter, Kate, is alive. Alice tells him that Black Mask has Kate, and that they have to work together to save her.
Black out.
Batwoman is streaming on the CW.