If you haven't seen Chick Fight yet, you are in for one wild lesbian ride. The movie itself never received enough attention, due to the pandemic, but we promise it's AfterEllen approved!
Long story short, Chick Fight is like the lesbian's version of Fight Club. The film is about an underground fight club, where women can challenge one another to hop in the ring, and beat the sh*t out of each other. The idea is that fighting is great for physical and mental health; when you need a release, you step into the ring.
Notably, Chick Fight has a lot of Sapphic representation going on. Bella Thorne and Fortune Feimster star in the film, and Dolce Sloan plays lesbian BFF Charlene. While the representation is there, Chick Fight does a wonderful job of not making it the focus of the film. Thus, creating a narrative that normalizes being gay, so much so that it's not the plot point of every character's story. We love to see it.
While the main character of the movie Anna, played by Malin Ackerman, is not gay, she does help to uplift the lesbian narrative throughout the film. Chick Fight starts out highlighting Anna's financial struggles; she lost her coffee shop in a fire, is being evicted from her apartment, and is generally lost on what to do in the world. Charlene is Anna's best friend, and tries to encourage her to get back on her feet. The best part of Charlene is that she has no shame — she loves to joke about her sexuality and talk about how beautiful women are. We can't complain! Finally, Charlene is over Anna's depressed attitude, and introduces her to the underground fight club. Come to find out, Anna's late mother actually started the fight club.
The fight club is run by Bear (Fortune's role) and Anna could actually make some money if she hops in the ring. Anna at first finds it a little ridiculous, but eventually gives in. While training to fight Bella Thorne with Alec Baldwin (what a sentence!) Anna eventually learns that fight club isn't just about a physical and mental release. The fight club is about sisterhood, in every sense of the world. Fighting bonds these women for life, and teaches them that life is short, and supporting other women is so important.
"I think we all need somewhere to take out all the anxiety and the stress of the world," Ackerman says in a video interview with The Advocate. "It would be lovely to meet up with these ladies in an underground fight club and consensually just get it all out. And stick together and hold each other up as we do in our sisterhoods that we have."
Throughout the sisterhood, Chick Fight also challenges gender norms and simultaneously breaks down the stereotype of women who fight. First off, in the fight club, the audience gets to see all different types of women hop into the ring. Women of all sizes, shapes, and sexualities gather together to join the sisterhood and put up their fists. This directly challenges the ideas that men are the only ones strong enough to fight, and that women who fight are extremely butch and swole. Any woman can fight! Not only that, but any woman can have the inner and outer strength to confront her demons head on; through fighting, the characters find a cathartic release, proving that it's beneficial for mental health. Chick Fight reminds us that women, especially lesbians, are strong.
Likewise, the movie itself also highlights strength in being gay. While there isn't a huge emphasis on sexuality, or romance for that matter, throughout the film, there is a normalization that comes along with the lesbians and bisexual women throughout the fight club. In the same interview with The Advocate, Bella Thorne talks about the inclusion on gay women in Chick Fight.
"Genuinely having a movie that is so diverse in this sense and isn't trying to be diverse, it is just natural — that's what I think is so fun is that we never make such a deal out of anyone's sexuality like in most movies where they have a token gay character," Thorne says.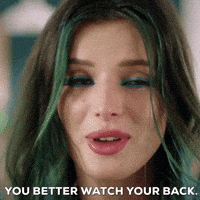 However, it is important to note that Chick Fight was written and directed by men. Throughout the film, you can see that this is a female-oriented story slightly told through the male gaze — it's clear that the women in the film definitely had a say in how their characters were portrayed, but there are a few moments where it seems rather sexualized. Every argument Anna has with Thorne's character, Olivia, seems to have rather sexual connotations behind it, despite the characters being attracted to men. It almost seems as if these men have created the female version of Fight Club to serve their personal sexual fantasies. While the actresses do an amazing job of illuminating a cathartic feminist sisterhood, there are a few parts here and there that you can tell were written and directed by men. Because they were.
Despite the male narrative, Chick Fight is still a great film for lesbian representation, and definitely a step in the right direction. The film was slept on a little bit, despite hitting theaters at the end of 2020. Although, those that have watched it have given mixed reviews — some wish it was not written by men, other's think it was the lesbian film of the year. You can form your own judgements!
Chick Fight is currently streaming for rent on Amazon Prime.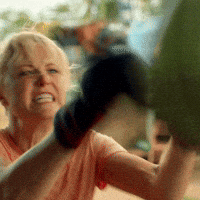 Lesbian Apparel and Accessories