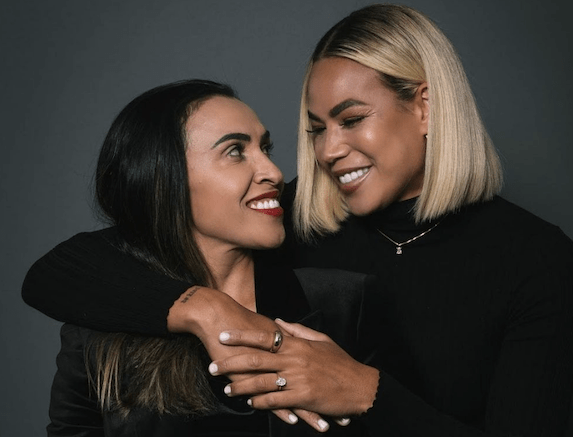 Sports
Marta and Toni Pressley Are Engaged
It's new year, ladies! You know what that means! Another year of doom, crimes, atrocities, and otherwise horrible news. But it isn't all bad all the time. I come bearing good news: soccer stars Marta and Toni Pressley are engaged. 
The Orlando Pride teammates announced their engagement over social media early Monday morning. And should they marry before the next season starts, they would be the second pair of wives on that team, joining Ashlyn Harris and Ali Krieger. Will the power of two pairs of wives break the Pride's curse? Only time will tell…
Marta, a six-time FIFA World Player of the Year, joined the Pride in 2017 after playing in Sweden. We can only assume this is when their love story began. What makes this engagement particularly happy news is that Marta has never been out with her partner before. Speculations arose about a girlfriend she had while playing in Sweden, but pictures were few and far between. Not that it's any of our business to begin with. So publicly announcing their engagement was a huge step and we thank them for sharing! The couple were fairly low key when they got together. But, these days they don't shy away from sharing little bits of their life together on Instagram. Is it mostly dog-related? Yes, and what of it?
The engagement comes a little over a year after Pressley underwent surgery for breast cancer. She has since recovered and even made an appearance in the Pride's last game of 2019. The Pride may be a cursed team, but it sure is lucky for lesbians looking for love. Finish at the bottom of the table, but find the love of your life! Seems like a fair trade to me. In any case, the couple haven't announced a date for the wedding, so we can't say for sure if they'll join one of the many other couples who've had COVID weddings. But you know AfterEllen will be all over it. We wish them nothing but the best.