Editor's Note: SNAPSHOTS is an original script based on a true personal story of the writer and producer Jan Miller Corran. After twenty years producing the works of others, Corran is bringing her own work to the screen.
"SNAPSHOTS" was a true labor of love as I took a decades old family secret and decided to go public" – Jan Miller Corran
The tagline for the movie "Snapshots" is "Three Women. Three Generations. Three lives will be forever changed." And yes, that is what the overall movie is about: three generations of women confronting, over the course of one weekend, the fallout of infidelity in marriage and pregnancy.
However, the strength of the movie is not—unexpectedly—in using these two thematic threads to weave their destinies together and unite them as family, but rather the potential that lies in the main storyline: the romantic relationship between inexperienced, small town girl Rose and free-spirited, artistic Louise. The following review contains spoilers for "Snapshots," so read at your peril.
There is a painful, beautiful, tragic beauty in the story of Rose and Louise. In the summer of 1960, Rose (Shannon Collis) and her husband Joe are renting a cabin by a small lake when vivacious stranger Louise (Emily Goss) shows up. Louise and her husband Zee are renting a much smaller house somewhere in the vicinity. Louise boldly invites herself into Rose's life, and the two couples become quick friends. It is evident, however, that Louise has ulterior motives in her friendship with Rose. After all, Louise went to Smith College *wink* (as a graduate of Mount Holyoke College, I am proud to report we are 100% just as lesbian).
At first Rose, who undoubtedly has never even heard the word "lezbeen," gently turns down Louise's overtures, but Louise is persistent, and Rose gives in. What follows is a four-year relationship conducted in short bursts behind their husbands' backs. While the men work long hours away from home, the women make the lake house their own private oasis, living out a fantasy life in which they can be together without consequences. Eventually, however, Louise delivers an ultimatum: she wants Rose to leave Joe and be with her full-time. Occasional weekends are no longer enough for her. When Rose balks, citing her desire for children and skepticism at the idea that they could be together that way, the relationship is permanently severed.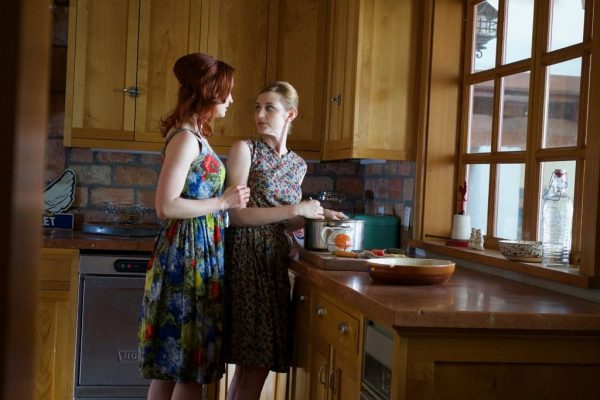 Period films can poignantly highlight the almost impossibility of same-sex love in times before the present, and this film does just that. In 1964, the year Rose and Louise break up, the Stonewall Riots were still five years away, and Rose (not having been a Smith graduate, obviously!) has no way of envisioning a life with another woman independent of a male in the picture. Her "family paradigm" is irrevocably one of a white picket fence, two kids, and a husband. She could love Louise behind closed doors when the stakes were low, but to her there is no conceivable future outside of that.
Yet the true poignancy of "Snapshots" is not even that Rose gave up on the love of her life because of fear of what others would think, but rather that once that Louise was gone, Rose couldn't even grieve properly for her loss. When Louise dies of cancer (Dana Fairbanks noooooooo!) a year and a half later, only Zee knows what Louise meant to Rose, and Rose is left to spend the next 55 years mourning in utter solitude. When they break up, Louise says, "Come with me or you will learn to live without me," and her words turn out to be prophetic in the worst way.
"Snapshots" could have dedicated almost the entirety of its running time to unpacking the Rose-Louise relationship at its intersection with the experience of being a woman in the 1960s. It could have examined how women in the 1960s used the domestic space to carve out and explore their identities given they were denied a voice in the public space. It could have delved into how the two women compartmentalized their affair to avoid emotional leakage from their romance into the lives they shared with their husbands. The camera could have tracked both women when they were apart and shown how they coped, for better or worse, with separation from each other. Even the husbands could have been brought into the story. For example, given Zee knew of the relationship, did he comfort Louise in the aftermath of Rose's rejection of her? And how much did he know about his wife's sexual orientation? Was Louise bisexual, or was she lesbian? Rose clearly wasn't Louise's first female paramour, but was this her first extramarital affair? In short, a lot of rich, potential material does not make it into the movie.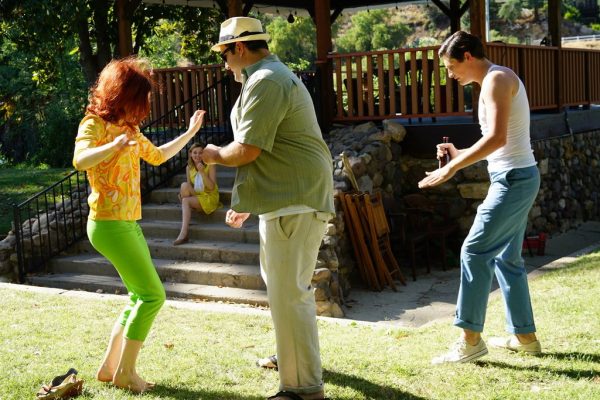 Ultimately, the stories of Rose's adopted daughter Patty, a homophobic alcoholic whose husband was having an affair when he unexpectedly died of an aneurism, and Patty's unhappily married, pregnant daughter Allison contribute little to the movie. They complete the lineage of women whose lives have been affected by affairs and unwanted or wanted pregnancies (Allison becomes the positive mirror image to Rose), but their stories lack the depth and multi-facetedness of the Rose-Louise story. Thus although the movie is absolutely worth watching in its entirety, it is likely that one day clips of just Rose and Louise are likely to make the rounds on social video platforms, as well they should.
Finally, absolute props to Shannon Collis, whose casting as young Rose was a stroke of genius. Collis is hands down the most compelling actress in the entire movie, which is saying a lot given that older Rose is played by three-time Oscar nominee Piper Laurie. Collis perfectly embodies the inexperienced Rose, with huge, timid, and sometimes fearful eyes. There's also praise to be given to Emily Goss, who is suitably charismatic and magnetic as Louise. Together, the two have great chemistry that is required as the engine of the film. The best barometer of whether a story (the writing, the acting, etc.) is successful is whether the audience connects emotionally with the characters, and viewers absolutely will connect with Rose and Louise. Definitely I cried, but readers may also have figured out that I cry at everything.
"Snapshots," which is directed by Melanie Mayron, will be hitting the film circuit in the next few months, including its word premier at the Cinequest Film Festival in San Jose, CA on 3 March. Other showings can be found here. Trailer to the film is below the director's statement.
Director's Statement:
"Snapshots" is a film I very much wanted to see made. It spoke to me on two levels. The first is about love. The complexity of love, who we love, how we choose someone to love, how that affects the path of our lives, and how that path becomes our destiny, and in the end, our legacy. All we have is our life. Our one small, gigantic life amongst so many in the world. But what unites us all as humans, is the experience of love. That experience, if we are lucky enough to experience it, of being swept away by the knowing of a partner, a soul mate is the most breathtaking of experiences.
And then there is the time we are born into, the social mores at that time of our life experience. "Snapshots" visits the same experience in two different time/spaces, fifty years apart. It is a heartbreaking and yet revelatory story about love and time. And then there is another theme present, and that is of holding a secret. It takes courage and tremendous risk to reveal a secret long held, that can be incredibly hard to understand as well as hurtful. In the end, when the secret is out, we are privy to the very private struggle and painful journey one takes to accept, forgive and reclaim trust in someone you love.
I am so very proud of the cast we assembled to do the project and the work that was done. Because in the end, with this particular film, to everyone who contributed to it, it was all about this particular story about this particular love, and this particular family, that everyone felt needed to get out there.
 -Melanie Mayron , Director, Snapshots