Is your grandma a lesbian? No? Well that's okay, Netflix's film So, My Grandma's a Lesbian! helps you to perfectly imagine what life would be like if your grandma was super gay.
The film itself is a little chaotic and all over the place, so you definitely need to buckle up before watching. However, the premise of the movie is actually pretty heartwarming, and tackles pretty much every stereotype that needs to be broken surrounding lesbians.
Celia and Sofia have been best friends (on and off) since they were teenagers, when they shared their first kiss. However, as the grew older and Celia no longer had a husband, the two found themselves falling deeply in love. They decide they want to get married in their older age, which is by far the cutest thing you will ever see. Although, their families are not thrilled with the idea – particularly Sofia's granddaughter, Eva, who is actually the main character in the story.
Eva represents internalized homophobia to the greatest extent; she is engaged to a Scottish man (her family is Spanish) who comes from a racist, conservative household. It is clear from the get that Eva is marrying him for his status, and she has pushed her family away to fit in with his. At certain points throughout the movie, Eva says she is marrying him to be in a "normal family" indicating that her mother, the artist, and brother who's gay are not normal enough for her. Normal, to Eva, lacks homosexuality and any POC. Yikes.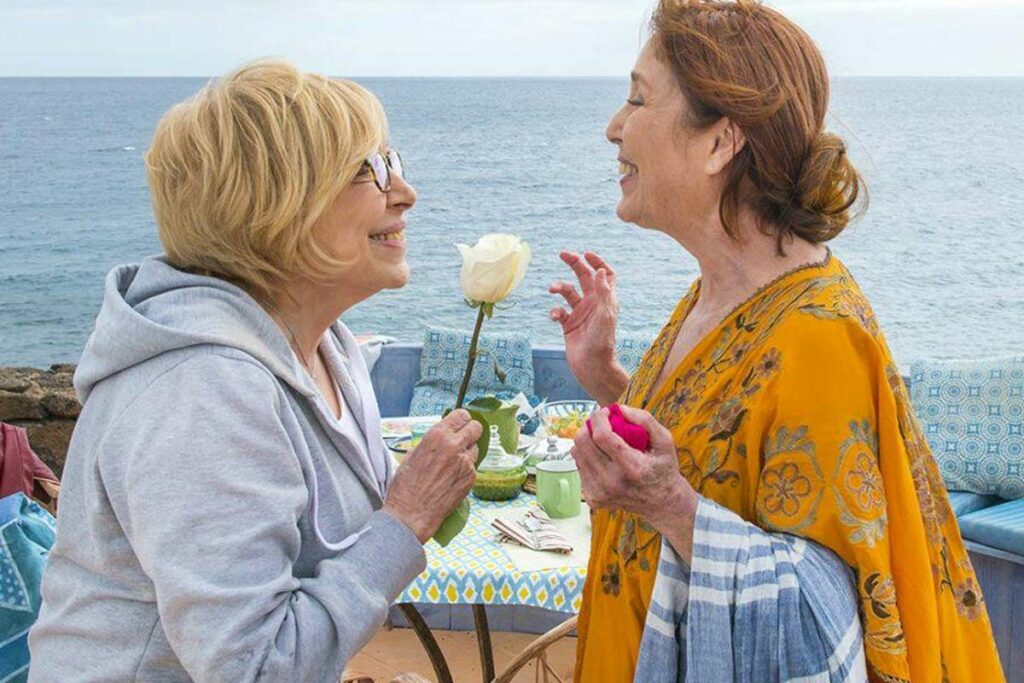 Likewise, throughout the film, internalized homophobia runs rampant. Celia has to go to a Congressman she is friends with and beg him to repeal a law against gay marriage; she has to speak directly to the Pope to have him consider her plight… that she wants to marry the one she loves. Celia's son has her get a CT scan to make sure that she is not "confused" as he his convinced that she is too old to understand what she is saying. Speaking of Jorge, he is constantly correcting Celia too; Celia says she wants to "come out of the wardrobe" and that "wardrobe" is what girls say, "closet" is for boys. Honestly, that is pretty cute, despite Jorge constantly mansplaining to her (as a straight man!!!) what the proper saying is. Yuck yuck yuck.
Another example of homophobia in the film lies with Eva's brother. Eva mentions that her brother is gay, and that is why she doesn't want to bring him around her Scottish Fiancé. When her brother shows up to see their grandmother after the wedding announcement, he shows up with his wife! He claims he converted to Islam so he could get married and he is shocked when he finds out that his grandma is a lesbian. Another example of religious homophobia…. but anyway.
Sofia and Celia are adorable together, and within their union they completely dismantle their family's prejudices and live their most authentic lives. Although their storyline is beautiful and speaks volumes about how Spanish culture still has a long ways to go as far as acceptance, the movie itself is almost too chaotic to follow.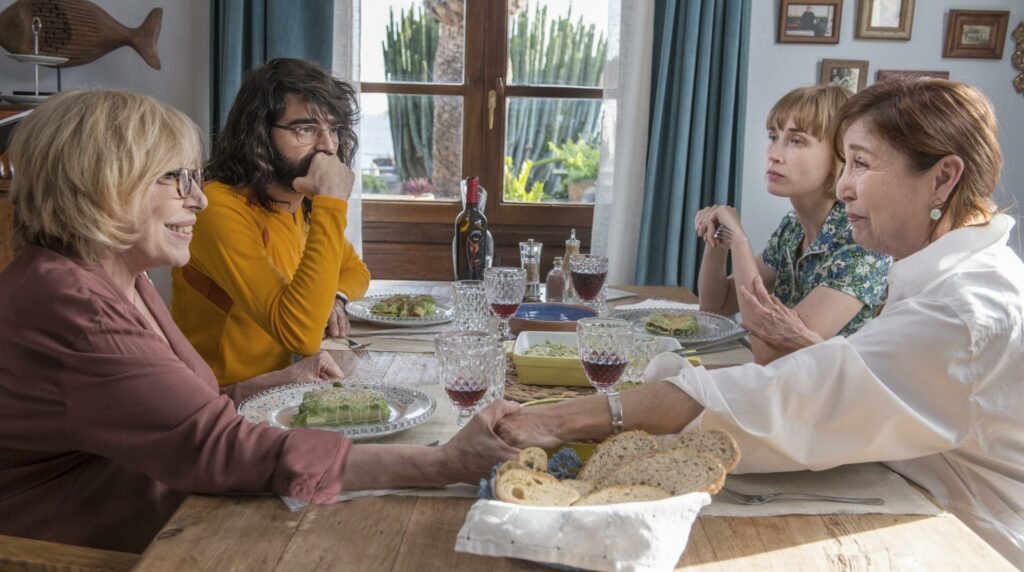 Eva and Jorge fall in love, leaving the Scottish man in their dust. The Scottish man does Peyote, given to him by Perla (who is mentally disabled, and honestly we are not sure who she is related to?) Eva's mother is always around but very irrelevant, then at the end of the film her boyfriend who she never mentioned shows up, as a statement about interracial relationships. At CELIA AND SOFIA'S WEDDING, Jorge and Eva run off together… Jorge being Celia's son and Eva Sofia's daughter. It's never really addressed how that is kind of gross? And it totally takes away from the beautiful lesbian-fueled ceremony; and that's how the movie ends. WHAT?
Honestly, it seems that Netflix tried to pile on a lot of stereotypes to break all at once, which didn't wrap the story up in a nice bow. If anything, they could have taken out have the characters and had a statement piece on dismantling homophobia and being openly gay as older women. But nooo, that was clearly too much to ask for. So, My Grandma's a Lesbian! had so much potential to highlight the plight of older lesbians, dismantle homophia within families, address the racism and homophobia still happening in Spanish-speaking countries, and more. While it still brings bits of that to the table, there is too much chaos going on to say it does it well.
Close, but no cigar.
So, My Grandma's a Lesbian! is now streaming on Netflix.