TV
Suranne Jones Stars as Sapphic Lead in Thriller Vigil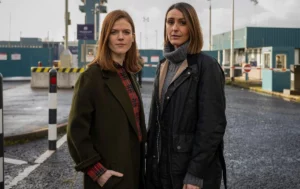 Suranne Jones stole hearts with her performance as Anne Lister in lesbian period drama Gentleman Jack. And now she's playing another Sapphic lead in a new BBC drama. Her character, Detective Chief Inspector Amy Silva, is the police officer charged with solving the murder of a sailor on HMS Vigil. Vigil is the submarine carrying Trident missiles – Britain's nuclear deterrent. And Amy must board to find the killer, before they strike again.

Vigil's crew is reluctant to help. The suspicions awakened by Amy's investigation undermine the crew's relationships. With explosive tempers trapped in a confined space, Vigil is packed full of dramatic tension. The submarine makes a very compelling setting for this whodunnit.

And the investigation is not straightforward. As Amy uncovers a conspiracy, she must untangle layers of deception maintained not only by a crew of more than a hundred people, but the highest ranks of the British Navy. Being underwater awakens memories of the tragic accident in which her fiancé died, after which Amy lost custody of the daughter they raised together.

As her stay aboard Vigil is extended, Amy's antidepressants run out – and the killer grows steadily more desperate. The only person Amy can trust is her girlfriend, DS Kirsten Longacre (Rose Leslie), who is investigating the naval base on shore.

The relationship between Amy and Kirsten is a real highlight of the show. Silva's past is revealed in flashbacks, including the early days of her romance with Kirsten. What begins as a mentorship shifts into friendship, and deepens into something more.


Softly lit shots of them slow dancing in Amy's living room, or reading in bed together, offer moments of tenderness that counterbalance the drama's otherwise relentless tension. They also make Amy a well-rounded protagonist; more interesting to follow than the stereotypical workaholic detective with no personal life.

Until her first kiss with Kirsten, Amy had never considered the possibility of a same-sex relationship. "I'm not…", she says, into women. But the connection is strong. And soon afterwards Amy admits to liking Kirsten.

As Carren Strock's research shows, thousands of women come out as lesbian and bisexual in middle and old age, after long-term relationships with men. This path to les/bi life is one taken by many – though you wouldn't know it from how coming out stories are depicted in film and television, with disproportionate focus on young people. So it's encouraging to see a middle-aged character embracing her bisexuality on screen, doing so with minimal angst and much joy.

Jones herself is delighted with the Sapphic storyline. "What's beautiful is we have the complexity of a woman who has fallen for another human being and now has to realign who and what she thought she was," says Jones. "I guess she's also struggling with what others will think of that new relationship."

Jones committed fully to the part of Amy Silva, studying women's experiences of coming out in their middle years. "I did some research and spoke to a lot of women, and it can be a really tricky time for someone who has previously been straight to adapt to those new feelings and to understand them."
Some may be surprised that Vigil offers such a nuanced depiction of a lesbian relationship; after all, the thriller's creator and lead writer is male. But Tom Edge is no stranger to LGBT representation on screen. A writer for the biopic Judy, he created one of the film's most poignant scenes, in which a lonely Garland has dinner with two gay men who find solace in her music. This meeting takes place a mere two years after gay sex is decriminalised in Britain, and gives context to the lives of Garland's gay fanbase. Edge brings this same empathy to Vigil.
What makes les/bi representation in Vigil so meaningful is that neither Amy nor Kirsten is defined by her sexuality. They are both shown to be smart, brave, and resourceful as the case unfolds – and solving the crime is their main goal. To Jones, this is a definite step in the right direction.

"What the team have tried to do is really modern, because we've got a real old-fashioned boysy thriller in that it's set on a submarine and it's a police investigation," she says. "And they've put two female leads at the heart of it, which I think is brilliant and modern and refreshing."

"There's also a love story between these two leads that we're uncovering at the same time, but it doesn't clash in any way with the thriller elements of the plot."
Vigil is now showing on BBC One, and available to stream on BBC iPlayer.