So guys, where were you when Kristen Stewart declared she's SOOOOO GAAAAYYYYYY? I was having a wild Saturday night watching bad movies with my girlfriend when she spotted the news trending on Twitter. I then died over and over again like the OA. Dimensions were transcended; sound barriers shattered.
This is our moon landing. The future is female, and Kirsten is SOOOO GAYYYYYYY. What a time to be alive!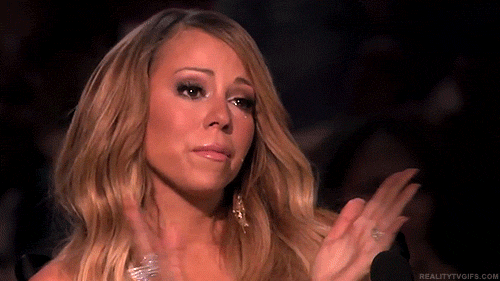 Anyways, lez kick things off by reliving K.Stew's Saturday Night Live episode below!
As I reported last week, the actress told Jimmy Fallon she was super nervous to host SNL and admitted to avoiding the gig for SIX YEARS. Despite her nerves, I think Kristen did a pretty good job — especially with her monologue. I particularly enjoyed the F-Bomb she accidentally dropped: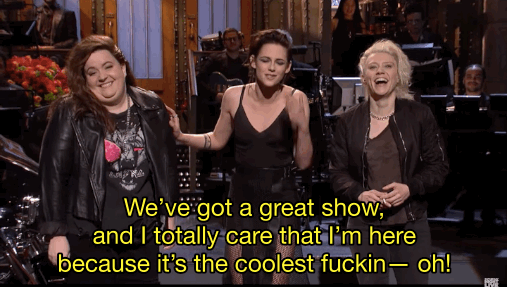 As for the SOOOO GAYYY moment, props to Stewart for pairing her admission with a Donald Trump dig. The star seared Donny for bizarrely tweeting about her in 2012, and then dropped the mic by throwing her gayness in his orange face.
On a more serious note, it's nice to see Kristen being so open. The last time the 26-year-old was this candid was when she admitted to being "really in love" with ex-girlfriend Alicia Cargile.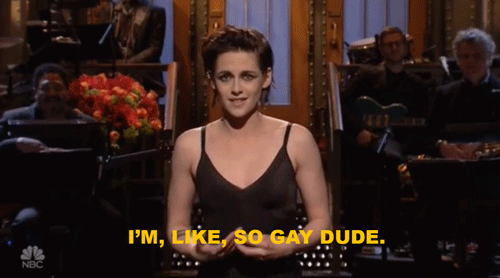 Following the opening bit, K.Stew appeared in three skits. My favorite was the Totino's bit in which she "seduced" comedienne Vanessa Bayer.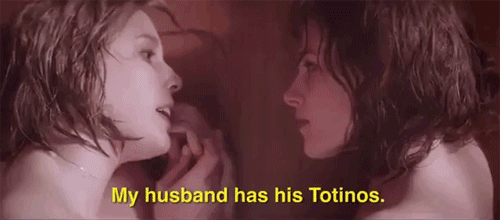 Riverdale Star Camila Mendes Talks The Possibility Of A Bisexual Storyline
For those not in the know, Riverdale is a new CW series generating A LOT of buzz. The show is based on Archie Comics characters and follows the complicated lives of five suburban teens after a fellow high school student is murdered.
In the first episode, characters Betty Copper (Lili Reinhart) Veronica Lodge (Camila Mendes) shared a steamy kiss during cheerleading tryouts. Camila recently spoke out on the sexy scene, telling TV Line:
"I think that was a way to get Cheryl's attention. Veronica is a manipulative person. She just want to take hold of the situation. But that being said, it wouldn't be out of the question for her to be bisexual, and maybe she is, and maybe that's something that could be explored one day. But it's not something we've really decided on."
Raise your hand if you think this storyline should be "explored".
In case you missed the episode, relive the pair's kiss below:
https://www.youtube.com/watch?v=qUKJMigI6ZI
Ruby Rose Recalls Coming Out To Her Mom
One of the best things about Ruby is her candor. You can always count on the model for transparency, especially where it concerns sexuality.
In an interview with Sunday Today, Rose opened up about her mom's intuitive powers and why coming out at age twelve was anti-climactic:
"She knew when I was six apparently. I didn't know anyone else that was gay or a lesbian. So I didn't really know how to word it. So I was just like, 'I think I should let you know that when I eventually get a boyfriend, they'll be a girl.' And she was just like, 'I know.'"
Interesting. Any other readers out there with a similar experience?
Rosie O'Donnell Is Totally Down To Play Steve Bannon On SNL
This. Needs. To. Happen.
Following Melissa McCarthy's HILARIOUS and accurate SNL skit on White House Press Secretary Sean Spicer, fans suggested Rosie should play Steve Bannon in a future episode. Considering O'Donnell actively despises Bannon and Trump's administration, she revealed she's 100% up for the gig.
#BannoninChief https://t.co/UVkK2D6byX

— ROSIE (@Rosie) February 7, 2017
Lorne Michaels — let's make this a reality.
Swedish Singer Loreen Comes Out As Bisexual
Earlier this week, Swedish pop star Loreen came out as bisexual in a television interview.
Elaborating on her sexuality, the singer explained:
"Many people are so focused on sex, on sexuality. Love is so much more. I usually say 'Love is where you find it.'"
Congrats, Loreen!
Lauren Jauregui Pens Op-Ed Denouncing Donald Trump's Muslim Ban
Similarly to a lot of Americans, Lauren is upset by Donald's Muslim ban. In an essay obtained by People Magazine, the bisexual star made a passionate plea for fans to "fight back".
Check out an excerpt from the piece below:
"We have to realize how important this time is. My young people who understand and did not choose this for their future, the older generation who blindly chose to take this comfortable future we all envisioned away: We have never known war, we have never known the pain of discomfort, we have been privileged and promised into our moral oblivion. We've digressed from the true meaning of life. We have replaced the Creator with money and claim Him in the name of war. We have dishonored our children. We have murdered and systematically imprisoned and slaughtered and devalued and drugged up the majority. We have destroyed our Mother Earth. We have enslaved ourselves to the man, and we're not even bothered by our consequences. If you are going to these protests, if you need health insurance for yourself or a sick loved one, if you are a woman, if you are a person of color, if you are disabled, if you practice any sort of religion, if you care about the air you breathe and the water you drink, if you showed up to that women's march in whatever city or state or country or town you came from, you need to fight back. We need to come together and let this administration know that we are not going to stand for another Nazi Germany or Stalin Russia or Mao Zedong China. The list is endless in the course of history, and it all happens the exact same way. The phrase history repeats itself is not a cliché for free."
Handmaid's Tale Releases New Trailer
In my opinion, the only good thing about the Super Bowl is the part when they release new TV and movie trailers.
For those looking forward to the Handmaid's Tale, Hulu dropped an extended clip of what's to come in April. In the vid, we see glimpses of Samira Wiley and Alexis Bledel as Elizabeth Moss narrates Offred's twisted plight.
Take a look below:
P.S. Don't forget AE will be recapping the Handmaid's Tale in a few months!
Kate McKinnon Will Voice Ms. Frizzle In Magic School Bus Revival
Am I dreaming? Is this real life? If you were a fan of the Magic School Bus when you were younger, I have good news. Kate is set to voice Ms. Frizzle in a Magic School Bus revival called the Magic School Bus Rides Again.
While there's no release date as of yet, the reboot will feature 26 half-hour episodes and will have a more high-tech vibe.
What's interesting is, national treasure Lily Tomlin voiced Ms. Frizzle when the series aired in the '90s. I hope McKinnon hits Tomlin up for tips!
That's it! Have the best gay weekend ever.