Hannah "Gluck" Gluckstein was a lesbian artist who refused the rigid feminine expectations imposed on women and, true to her style, also rejected identifying herself and her art with any painting movement. Like other gender-nonconforming Modern lesbians, such as Radclyffe Hall and Bryher, Gluckstein dropped her given name 'Hannah' for the shortened version of her surname, 'Gluck', and was referred as such thereafter.
Gluck cut her hair short and wore sharp suits, which "troubled her father in particular," writes Hettie Judah for the New York Times. Born into a "wealthy and close-knit London Jewish Family," Gluck's father continued to support her financially — despite the disapproval of her nonconformity — "that allowed her to live an elegant and artistic life." She had a "custom-built studio and frequented the theater and cabaret, a passion that provided a theme for 'Stage and Country,'" her second exhibition, held at the Fine Art Society of London.
Well before 'Stage and Country,' and before she chopped her hair off, Gluck left her home in 1916 for Lamorna, a village in Cornwall. There she painted with other students, including her best friend Edith Craig, who simply wanted to be known as 'Craig.' They were still friends in 1949, when Gluck painted her portrait, Edith Craig in Uniform.
Gluck made friends with students and artists in residence, including Laura Knight and Alfred Munnings, who "completed a sketch of Gluck dressed in a gypsy costume smoking a pipe," Gluck on a Hillside.
Gluck had her first solo exhibition in 1924, at the Dorien Leigh Galleries in South Kensington, London, showing fifty-seven of her paintings. All of the paintings sold. Around the same time, Gluck and good friend — and fellow gender nonconforming lesbian — Romaine Brooks organized to do portraits of one another. Romaine Brooks' portrait of Gluck was entitled Peter, A Young English Girl because, while Gluckstein painted under the name 'Gluck', she preferred 'Peter' among friends.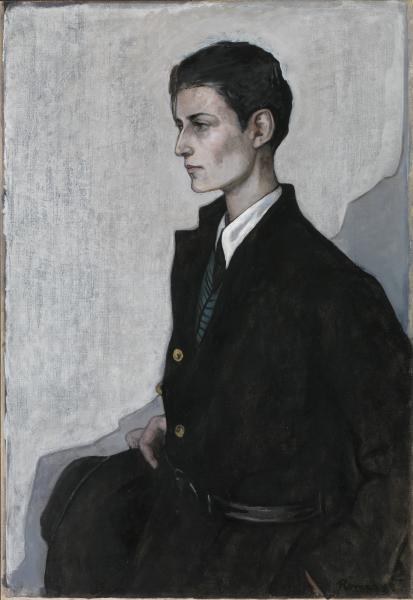 Romaine Brooks and Gluck wore a "butch" style, inspired by menswear trends of the time, which signalled them as lesbians to other same-sex attracted women. With both women having financial privileges, many people — who didn't acknowledge or know the symbols of lesbianism — simply saw androgynous women as flaunting their wealth in unique ways.
It was, perhaps, gender non-conforming lesbian, Radclyffe Hall, who made androgyny synonymous with lesbianism, when her 1928 novel, The Well of Loneliness — featuring butch protagonist, Stephen — was "ruled obscene." Radclyffe Hall's "mannish" style was made synonymous with lesbianism thereafter. What was once slightly tolerated by the elite, then symbolized the monstrous lesbian 'other'.
Gluck never finished Romaine Brooks' portrait in return, because the friends had a tiff during the sitting. Gluck even painted "one of the most popular night-spots in London between the wars," the London Trocadero, over the unfinished painting. Gluck said about the experience:
"…Romaine wasted so much sitting time in making a row that at last I was only left an hour in which to do what I did – but my rage and tension gave me almost superhuman powers…… she insisted I should do one of my little pictures. I refused so she left me with the unfinished portrait. However I had to give away many photographs of it to her friends…"
Gluck had a passionate romance in her lifetime. She spent holidays in North Africa with florist Constance Spry, which brought with it a "mania for plant and flower portraits."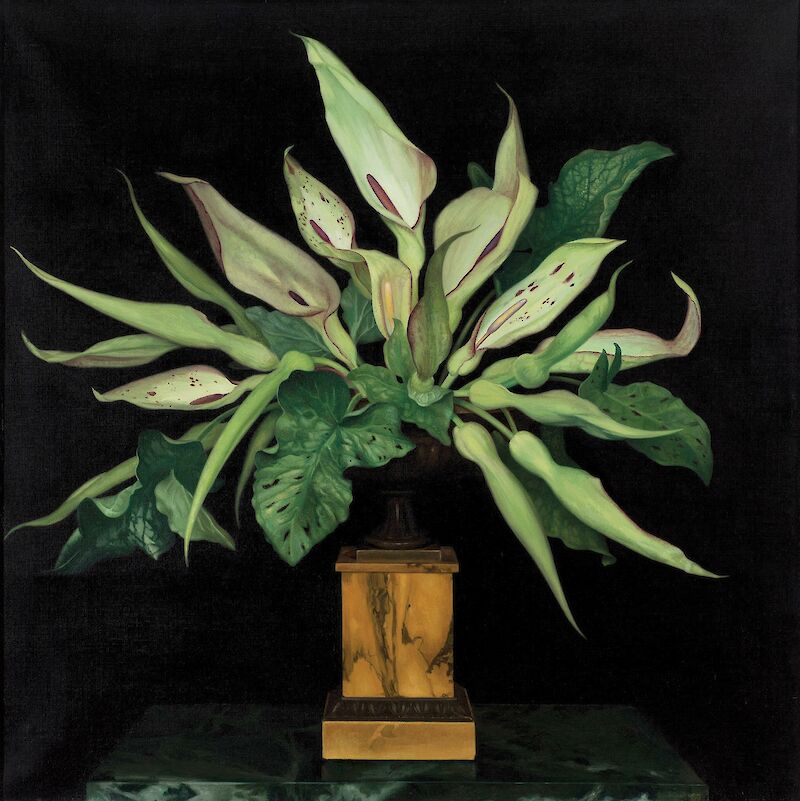 Gluck immortalized her love affair with Nesta Obermer in the double portrait "Medallion," as a "true twinning of souls, though it was to cause her both joy and heartache." The painting later became the cover of Radclyffe Hall's The Well of Loneliness.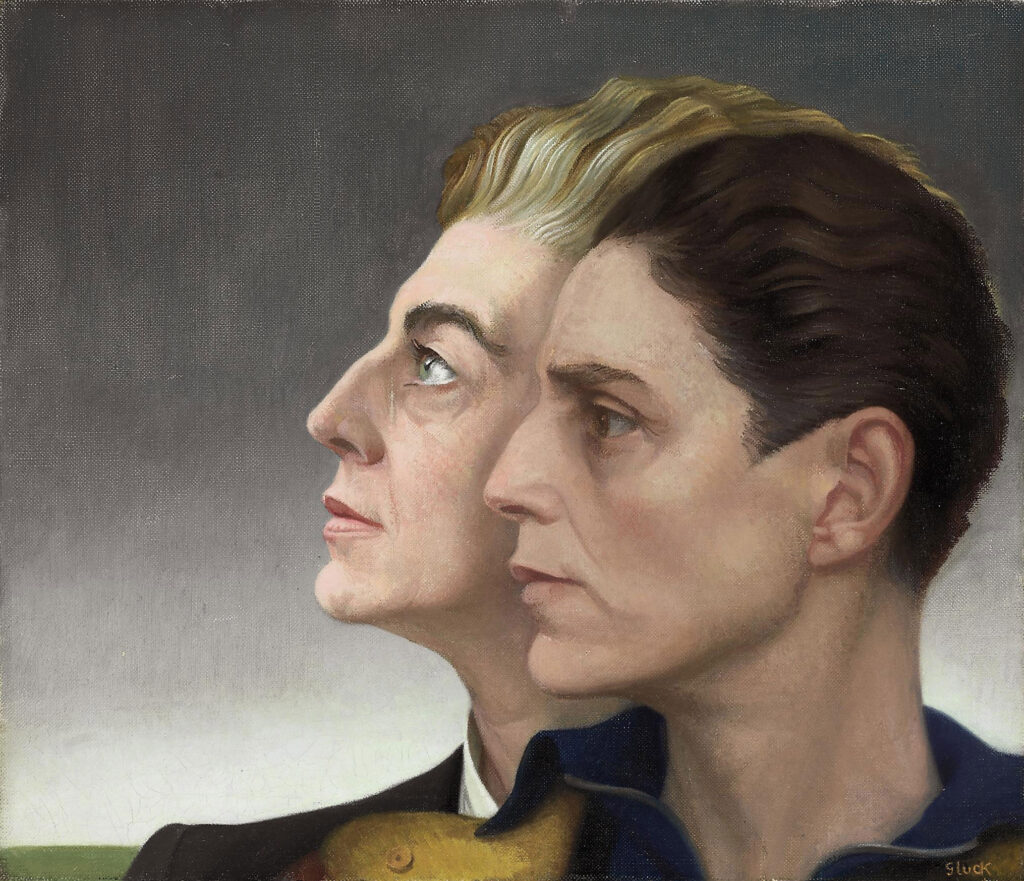 Gluck, like many historical lesbians, had a knack for love letters. "My darling own wife," Gluck wrote to Nesta Oberma, "my divine sweetheart, my love, my life. I made straight for the studio and tried to be busy and have more or less succeeded, except that everything seems so utterly unimportant that isn't us or connected with us."
However, Nesta Oberma never divorced her rich husband — despite Gluck and Nesta referring to each other as "wives" — and Gluck wasn't monogamous to Nesta either. Gluck lived with another lover while remaining in a "couple" with Nesta, journalist Edith Shackleton Heald, who was also lover to WB Yeats.
After the war, Gluck had "fallen out of vogue." She lived "away from the thrilling hubbub of London, and her beloved Nesta, she suffered decades of block and frustration before a final, magnificent burst of energy at the end of the 1960s." While she suffered with lack of inspiration for two decades, Gluck spent the time advocating for better quality oil paints in the British Standards Institution. A new standard was set.
Before dying in 1978, Gluck wrote "I am living daily with death and decay, and it is beautiful and calming. All order is lost; mechanics have gone overboard – a phantasmagoric irrelevance links shapes and matter. A new world evolves with increasingly energy and freedom soon to be invisibly reborn within our airy envelope."