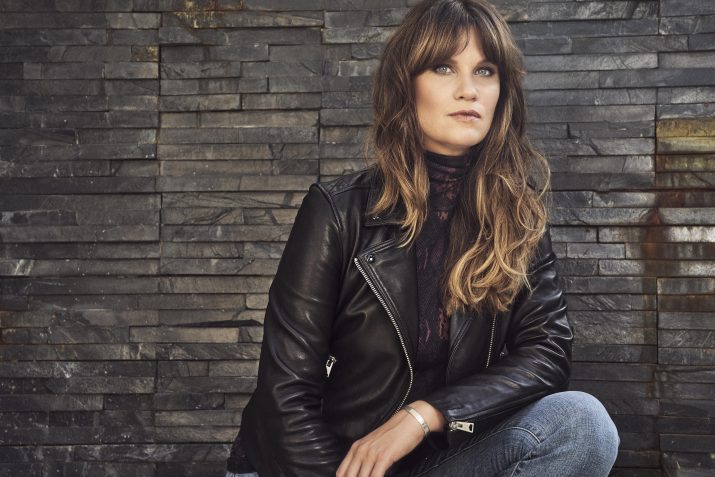 Photo courtesy of Anderson Group PR
January is Human Trafficking Awareness Month, and I had the opportunity to speak with Frida Farrell, an actress and filmmaker who advocates for victims and survivors of sexual slavery. Farrell wants to take her award-winning film Apartment 407 (2017) on tour to American high schools, colleges, and other venues to screen it and discuss ways to help women and girls recognize red flags to stay safe, rescue current trafficking victims, and help survivors heal and recover.
Over a decade has passed since Farrell escaped the apartment, but the three days and two nights she was sold and forced to sexually "service" male "clients" will always haunt her memory. Today, she is dedicated to fighting sex trafficking head-on by advocating on behalf of women.
In her film, Farrell interchanges the term "human trafficking" with "sex slavery," which is harder hitting because it doesn't mask the fact that humans are being exploited specifically for sex. There's a taboo around discussing it, but Farrell knows the only way to fight this horror is to speak out.
Fewer than 2% of all sex trafficking victims manage to escape. Farrell acknowledges that she's one of the "lucky" ones in the sense that she survived. The majority of girls and women don't make it out, and at this moment millions are suffering and wondering if they'll be rescued or have a chance to escape.
It's estimated that sex slavery generates around $32 billion annually. Almost one third of that is made in North America. "Every year, at least 20.6 million adults and children are kidnapped to be bought and sold into the illegal sex trade industry worldwide," the movie says. This is an epidemic. It could happen to any of us, and it's time to end the suffering.
photo courtesy of Anderson Group PR
Apartment 407, originally titled Selling Isobel, does an excellent job of showing how predators can win the trust of victims. It portrays how abusers blame victims and use empowering language to mindfuck women. The language of victim/survivor is heard throughout the film because it's an important theme for Farrell.
AfterEllen.com: In the film's opening, you call yourself a survivor, not a victim. Why is it important for you to distinguish that?
Frida Farrell: I don't want what happened to me to define me and victimize me to become lesser of a person. I want to be stronger from it. If you survived something instead of being a victim of it then you become stronger. When it's happening you're a victim. On the other side, you're a survivor. Many victims might not survive. Celebrate that you survived. It took me ten years to speak out.
AE: What made you decide to share your story after staying silent about it for so many years?
FF: I don't recommend staying silent. But at the time, it was the way to get through it. I told myself "it didn't happen." Later, I was talking to producers about possible scripts to develop. "Why don't we make a film of your story?" They asked. Only three people in my life knew about what happened, so I went from no one knowing to everyone knowing about it. But I decided it wasn't about me. I decided to put my story out there to help other women who are trafficked or just got out. The story is less about me and more about all women. I don't want them to feel embarrassed and shamed. I want them to feel like strong Vikings that can tackle the world.
AE: "Strong Vikings that can tackle the world." I love that.
FF: Yes! I want women to feel empowered.
AE: It must have been extremely hard for you to relive this experience again through playing yourself in the movie. How did you prepare yourself for that?
FF: I did therapy for a year, but that didn't really help. It didn't empower me to reenact the scenes. I didn't cut the film for three years. It was difficult. Helping other women is what got me through it. The reaction from women writing to me and telling their stories made it worth doing the film.
AE: How can the average person help end human trafficking?
FF: Awareness, knowledge, and education are important. I want to take the film and go to high schools, universities, and colleges and do a screening and Q&A. I want to educate women about red flags. In the Western world we live in a bubble. It happens all over. It happens to anyone.
AE: I noticed you changed the location in the movie to what looks like Los Angeles. The crimes happened in London. I'm guessing you wanted to reach a larger audience by setting the story in America?
FF: Sex trafficking happens everywhere. We set the film in a nondescript big city. While the project was in development, we talked to cinematographers. Stefan Ciupek, who worked on Slumdog Millionaire (2008), was interested. "I don't think I can afford this guy," I told the other producers. But Stefan said, "I'm staying."
AE: That's amazing. He believed in your story and wanted to help you tell it. His cinematography was excellent. I noticed shots outside the apartment building that paid off later, at the end of film. They came back around. The camera work, acting, editing, and script impressed me.
FF: Thank you. I'm glad you noticed those details.
AE: The film did a good job showing how this can happen to anyone. In the beginning of the movie, I could see you feeling something wasn't right about the modeling job situation. You saw red flags but pushed them aside. Women are socialized to ignore our gut feelings about danger. That needs to change.
FF: Yes, we have to trust our instincts.
AE: What do you want AfterEllen readers to know about sex trafficking?
FF: If you see something that's slightly suspicious then let the police know. Don't ignore the red flags. Even with the tiniest red flag, bring a friend for an interview. Let people know where you're going to be.
AE: I want to see all these men involved with human trafficking go to jail, and I want all the women to be rescued.
FF: So do I. Every day, the LAPD goes undercover and raids places where victims are held captive. I'm raising awareness to help victims and survivors.
AE: Thank you for all the important work you're doing, Frida. I'm honored that you took the time to speak with me. I want to see you thrive with your film career as you grow your platform to keep reaching more people. Women need to help each other. I'm glad you survived, that you made it out and you're choosing to help others.
FF: All of that warms my heart to hear. Thank you for your time. I'm going to start these talks in Los Angeles. I want to schedule screenings across America. Tell people to watch the movie and help spread the word.
While the topic of human trafficking is chilling because it could happen to any of us, there is hope. There are ways all of us can help sex trafficking victims and survivors. Look out for red flags and take action. If you or someone you know is a victim of trafficking, reach out for help.
The LA Metro Task Force On Human Trafficking can be contacted at (800-655-4095), and their website is http://www.lapdonline.org/detective_bureau/content_basic_view/51926.
The National Human Trafficking Hotline is an American 24/7 confidential helpline. Get help by calling 1-888-373-7888 or text: 233733. You can also chat on the website. For more information, visit https://humantraffickinghotline.org.
Frida Farrell is boldly connecting with people to help fight sex trafficking. Apartment 407 is difficult to watch, but it's an important film. Farrell is open to editing clips of the movie to screen for younger audiences, and she also wants to show the film in its entirety. To schedule a screening and Q&A with Farrell, visit her website.