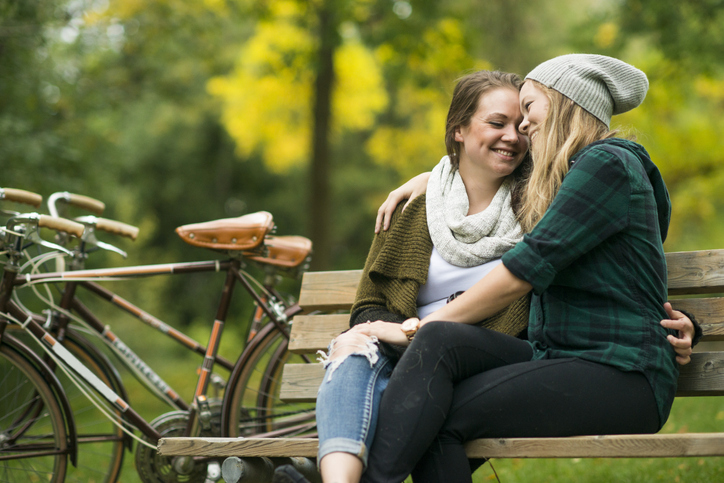 Looking to take a girl on her perfect date, but don't know where to start? For all our astrology lesbians, don't fret, AfterEllen has got your back.
What is a zodiac sign? For the purposes of these dating ideas, we will be focusing on sun signs. The sun sign is the typical zodiac sign you probably already know. It's based on your day of birth and tells you the basics of your personality. Look at your sun sign and her sun sign, and see what the perfect date will look like for the two of you!
We're taking it zodiac sign by zodiac sign, and laying out the perfect date for you! Make sure you lock down your date's sun sign (by getting her birthday, of course) and look through potential date ideas for your sign and hers. Whichever one speaks to you, go for it! What could go wrong, anyway? If you're a next-level lesbian stargazer (and you already did the birthchart exchange) also check moon, Venus and Mars signs.
Without further ado, here are some lesbian date ideas based on her zodiac sign:
Aries (3/21-4/19)
Aries like to keep things ~spicy.~ Anything impulsive for this fire sign will do the trick; so when thinking of date ideas, what is something that will light the inner Aries fire? Head towards ideas like dancing, hiking, spur of the moment events like drive-in movies, pop up restaurants, etc. Excitement is the name of the Aries game. You can't come on too strong here, and yes you should find an opportunity to play with her hair.
Taurus (4/20-5/20)
Taurus women love to keep it cozy; they are known for being the moms of their friend group and will love to spoil you with comfort and food. Thus, a Taurus lesbian's perfect date is a home-cooked meal and perhaps a movie night on the couch. Think of all the things that remind you of fall: warm tea, fuzzy socks, Hocus Pocus on the TV. You really can't go wrong with a comfy vibe!
Gemini (5/21-6/20)
Geminis love to be surprised. These surprises do not have to be complicated, rather, keep it simple. Flowers, fancy restaurants, even just changing up a routine. While the surprise does not have to elaborate, Geminis are known for being complex, so they will appreciate something easy-going. Keep them on their toes. A picnic in the park would even do, as long as they don't know it's coming!
Cancer (6/21-7/22)
Cancers are the softies of the zodiac. Ruled by the Moon, Cancers are very in tune with their emotions. Thus, a Cancer lesbian will want to be comforted and cared for, and pampered. Spa days are in your future if you're taking out a Cancer woman! Think all things self-care, even if that's a night at home with face masks and wine. You really can't go wrong there. Want to up your game? Take her somewhere you can really hear each other as you dive deep into your feels.
Leo (7/23-8/22)
Leos looooove the spotlight. Flashy is Leos middle name, so what can you do to keep up? Take a Leo somewhere she'll feel like the center of attention, dressed to the nines. Clubs, hot restaurants, classy events. Anything sparkly and classy at the same time. If there's an opportunity for her to be the life of the party, all the better. It's Leo's world, we're just living in it.
Virgo (8/23-9/22)
Virgos are the woman with a plan. Before you go out on a date with a Virgo, they already have it all figured out. Our advice here is to listen to what they want – you'll probably see dinner and a movie in your future with specific timing on when and where to be. That's what fuels a Virgo's fire, having everything locked down. Don't stress, they've got you covered! When she comes back to your place, show her you thought of everything — her own toothbrush, a fresh towel, a charger on her side of the bed. She'll probably have packed her own, but the attention to detail will not go unnoticed.
Libra (9/23-10/22)
Libras love luxury. The best thing you can take a Libra woman to do is to go shopping! Even if it's just window shopping at the mall and hitting up a restaurant afterward, Libras will love putting together fantasy aesthetics at every store. Libras have keen senses of style, and you must take her up on that blouse she thinks will look gorgeous on you, because it will. If she invites you in, you better worship her (and I mean really how could you resist?).
Scorpio (10/23-11/21)
Ah, Scorpios, they sure do live a life of mystery. If you're taking out a Scorpio, she may be hard to read, but don't worry! A night of stargazing or an intimate dinner for two in a dimly lit romantic restaurant are your picks for this date. Maybe both! Scorpios want to get close to you (although letting you get close to them may take a bit of work), learn all your secrets. So think all things intimate romance for this Zodiac sign.
Sagittarius (11/22-12/21)
Are you ready for something thrilling? Similar to their fellow fire sign Aries, Sagittarius women are here for a good time. Anything adventurous will be perfect for a Sag date; concerts, festivals, sky diving. Sagittarius women crave dates that gets your heart pumping, and you're in for a treat! Hit her with a road trip and you might even get her undivided attention for a bit, before she's back to her independent and flighty ways.
Capricorn (12/22-1/19)
Capricorns sometimes have trouble separating work and life, so they need a date that is extremely calming. Think picnics in the park, home-cooked meals, etc. Something simple for a Capricorn is perfect, so they can rest and relax while also treating you to a good time! Nothing flashy to see here! Then again, because they do tend toward the control freak end of the spectrum, letting them have a bit of the planning or execution can bring that calm. You be the sous chef for that home-cooked meal and let her run the show a bit.
Aquarius (1/20-2/18)
Aquarius women are fantastic listeners, but not the best talkers. Since Aquas have trouble communicating, they will divert their focus to you. Thus, a romantic dinner or lunch is the perfect date for an Aquarius – somewhere quiet and well lit, so they can really feel comfortable opening up to you. Intellectual topics, the supernatural, alien life forms could get them going.
Pisces (2/19-3/20)
Pisces women are a bit of a mystery because they will adapt to pretty much any date you throw their way. Pisces love to be surprised, they love adventure, but they often prefer romance when it comes to dates. Dinner and a movie or live music will be perfect for a Pisces woman; take them somewhere you feel at home, and they will, too.