News
Lez Dish It Out: Feb 5, 2021
Bernie Sanders' Iconic Mitten Made By Lesbian Mother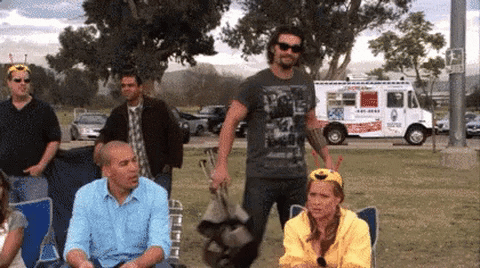 The power of lesbianism strikes once again. By now, we've all seen the meme of mitten-clad Senator Sanders sitting comfortably at the inauguration. But did you know those mittens were made by 42-year-old lesbian second grade teacher Jen Ellis? Now you do! The mittens, or "swittens" as she calls them as they are made of old sweaters, were a gift during his bid to be president in 2016. Since the meme took off, Ellis has received over 6,000 emails about the mittens. She has confirmed that she has neither the time or energy to mass produce the swittens. But, Bernard knows an opportunity when he sees one. He licensed the image and put it on a sweater. The meme sweater made over $1.8 million USD with all proceeds going to charity.
UMSL Researchers Find That LGB Individuals Are Disproportionally Victims Of Violence
In other news, there's water in the ocean. We could've told you this. In all seriousness, national surveys of crime, until recently, often ignored sexual orientation when examining the prevalence of crime across the country. Data from the 2017 and 2018 National Crime Victimization Surveys asked for sexual orientation for the first time. They found that LGB individuals were victims of violence at rates of two to nine times higher than heterosexual individuals. Bisexual females also experienced the highest rate of both total and serious violent victimization among those surveyed.
Our First Look at Kristen Stewart as Princess Diana
K Stew transformed into Lady Di for the upcoming biopic, "Spencer." The film also stars Timothy Spall, Sean Harris, and Sally Hawkins. Filming is currently underway in Germany with an anticipated release in the fall. The movie focuses around "a critical weekend in the early '90s when Diana decided her marriage to Prince Charles wasn't working," Deadline reports.
Lady Gang Releases Full Throttle
Looking for some new music? We got you covered. Award winning lesbian musician Jen Korte aka Lady Gang's new album, Full Throttle drops February 26th. This album has everything from vaporware to 80s throwback vibes. How is this possible you ask? Well Korte uses all her musical knowledge to create this album. Check out the music video for "Then There's the Dawn" below.
Tampa International Gay and Lesbian Film Festival Get a Boost by Going Virtual
The Plague caused nearly everything to go virtual. And that includes international film festivals. With movie theaters still closed, what else was a film fest to do? In a twist the surprised organizers, the Tampa International Gay and Lesbian Film Festival actually attracted more viewers since it went virtual. And it makes sense doesn't it? They were able to reach more viewers across Florida and even drew in people from across the country. Overall, there was a 42% jump in viewership. While full-length films were restricted to Florida, six short films were shown nationally. And while each viewer paid less to watch the films, not having to rent their space allowed for a small profit. Nice!
Ahead of the Curve Tells the Story of the Woman Behind World's Bestselling Lesbian Magazine
We all know about Curve magazine, right? Some of us have fond memories of pretending not to see it as a 16-year-old baby lesbian browsing at the local bookstore. But who is the woman behind the magazine? The documentary tells the story of one lesbian, Franco Stevens, with a mission: increase lesbian visibility. And no one can stop a lesbian with a mission. The film follows Stevens' journey in creating the bestselling magazine. While the movie is a celebration of Stevens' legacy and Curve's lasting impact, it also questions the magazine's role today and what the future may hold. Ahead of the Curve will be officially released in June.
Evan Rachel Wood Names Marilyn Mason As Her Abuser
"The name of my abuser is Brian Warner, also known to the world as Marilyn Manson," the 33-year-old bisexual actress and singer wrote in an Instagram post. She goes on to describe the types of abuse she endured. And you might remember in 2018, Wood testified in front of the House Judiciary Subcommittee on Crime, Terrorism, Homeland Security, and Investigations to advocate for protections in the 2016 Sexual Assault Survivors' Bill of Rights. At the time, she did not name her abuser, but she did reveal she had been diagnosed with PTSD as a result of the abuse. Several other women have also come forward to accuse Manson of abuse. On top of that, Loma Vista Recordings will cease to promote Manson's current album and will not work with him on any future projects. The Creative Arts Agency is also no longer representing him.
Anti-Lesbian Protest Met with Fierce Opposition
What exactly were they protesting? A bill in France that would extend medically assisted procreation for single women and lesbian mothers. The protests were organized by a group called "Manif pour Tour" or Protest for Everyone. Everyone except lesbians apparently. But they didn't get far. The largest demonstration happened in the city of Angers, around 900 people participated. And about 900 counter-protestors met them. Naturally, this led to a clash between the two groups. According to local police, two people were arrested. Many also took to social media to show their support. This group also opposed France's legalization of same-sex unions. And they failed. On May 18, 2013, France became the 13th country to extend marriage rights to same-sex couples. Die mad about it.
Lucy & La Mer Teams Up with Influencer Haley Faulkner for New Music Video
Lesbians are the absolute queens of long distance relationships. We often joke that the best-selling lesbian sex toy is a plane ticket. And Lucy & La Mer knows this. That's exactly why her new single "Rollercoaster" is all about the highs and lows of a long distance relationship. To make it more authentic, the pair self-filmed the entire music video on their phones from opposite ends of the country. The single and full video have a February 9th release date. In the meantime, you can follow Lucy & La Mer on Instagram, Twitter, and TikTok.
HBO Max Original Series Equal Chronicles Years Leading Up to Stonewall
The new HBO Max docu-series blends archival footage and stylistic depictions to tell the story the figures and events that led up to the events at Stonewall. These events include the beginnings of organizations like the Daughters of Bilitis. And in case you're wondering, Elizabeth Faith Ludlow will portray Stormé DeLarverie. In recent years, misinformation spread through the internet about theses events. How accurate will the show be? Well, we'll have to watch and find out. The first episode is now streaming on HBO Max.
Audre Lorde Novel Named the Lee Lynch Classic Award Recipient
The Golden Crown Literary Society named Zami: A New Spelling of My Name by Audre Lorde its 2021 recipient of the Lee Lynch Classic Award. In the book, Lorde combines biography, mythology, and history to explore what it means to be Black, female, and gay in a white environment. The award itself aims to recognize books that feature meaningful lesbian experiences with historical value. The novel, along with other awardees, will be formally recognized on July 24th during GCLS's 17th annual conference that culminates with an awards ceremony. You can find more information on the GCLS website.
Ratched Lesbians at the Golden Globes
For her performance in Ratched, bisexual actress Cynthia Nixon has been nominated for a Golden Globe in the category for best performance by an actress in a television supporting role.
Surprising no one, Sarah Paulson was also nominated for best actress in a television series, drama. The series itself was nominated for best drama television series. And if you haven't watched it, see what we had to say about it here.
Julien Baker Releases New Single
The song, "Favor," is from her forthcoming album Little Oblivions. But wait! There's more! The song features backing vocals by Phoebe Bridgers. Little Oblivions has a February 26 release date.