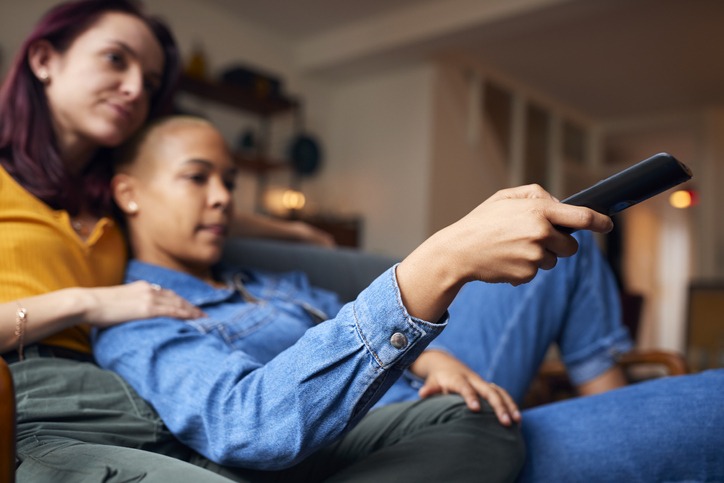 Between Netflix, Amazon, and Hulu you'd think we'd have enough streaming services to watch lesbian and bi films. But of course we don't. And while signing up for yet another service may be a headache, HBO Max might be worth the trouble. We found all the lesbian and bi shows and movies on the platform to help you decide for yourself.
Desert Hearts
A university professor waiting for her divorce to come through falls in love with a confident lesbian, and finds herself in the process. This classic is considered one of the first wide release films that presented a positive portrayal of lesbians.
Gia
Angelina Jolie stars as Gia Carangi, widely regarded as the world's first supermodel. The bio pic features a romance between Gia and make-up artist Linda. This true story is a tearjerker, so get the tissues ready.
Gentleman Jack
Does this one even need an introduction? The entire first season is available on HBO Max. It's the perfect time to catch up before the second season arrives.
Rosie O'Donnell: A Heartfelt Stand Up
The lesbian comedienne talks about her life changing heart attack. You can also check out A Family Is a Family Is a Family: A Rosie O'Donnell Celebration where she looks at the changing face of today's families.
Tig Notaro: Boyish Girl Interrupted
Why are lesbians so funny? We are just too powerful. Check out Tig's stand-up special on HBO Max for more laughs.
Ellen DeGeneres: The Beginning/Here and Now
HBO Max features two of Ellen's stand-up specials from 2000 and 2003. What was I just saying about how lesbians are the funniest people on Earth?
Mulholland Dr
This surreal mystery movie still has people scratching their heads in confusion over 20 years later. At least Naomi Watts sleeps with a pretty dark haired woman.
V For Vendetta
Based on a limited series DC Comic book, this is set in an alternate future where a racist regime has control of the UK. But why is it on this list? This is no place for a lesbian! And you're right. The movie knows this. At one point Natalie Portman's character finds a note written by a Valerie, who was tortured and killed for being a lesbian. And perhaps this movie is worth a watch just for Valerie's letter.
Lost and Delirious
A new girl arrives at a boarding school and befriends two of the older students. Soon, she finds out they're more than just friends. Oh my god, they were roommates. Be warned though, this one doesn't have a happy ending.
Adventure Time, Distant Lands: Obsidian
What time is it? Lesbian time! This hour long special episode follows Marceline the Vampire Queen and Princess Bonnibel Bubblegum as literal and metaphorical demons from their past disrupt their domestic bliss.
Pretty Little Liars
Seven seasons of this teen mystery drama are streaming on HBO Max. When their friend mysteriously vanishes, four girls think their secrets are safe. Fools! They start reciveing mysterious texts from "A" and it all goes downhill from there. Also, Emily is a lesbian.
True Blood
Bisexual actress Anna Paquin stars in this show as a telepathic waitress living in a world where vampires and other supernatural creatures live among us. You might be asking are there lesbian vampires? Yes, yes there are.