Musician wives Brittany Howard and Jesse Lafser travelled through the U.S. in a 1999 Jeep Cherokee — without air conditioning — to find a new place to live. It gave the women "time to reminisce and think." Brittany Howard (Alabama Shakes, Thunderbitch, and Bermuda Triangle) had found success with the Shakes, but life away from the stage made her reevaluate what she wanted. Jesse Lafser, who has solo tracks and two albums on Spotify dating back to 2012 has also recently changed her tune with the new single 'Telekinesis'. The wives have been on paralleled pilgrimages.
Bermuda Triangle
Bermuda Triangle, a band Brittany shares with wife Jesse Lafser and friend Becca Mancari, packs a punch for the limited tracks available to stream. "So we made some merch today," Rolling Stone quotes Brittany as saying at Bermuda Triangle's debut gig, on a sticky night in Nashville, "so if you wanted to buy some that would be really good, because this is probably going to be the last show." The trio sported Hawaiian shirts and a casual presence, but the audience was flawed from the "first, applause-silencing note."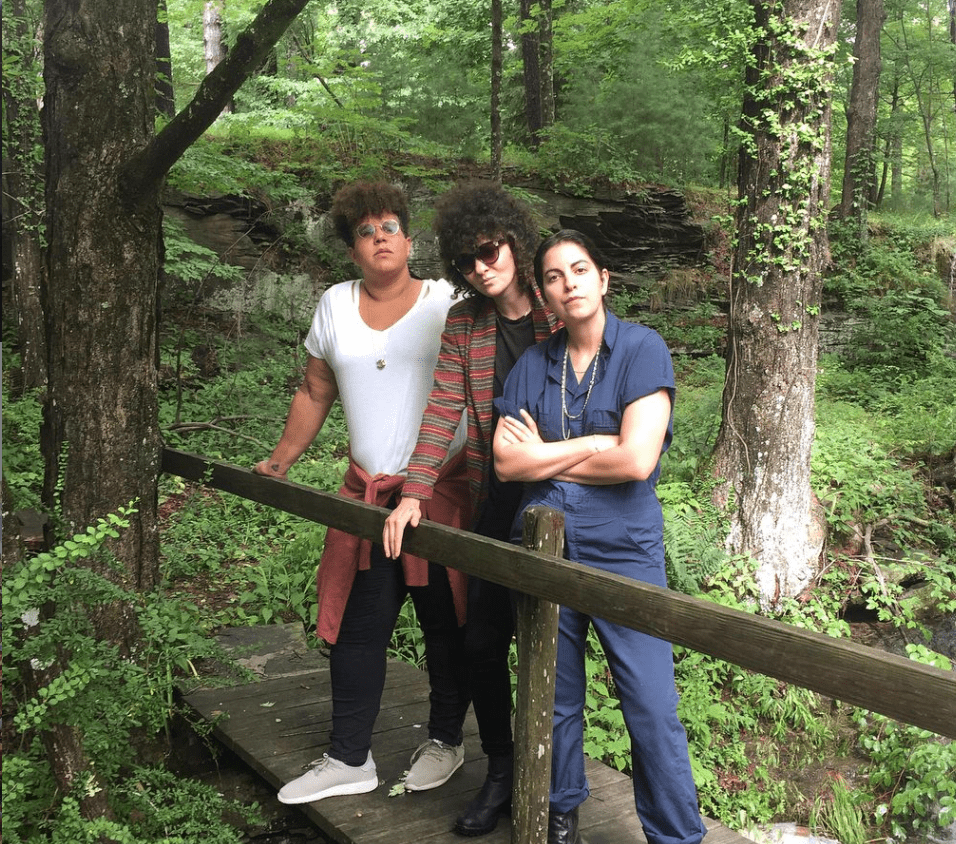 Till the End of Days is the ultimate lesbian wedding song. If you're a country music hater then I'm sure these women can change your mind with this country-gospel tear-jerker. Written by Jesse Lafser, the song strips back the instruments that would distract from their voices and the three women come in and out of harmony, their voices complementing each other as well as shining on their own. Despite the lack of songs — please give us more! — Bermuda Triangle has had no trouble selling out shows.
Brittany Howard
Brittany Howard wasn't born with privileged access to the music industry. In fact, before she was paid for making music, Amanda Petruisich states that Brittany "bagged groceries at Kroger, sold used cars, made pizzas at a Domino's, fried eggs at a Cracker Barrel, built custom picture frames, sucked up trash for a commercial sanitation company, and delivered the U.S. mail along a rural route in northern Alabama, where she lived." However, Brittany had been thinking of releasing a solo album since she was 11-years-old. While working hard to survive, she was preparing for her true path.
Brittany found success with Alabama Shakes, but eventually left the band to focus on her solo career. She got married to Jesse Lafser, "learned to love herself," and followed through on the solo album she'd wanted since a child, after living life outside of music. This is when Brittany and Jesse took their trip around the U.S. Brittany said, "the inspiration given to me was all about my own life. I realized people had this whole idea about who I was. And they would be shocked to see I'm not this loud, confident black woman. I'm a quiet person who is observing and listening."
Coming to terms with herself and her faith is evident in the 2019 solo album, Jaime, named after her sister who passed away from cancer when she was just a teenager. 'He loves me', a track on Jaime, begins with "I don't go to church anymore / I know he still loves me." Like Julien Baker's Little Oblivions, Brittany opposes the black-and-white thinking of the church while still remaining spiritual, singing "I know he still loves me when / I'm smoking blunts / Loves me when I'm drinking too much / He loves me then, yeah / He loves me when I do what I want / He loves me, he doesn't judge me."
She's not concerned about being "perfect" in the church's eyes. She knows she doesn't have to be "perfect" in order to be loved. Apple Music quotes her as saying, about 'He Loves Me', "Every time I'd write a verse, the song would just stop and I'd be like 'what am I going to put there? What do I want to say?' Eventually I decided to follow the bassline and improvise. The first thing that came out of my mouth was 'I don't go to church anymore. I know he still loves me.'"
Jesse Lafser
Jesse Lafser has her own solo tunes on Spotify that date back to 2012. In fact, Jesse released the song 'Telekinesis' in March, which distanced her from the country, folk and blues tunes found on her 2015 album Raised On the Plains — the newest before 'Telekinesis' was released — and into rockier territory.
Then, only this month, Jesse released 'Open Road', a single that returns to her bluesy roots while keeping consistent with her new direction into rock. She speaks of feeling ostracized from her religious family, "My mother is a zealot / And my daddy, he is too / My brother drank the kool-aid / And my sister-in-law did to." She's turned to the open road now there's "No one left to talk to / It's just me and the open road / I left there long ago / It's just me and the open road / They're stuck in church / I'm watching buffalo."
In 'Open Road', Jesse references the process of making her 2015 album, Raised On the Plains, which was inspired by a pilgrimage in the 1999 Jeep. "I think things are different when you just go out on the road completely alone," she said to Caralyn Dienstman. "I remember pulling the car over at one point along this back mountain highway between Taos and Raton, New Mexico. There were buffalo roaming to my left and mountains to my right. I just had to stop the car; it was so beautiful. I realized at that moment that that was the kind of sound I wanted to create on the record."
The first song on the record, 'Jack Hat Blues', embodies the lone-ranger, traveller spirit of Raised on the Plains.
Jesse approaches songwriting from the perspective of her own experiences as well as putting herself in other people's shoes. "I definitely use songwriting as an escape, and often times an escape from myself. There is so much freedom in putting yourself in another's shoes to explore new perspectives and vantage points," she says, recorded on Nashville Fringe Festival's website. "You get to be an actor in your own movie. There are stories everywhere and there are no limitations. This works well for me because I am in a different state of mind every single day and my songs can express that."
Jesse outlines an important distinction to make when contemplating the art-making process of other artists. While many of us who engage in making art — whether it be visual, musical, written or in other mediums — might include our personal lives, it's not consistently true. So when we make conclusions about the autobiographical elements of somebody's art, we will never consistently be right. Writing some autobiographical songs doesn't mean every song is.
Artists deserve the right to tell stories without people assuming every element is a reflection of their own story. In many ways, artists are like parrots – observing the human condition with an unrelenting urge to express what they see in a variety of forms – and that involves telling other people's stories. Fictional or not.